Motherland: Feliz Día de las Madres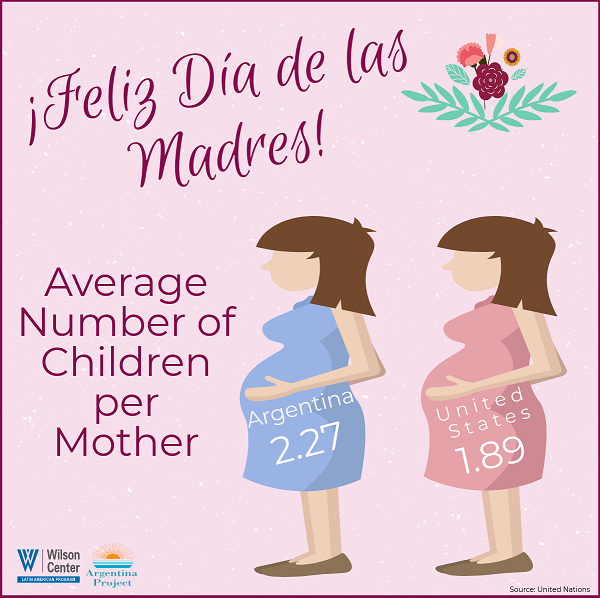 Jailhouse campaign: CFK's regional allies
In remarks at the Wilson Center, Frente Renovador leader Sergio Massa cast doubt on the reelection prospects of a rival Peronist, former President Cristina Fernández de Kirchner, predicting Argentina would not "retroceder." Ms. Fernández de Kirchner, however, does not see it that way. She has consistently indicated she will represent Unidad Ciudadana in next year's election. It is clear why. In an October survey by Synopsis, the former president's movement tied Mr. Macri's Cambiemos coalition at 33 percent, with moderate Peronists, such as Mr. Massa, collectively attracting only 11 percent of support.
Given that public backing, it is no wonder Ms. Fernández de Kirchner sees a bigger threat to her candidacy in the tribunales than from rival Peronists. She is facing a range of corruption investigations – including the "cuadernos" scandal – and the possibility that the Senate will strip her of parliamentary immunity, as did the Lower House to her former planning minister, Julio De Vido, a year ago. That would put Ms. Fernández de Kirchner at risk of pre-trial confinement and produce uncomfortable parallels to her Brazilian ally, former President Luiz Inácio Lula da Silva, whose imprisonment kept him out of this year's election.
Unlike Lula, who has been convicted of corruption, it is unlikely any of Ms. Fernández de Kirchner's criminal cases will conclude before the October presidential election. That said, she might end up campaigning from behind bars, and she is clearly spooked by the Lula scenario. In a preemptive strike, she apparently orchestrated a letter to Página 12 – signed by former Presidents Rafael Correa of Ecuador; José "Pepe" Mujica of Uruguay; Lula and Dilma Rousseff of Brazil; Ernesto Samper of Colombia; Fernando Lugo of Paraguay; and José Manuel Zelaya of Honduras – criticizing the corruption investigations in Argentina as "persecución política."
It is an odd collection of character witnesses.
Related Programs
Latin American Program
The Wilson Center's prestigious Latin American Program provides non-partisan expertise to a broad community of decision makers in the United States and Latin America on critical policy issues facing the Hemisphere. The Program provides insightful and actionable research for policymakers, private sector leaders, journalists, and public intellectuals in the United States and Latin America. To bridge the gap between scholarship and policy action, it fosters new inquiry, sponsors high-level public and private meetings among multiple stakeholders, and explores policy options to improve outcomes for citizens throughout the Americas. Drawing on the Wilson Center's strength as the nation's key non-partisan forum, the Program serves as a trusted source of analysis and a vital point of contact between the worlds of scholarship and action. Read more
Argentina Project
The Argentina Project of the Latin American Program, aspires to be the premiere institution for policy-relevant research on the political and economic reforms underway in Argentina. The project will be a valuable resource for senior officials in the U.S. and Argentine governments, lawmakers, investors, diplomats, and journalists. Read more