National Video Games Day: It's Not What You're Playing, But Who You're Playing With
​September 12 is National Video Games Day. Or, at least, it might be. Even game historian Frank Cifaldi (yes, there are video game historians!) at the Video Game History Foundation traced back the holiday and couldn't pin down the date (July? September?), who started the holiday and why, or even if the holiday is properly called "National Video Game Day," "National Video Games Day" (plural), or "Video Games Day."  But as Verge highlighted last year, corporations from McDonalds to NASCAR to Chuck E. Cheese -- and this year, many more -- are celebrating video games on this day, so who are we to argue?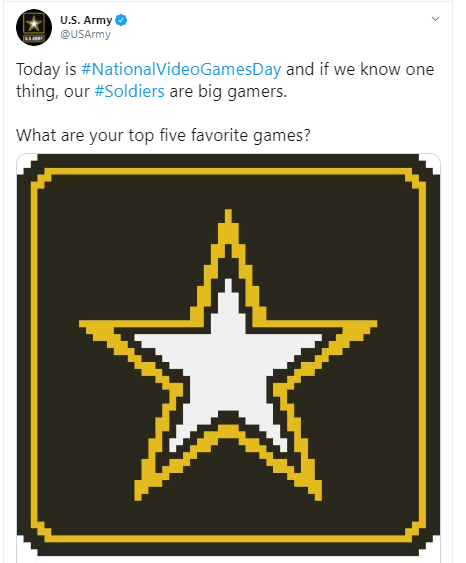 What exactly we are celebrating (besides the opportunity to purchase more video games) still remains unclear. It's the meaning of National Video Games Day, and how we celebrate, that needs to be put under a microscope -- to use this as a means for celebrating the good of video games. Video games have a rough -- and as a meta-analysis from Royal Society Open Science suggests, inaccurate -- reputation for inciting antisocial or violent behavior, leading normal, healthy teens to a life of basement dwelling isolation. The stereotype of the lone gamer, in part perpetuated by media stereotypes, needs to be challenged.
Fortunately, it's National Video Games Day, and this is an opportunity to show the power of games to bring people together.
For the Fun of the Game
National Video Games Day should not be a holiday just about buying new games and peripherals. It should be about highlighting how many of us have fun playing video games. That was the original call (as near as Frank Cifaldi could trace): "A day for kids of all ages who enjoy video games to celebrate the fun they have while playing them." Bringing people together is what video games do best.
We have seen an explosion of video game usage during the pandemic. A tip of the iceberg was Animal Crossing: New Horizons (ACNH), which launched just as stay-at-home orders were being issued in some areas of the United States; next to toilet paper hoarding there were rapid sellouts on Nintendo Switches.
The game showcases the video game superpower of bringing people together. The latest in a series by Nintendo, the game puts players on an island filled with adorable animal residents where you can spend time fishing, building, and cultivating a fashion or furniture empire. Perhaps most important in a time when we have been forced to keep away from friends and family, ACNHprovides the chance to connect with cousins or a broader community to make one feel less alone. It was a platform used for social events where we would normally physically be in the space together, from graduations to weddings.
One key reason why games are particularly motivating to play is they afford a platform to connect with other people. ACNH is just one game in a long history of connectedness and cooperative play (co-op) for video games. Game journalists have traced the first co-op video game as Atari's Fire Truck (1978), and arcade games in general had a propensity towards a communal experience of game play. Digital games played solo are certainly interesting, but readying player two was a real turning point in digital game history.
Another turning point in the history of video games that highlights the embeddedness of games as a social experience are massive multiplayer online games (MMOs). In games like World of Warcraft, players are heroes, playing with other heroes, in large-scale virtual communities, collaborating to bring down dragons and loot dungeons. Historically, MMOs opened whole new doors for understanding how we can play together. They also allow us to make new friends, extending our social network across the internet and bringing like minded souls together under the umbrella of having fun.
This capacity of connectedness is not restricted to MMOs, either. Social games, the kind of games you would find on social media platforms or through downloadable apps, are a great way to connect, and should also be celebrated on National Video Games Day. Just as an example, Words with Friends can have the same positive mental health benefits as MMOs:
Online social videogames such as (Words with Friends; similar to Scrabble) are encouraging families and friends to keep in touch. These games alert players to their turn and players can chat and/or leave messages for other players. In this manner, the game can be an excuse and mechanism for conversations to occur, with mothers and daughters discussing every day events and exchanging messages of affection. -- Jones et al., 2014
Too often, the ways in which these games allow us to connect are under-celebrated, as our definition of who is a gamer has been historically quite narrow. Social games are video games, too. National Video Games Day should celebrate those who play video games, regardless of the genre and platform, as we are all connected in a greater community of video game players.
Community Beyond the Pixels
Video games are not limited to collaborative games. While playing with others is one motivation, it is not the only way to understand the sociability of video games. In a study conducted by Quantic Foundry that comprised a survey of 450,000 gamers, social reasons were one of many motivations to explain why individuals played video games. There was also variability in what "social" means or how strong that is as a motivator: some players prefer solo play over co-play, for example.
But the sociability of games is not confined to the game-play experience. Even when the play itself is solo, there is a community around that play. As MIT Professor T. L. Taylor canonically highlighted in Play Between Worlds, video game players participate in a broader community that extends beyond the game to websites, forums, and (in a non-pandemic era) in-person conventions. Today, the broader community surrounding a game is reflected also in YouTube videos or streaming services. Much as with watching a sports game or a favorite TV show, a game player is never truly playing alone -- they are part of a broader audience.
For National Video Games Day, we should celebrate the positive power of video games to bring communities of people together under the name of having fun. Take a moment to celebrate your community: whether that is exchanging words with friends, going on a dungeon run, rolling dice together, or watching your favorite video game stream. Regardless of genre, video games allow us to connect with one another and can be a positive force in our lives and, especially this National Video Games Day, that is something worth celebrating.
About the Author
Elizabeth M H Newbury
Director of the Serious Games Initiative; Senior Program Associate, Science and Technology Innovation Program
Read More
---
Serious Games Initiative
The Serious Games Initiative communicates science and policy complexities through the world's most dynamic medium: gaming. Read more
Science and Technology Innovation Program
The Science and Technology Innovation Program (STIP) serves as the bridge between technologists, policymakers, industry, and global stakeholders. Read more