Nigeria's Existential Crisis: False Peace Ignores Governance Issues at its Peril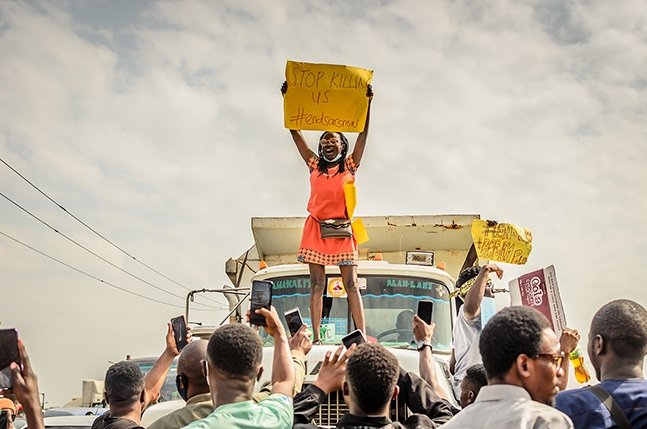 Nigeria is widely, and perhaps rightly, perceived as a conflict-prone country. In recent times, ongoing violent conflicts centered around the Boko Haram insurgency and farmer/herder tensions have dominated peacebuilding conversations. Even more recently, Nigeria has experienced the EndSARS protest and the civil disturbances that have followed. This latest conflict could nonetheless yield important lessons on crisis mismanagement, especially along the trajectory between peace and violence.
The EndSARS protest started off in 2017 as civil resistance against a special police unit (the Special Anti-Robbery Squad, or SARS for short) with a long record of roguish abuses. Protestors called for the SARS to be disbanded. As the SARS expanded its reach into areas such as anti-kidnapping and cybercrime, the unit began to carry out systematic street arrests, leading to extortion and killing largely of young men who fit a curious profile around age, dress, hairstyle, and look. It became a common joke in Nigeria that if Mark Zuckerberg of Facebook and Jack Dorsey of Twitter were Nigerians, they would have been arrested/assaulted by SARS because they fit the profile.
The EndSARs protest arose spontaneously and was atypical both in its form and progression. In the past, protests of such scale were led by organized groups like the Nigeria Labour Congress, Bring Back Our Girls, and Save Nigeria Group. The EndSARS protest was atypical because it was youth-led, formless, and had no formal coordination/leadership.
Though EndSARS manifested as a protest against police brutality, at its core were long-standing governance issues in Nigeria. The protest emerged as a spontaneous reaction to years of abuse by the SARS, but it quickly regressed to Nigeria's usual governance crisis fault lines: politics, ethnicity, and the North-South divide.
Government officials, in an attempt to deflect the crisis, have put forward countless conspiracy theories as to the causes, reasons, and drivers of the protest. This includes fitting the uprising into the country's typical ethno-political narrative, in the hope that painting the protest as political was the best way to stop the EndSARS movement from building into a critical mass on a national scale. The government has also ignored the systemic drivers of the protest by focusing instead on individual activists, through actions such as seizing passports, blocking bank accounts, arresting identifiable protest actors, and attempting to muscle out social media influencers by re-regulating the social media space.
Unfortunately, state repression against known civil actors at best produces only a false sense of short-term peace. In the medium to long term, this approach typically leads to the emergence of a more radical and escalated movement. Nigeria has a history of such emergence. In the past, groups like the Odua People Congress, the Movement for the Actualisation of the Sovereign State of Biafra, and Boko Haram became radicalized and violent in reaction to a repression-centered approach. In short, the government's hard-line tactics against EndSARS go against Nigeria's historical lessons on how civil uprisings can escalate.
One clear lesson is that civic trust in government is an important factor in achieving peace. For example, during the EndSARS protest, a government-announced ban of the SARS police unit was not seen as genuine in the eyes of the public. This was because the continued operation of the SARS unit despite a previous "ban" created public distrust to the extent that the mere announcement of a "new" disbandment was not seen as credible.
Another lesson is that there should be more conversations on recognizing youth as a non-monolithic group. While youths were the key actors in the EndSARS protest, there were also some youth on the opposing side aiming to disrupt the protests. The youth who gathered daily to protest peacefully were different from those youth who attacked them, and also different from those youth protestors who burnt down police stations. In short, conflict analysis would benefit from disaggregating youth along a non-monolithic dimension by broadening the understanding of each sub-group on the peace-violence spectrum.
Perhaps the most important lesson is that it is difficult to undertake civil agitation on a standalone public service/governance issue like police brutality. The standalone issue typically becomes conflated with broader issues, as has happened with the EndSARS protest. This protest and the civil disturbance that has followed have broadened to embrace additional governance issues that have long been unaddressed in Nigeria.
Governance is at the heart of most civil conflict; improvement in governance will lead to fewer conflicts. The EndSARS protest is a proxy for a broader protest against the overall state of Nigeria's governance, and could be useful to the extent that it helps drive conversation around the underlying governance issue. Unfortunately, this does not seem to be happening. Rather than engaging in a sincere public conversation on Nigeria's governance shortcomings, the government is looking for ways to suppress the protests and co-opt protest leaders.
The swiftness with which civil agitation for better governance descended into Nigeria's historical ethno-religious fault lines points to the existence of deeper issues. What is clear is that Nigeria is in a state of perpetual conflict because key governance issues are all too often ignored during crises. When faced with a crisis, the government typically avoids the underlying governance issues and instead engages in preventative actions that are mostly conflict-specific and incapable of securing lasting peace. Addressing this foundational question would be an appropriate starting point for moving toward improved governance.
This is perhaps a key reason why Nigeria's existential governance questions remain unresolved despite 60 years of post-colonial independence and over 100 years after the amalgamation of two British protectorates. With over a century of national history, it should be concerning that social cohesion is still weak and national identity is still largely an abstraction. In recent years, ethnic-based centrifugal agitations are on the rise in the form of movements centered around separatism or political restructuring. These ethnic-based movements are not new, but are becoming more vociferous, and tap into a public base that is already disenchanted with the Nigerian polity. It should be concerning to the government that there is no decline in the rate of emergence of new crisis points and separatist groups.
The EndSARS protest has raised political consciousness, especially among Nigerian youth who traditionally have been largely apolitical. The signs are ominous that this is the face of things to come unless the government works toward building civic trust by addressing the country's long-standing governance shortcomings.
Mr. Olusegun D. Sotola is a Senior Researcher with the Initiative for Public Policy Analysis (IPPA) in Lagos, Nigeria, a member organization of the Southern Voices Network for Peacebuilding (SVNP). He is also a former SVNP scholar. 
Cover image: Nigerian youth protesting against police brutality in Ibadan, Nigeria on October 13, 2020. Credit: Femi Komolafe/Shutterstock. Source: https://www.shutterstock.com/image-photo/13-october-2020-ibadanoyo-state-image-1834715263.
About the Author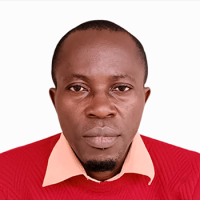 Olusegun Sotola
Senior Researcher, Initiative for Public Policy Analysis (IPPA)
---
Africa Program
The Africa Program works to address the most critical issues facing Africa and U.S.-Africa relations, build mutually beneficial U.S.-Africa relations, and enhance knowledge and understanding about Africa in the United States. The Program achieves its mission through in-depth research and analyses, public discussion, working groups, and briefings that bring together policymakers, practitioners, and subject matter experts to analyze and offer practical options for tackling key challenges in Africa and in U.S.-Africa relations.   Read more