Obama's support of homosexuality in Africa generates controversy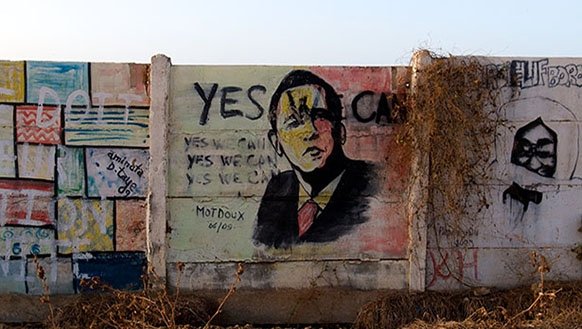 Portuguese Translation of the Week
Senegal, as part of his tour of the African continent, the president raised the issue of discrimination against homosexuals, asking for equal rights. Obama commented on this issue after meeting with President Macky Sall.
The Senegalese president responded by saying that Senegal was a tolerant country, but that it is not prepared to undergo openness or to criminalize homosexuality. African society is still very much reserved and conservative, and homosexuality is seen as a crime. The immense popularity of president Obama in Africa suffered a setback, even in Kenya, the homeland of his father.
"Durante a sua excursão pela África, no Senegal, o presidente americano levantou a problemática da discriminação aos homossexuais, pedindo uma igualdade de direitos.
Obama comentou sobre esta questão, após o encontro com o presidente Macky Sall. O presidente senegalense respondeu, dizendo que o Senegal era um país tolerante, mas que não se encontra em condições de receber esta abertura nem preparado para descriminalizar a homossexualidade. O povo africano ainda é um povo reservado, e a homossexualidade é vista como um crime. A imensa popularidade do presidente Barack Obama sofreu um revés, mesmo no Quénia o país natal do seu pai."
This article has been translated from Portuguese. Click here to read the original version on OPais
 Homosexual acts are still considered a crime in thirty eight Africa countries, where most people have conservative religious views. Obama was criticized, including by a pastor who stated that "we as Christians cannot support homosexuality whatever the cost may be."
 The American President believes that customs, traditions and religious beliefs must be respected, but that laws should be equal for everyone.
However, despite the various critiques, Obama's statement caused joy and hope among homosexuals in Africa. Some homosexuals said that Obama established an example to be followed by others, because, according to them, what they want is to live in peace and without fear.
Obama disappoints Kenyans
The President of the United States, of Kenyan roots, has to prove to a disillusioned public that he gives importance to the country where his father was from.
Many African feel a bond with Obama, who is the son of a Kenyan, but expressed frustration with the fact that he has not maintained the same relations and involvement with Africa as his predecessors George W. Bush and Bill Clinton. During Obama's first term, he only made a one day visit to Ghana.
After much criticism, the U.S. President has still to visit some democratic countries in sub-Saharan Africa in order to strengthen economic and political cooperation. Obama has visited Senegal, South Africa, and Tanzania.
Kenyans have expressed a dislike of this visit, since the American President has blood ties with Kenya and has not yet visited the country.
 In response to complaints and criticism raised, Barack Obama stated that, "the timing was not right" for him to travel to his father's country during his current visit to Africa.
In a joint press conference in Pretoria with his South African counterpart, Jacob Zuma, Obama said that his absence from Kenya was contingent on "sensitive" and "organizational" issues on Kenya's part, which has worked with the international community to address these issues.
Obama also referred to the forthcoming trial of Kenyatta, for his alleged role in deadly violence that killed thousands of people after the 2007 elections in Kenya.
"The timing was not right for me, as the President of the United States, to visit Kenya when these issues still need to be addressed," said Obama.
To conclude, the President stressed that he has future plans and expectations of visiting his homeland.
Photo courtesy of Jeff Attaway on Flickr/Commons
Related Program
Africa Program
The Africa Program works to address the most critical issues facing Africa and U.S.-Africa relations, build mutually beneficial U.S.-Africa relations, and enhance knowledge and understanding about Africa in the United States. The Program achieves its mission through in-depth research and analyses, public discussion, working groups, and briefings that bring together policymakers, practitioners, and subject matter experts to analyze and offer practical options for tackling key challenges in Africa and in U.S.-Africa relations.   Read more