Plugged-In: EVs Take the Road in Latin America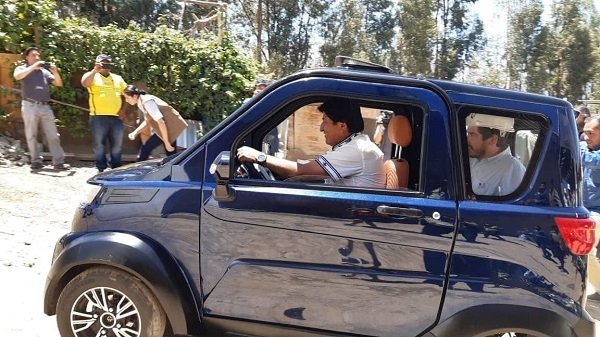 Plugged-In: EVs Take the Road in Latin America
Last October, former President Evo Morales showcased Bolivia's quixotic electric vehicle (EV), produced by a local firm, Quantum Motors. Although the car will likely never be sold commercially, it points to the ambition of some Latin American governments to promote EV production and adoption.
In 2018,  Latin Americans bought 6.3 million cars, including only 3,555 EVs or hybrids. Nevertheless, pre-COVID-19 forecasts projected sales of hybrids and EVs in Latin America to triple by 2025. COVID-19 almost certainly dampened these expectations. But the region is still likely to triple car ownership by 2050, and that growing market is an opportunity for the region's policymakers to expand EV ownership and production. Indeed, a number of governments have stepped up incentives, and made policy changes, to popularize electric vehicles.
EVs for Everybody
An early success story is Mexico, Latin America's major auto producer. The country accounted for half of the region's growth in EV sales in 2018. This was due in part to government incentive programs to persuade consumers to give EVs a try. In smoggy Mexico City, for example, officials exempted EVs from limits on permitted driving days, and decreased electricity prices for EV charging.
EVs will not only reduce carbon emissions, but improve air quality in notoriously polluted Latin American cities. The rugged geography of cities like Mexico City, Medellín and Santiago make them vulnerable to smog, a major public health concern, worsened by COVID-19.
Latin American governments have also boosted EV adoption by adding EVs to their public transit fleets. This is fertile ground, as Latin America has the highest per capita use of buses in the world. In 2018, for example, Santiago purchased 100 electric buses to combat smog. This measure was popular, and other cities, including Medellín and Buenos Aires, have also adopted EVs for their fleets. Most recently, Montevideo purchased 20 electric buses.
EV Production, Horsepower of a Different Color
Although Latin America is home to most of the world's lithium, a key component of the EV battery, a 2016 Inter-American Development Bank report highlighted obstacles to battery and EV production in the region, including high costs and the complex technology involved in lithium-ion battery manufacturing.
Another barrier to mass EV production in the region is limited local demand, constrained by inadequate EV-friendly infrastructure, like recharging stations. There are only 694 chargers in Latin America – compared to 6,400 charging stations in Belgium alone – mostly in Brazil and Mexico.
Another hurdle is cheap gasoline. Oil exporters such as Venezuela and Ecuador have historically steeply discounted gasoline and Argentina, South America's second-largest economy, also heavily subsidizes gasoline. In times of high oil prices, these subsidies are not only costly, but they also eliminate an important incentive for consumers to transition to EVs. Today, low oil prices provide an opportunity to wind down subsidies, but amid deep recessions and high unemployment, leaders might be reluctant to raise gasoline prices.
As a result, major car manufacturers are reluctant to expand EV production in the region. Hybrid cars, which burn gasoline but supplement it with batteries to increase fuel efficiency, are making inroads. The Ford Fusion hybrid is manufactured in Mexico, and Toyota has announced plans to build the Hilux hybrid pickup truck in Argentina by 2025. But EVs remain rare. Despite small-scale projects, like Bolivia's Quantum Motors and Argentina's Sero Electrico, the region faces serious challenges establishing an EV manufacturing sector.
COVID and Climate
The impacts of COVID-19 on the future of EVs in Latin America are not yet clear. On the one hand, the pandemic's public health and economic fallout is a distraction for policymakers, and a drain on budgets. Though nine countries in Latin America recently pledged a collective target of 70 percent renewable energy use by 2030, COVID-19 has jeopardized that objective. It is likely that public spending will be focused on immediate economic recovery instead of long-term climate solutions.
But the pandemic has not derailed all climate and conservation initiatives, and in some cases, local leaders have committed to climate-friendly economic recovery programs.
Mexico City, for example, has made electric scooters and bicycles available as a low-cost, low-emission urban transportation option. Other cities, such as Buenos Aires, Quito and Montevideo, have implemented low-cost, or free, bike share programs. Electric scooters are widely available in South America, where they have evolved from a novelty to a popular, inexpensive commuting technology.
As leaders in Latin America confront a biting recession while keeping an eye on their environmental commitments, the future of EVs hangs in the balance. He's
About the Author
---
Latin American Program
The Wilson Center's prestigious Latin American Program provides non-partisan expertise to a broad community of decision makers in the United States and Latin America on critical policy issues facing the Hemisphere. The Program provides insightful and actionable research for policymakers, private sector leaders, journalists, and public intellectuals in the United States and Latin America. To bridge the gap between scholarship and policy action, it fosters new inquiry, sponsors high-level public and private meetings among multiple stakeholders, and explores policy options to improve outcomes for citizens throughout the Americas. Drawing on the Wilson Center's strength as the nation's key non-partisan forum, the Program serves as a trusted source of analysis and a vital point of contact between the worlds of scholarship and action. Read more
Argentina Project
The Argentina Project is the premier institution for policy-relevant research on politics and economics in Argentina.  Read more