Press Freedom, Coalition Troops in Afghanistan, and Lithium Deposits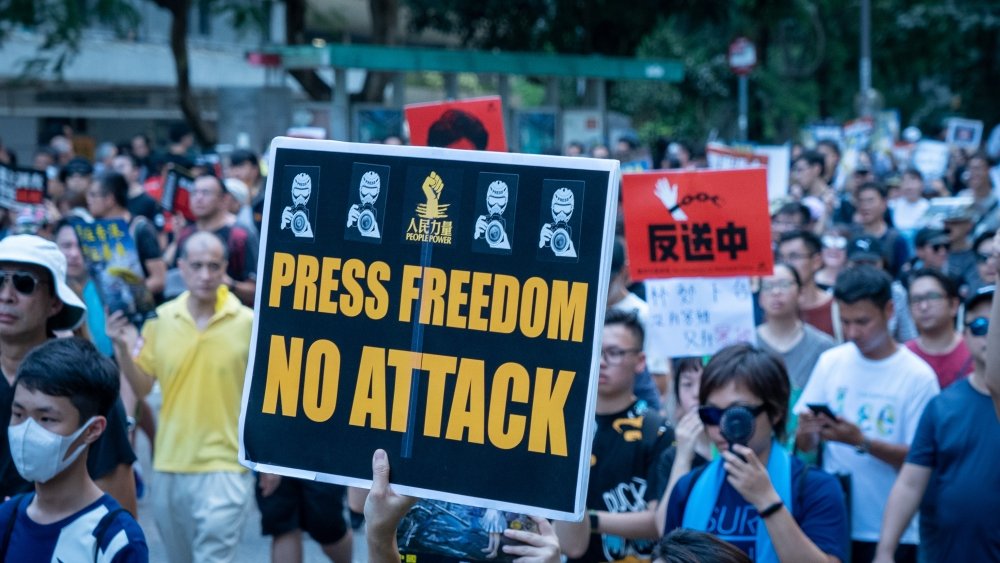 More than 130 members of the press were arrested last year merely for their reporting on the COVID-19 pandemic.
Each year in May, Reporters without Borders ("RSF") releases its World Press Freedom Index ranking 180 countries for their treatment of journalists and overall press freedom.
In this year's Index, while the U.S. climbed one spot to 44th, China is ranked 177th for the third year in a row and is described as the "world's biggest jailer of journalists." RSF also finds that a number of countries are using the pandemic to restrict their press freedoms.
 In China, authorities sentenced a citizen journalist to four years in prison for documenting the early days of the government's response to the outbreak. Her narrative was in sharp conflict with the CCP's official accounts. The government is still holding at least seven other journalists for their coverage.
The CCP is far from alone in its treatment of those who are reporting on the pandemic and how officials are responding to it. According to RSF, more than 130 journalists and other members of the press have been arrested for their work.
In May, Bangladeshi authorities arrested a leading female journalist for her reporting on corruption in the government's handling of the covert response. Originally held under her country's Official Secrets Act, she was only granted bail after days of mass protests.
According to the Committee to Protect Journalists, on more than one occasion, Egyptian authorities have arrested reporters for coverage of the pandemic that they deem critical of the government. Last year, a veteran reporter covering the pandemic was charged, among other things, with inciting public opinion against the government and joining a terrorist group. According to CPJ, he contracted COVID while in prison and died not long after his release.
At the beginning of this year, there were over two and a half times more coalition troops in Afghanistan as U.S. service members.
When Americans think of the military presence in Afghanistan, they focus on the hundreds of thousands of U.S. servicemen and servicewomen who have served there—and understandably so. But that's only part of the story. Many tens of thousands of non-U.S. troops have put their lives on the line there as well.
Over 150,000 troops from the UK have served in Afghanistan and more than 450 were killed. In fact, approximately 1150 non-U.S. Coalition troops have lost their lives there…more than half of those were from the UK and Canada. France and Germany, Italy and Poland, Denmark and Austria, Turkey and Spain, all lost troops in Afghanistan. Many other countries supplied troops to the Coalition effort, long-time allies like Australia and Japan, but also including countries that are too often out of the American consciousness—like UAE and Jordan, Mongolia and Montenegro, Slovakia and Sudan.
Of course, all of these numbers pale in comparison to the losses suffered by Afghans themselves, civilian and military.
Lithium is sometimes described as "white gold." It's the lightest metal and has high electrical conductivity. More to the point, it is an essential component of rechargeable technologies—laptops, cell phones, energy storage, electric vehicles, and more. As the global push for clean energy grows, demand for lithium is likely to skyrocket, making the economic prospects for the so-called "Lithium Triangle" seem very bright indeed.
Of course, hosting an abundance of lithium doesn't mean much if countries aren't able to access it or if they lack the production capacity to utilize it effectively. As of 2020, only 21 million metric tons of the world's lithium resources were accessible with modern technology. Falling lithium prices in the late 2010s caused many mining companies to scale back their operations. And the COVID-19 pandemic has caused further disruptions and delays in plans to extract and process the metal.
In response, Lithium Triangle countries are looking to boost lithium related innovation, investment, and production. In fact, Argentina recently announced plans to increase its lithium production six-fold by 2022. Meanwhile, countries outside of the triangle, including Mexico, Brazil, and Peru, are making plans to kickstart new lithium projects or ramp up existing production. The Biden Administration has also made ramping up lithium supply chains in the United States a key point of its economic agenda.
Chasing lithium is not without risks and costs. It's essential that countries utilize the best methods and technologies; otherwise, lithium mining can lead to soil, air, and water contamination. Reports of chemical leaks from lithium mining operations have already emerged in Tibet, Chile, and Argentina. The mining process also requires an enormous amount of water—an estimated 500,000 gallons per ton of lithium. This can strain water supplies and undermine the livelihoods of local indigenous communities, many of which rely on agriculture and other water-intensive activities. 
How we partner with leaders in the Lithium Triangle has never been more important. Helping them optimize the value of their "white gold" lithium deposits, while also meeting the highest environmental and ethical standards, is in both their interest and ours.