El Presidente Alberto Fernández dijo que iba a "ser necesario revisar muchas sentencias que se dictaron en los últimos años," y que "los jueces deben responder por sus fallos," refiriéndose a casos de corrupción que involucran a exfuncionarios del gobierno de Cristina Fernández de Kirchner y a ella.
Q: ¿Anticipa un retroceso de la independencia de la justicia? ¿Cómo se puede asegurar la continuidad de los casos de corrupción que lleva la Cámara Federal de Apelaciones, máxima instancia penal que usted integra?
 
A: Nuestras decisiones son revisadas por los órganos designados por la constitución y la ley. Y esa facultad está exclusivamente reservada a las partes constituidas en el proceso. No existe posibilidad formal, ni material, de que ningún otro poder del estado revise decisiones del Poder Judicial. Pueden gustarle o no al resto de los miembros de los otros poderes y a la comunidad, pero uno de los pilares fundamental del sistema democrático es la defensa irrestricta de la división de poderes.
 
La defensa de ese aspecto de la función jurisdiccional es una prioridad para la garantía de independencia de los jueces, y no se alterará en el espíritu de ningún integrante de la Magistratura Argentina, sea quien sea el que proclame lo contrario e intente una injerencia inconstitucional.
 
Mi objetivo, y el de los colegas que comparten mi visión sobre la Magistratura es que los casos a decidir no tienen nombres propios que, por si mismos, sean un factor que condicione la decisión. Nosotros, como jueces, establecemos la real ocurrencia de hechos los cuales pasamos por el filtro del derecho sean quienes sean sus protagonistas. No desconozco que, en el caso de la cámara que integro, en tanto superior de las investigaciones que llevan adelante los jueces federales con asiento en la ciudad de Buenos Aires, su trascendencia es enorme porque pueden involucrar a las más altas autoridades del país. Pero eso no puede corrernos del objetivo principal que es el de garantizar juicios justos e investigaciones respetuosas de las garantías constitucionales sin importar quién sea el denunciante o los denunciados.
 
Nuestra obligación constitucional de "afianzar la justicia" (como anuncia el preámbulo de nuestra constitución) implica, entre otras cosas, ser asépticos a los nombres de los protagonistas de los casos y así ofrecerle a los justiciables – y en definitiva a la sociedad – un trato serio, objetivo y alejado de pasiones que pudieran distorsionar la decisión. Con lo dicho, le contesto la última parte de su pregunta. Sea quien sea el presidente de la república, en tanto de mi dependa, no hay ninguna posibilidad de frenar o acelerar investigaciones por la sola voluntad de quien ejerza el poder político, cualquiera sea el estamento que ocupe. Y esta cámara federal, a la que me he integrado recientemente, tiene todos los instrumentos legales y de superintendencia como para garantizar el cumplimiento de estos objetivos y también el Tribunal Superior en proteger a los jueces inferiores respecto de interferencias indebidas.
The full Q&A is available here.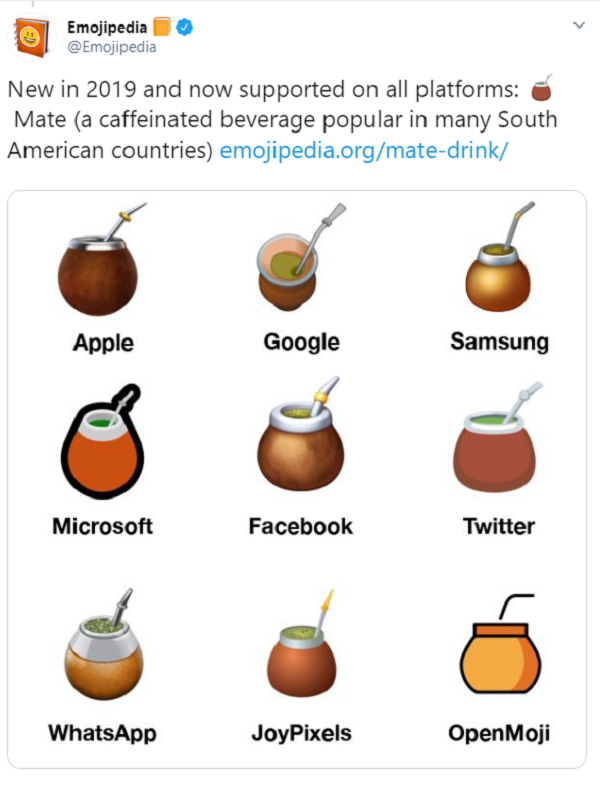 Mate, a Latin American drink popular in Argentina, Paraguay and Uruguay (finally) made it to the emoji-library in 2019. Read more about this beverage and how it competes with coffee. 

Related Programs
Latin American Program
The Wilson Center's prestigious Latin American Program provides non-partisan expertise to a broad community of decision makers in the United States and Latin America on critical policy issues facing the Hemisphere. The Program provides insightful and actionable research for policymakers, private sector leaders, journalists, and public intellectuals in the United States and Latin America. To bridge the gap between scholarship and policy action, it fosters new inquiry, sponsors high-level public and private meetings among multiple stakeholders, and explores policy options to improve outcomes for citizens throughout the Americas. Drawing on the Wilson Center's strength as the nation's key non-partisan forum, the Program serves as a trusted source of analysis and a vital point of contact between the worlds of scholarship and action. Read more
Argentina Project
The Argentina Project of the Latin American Program, aspires to be the premiere institution for policy-relevant research on the political and economic reforms underway in Argentina. The project will be a valuable resource for senior officials in the U.S. and Argentine governments, lawmakers, investors, diplomats, and journalists. Read more