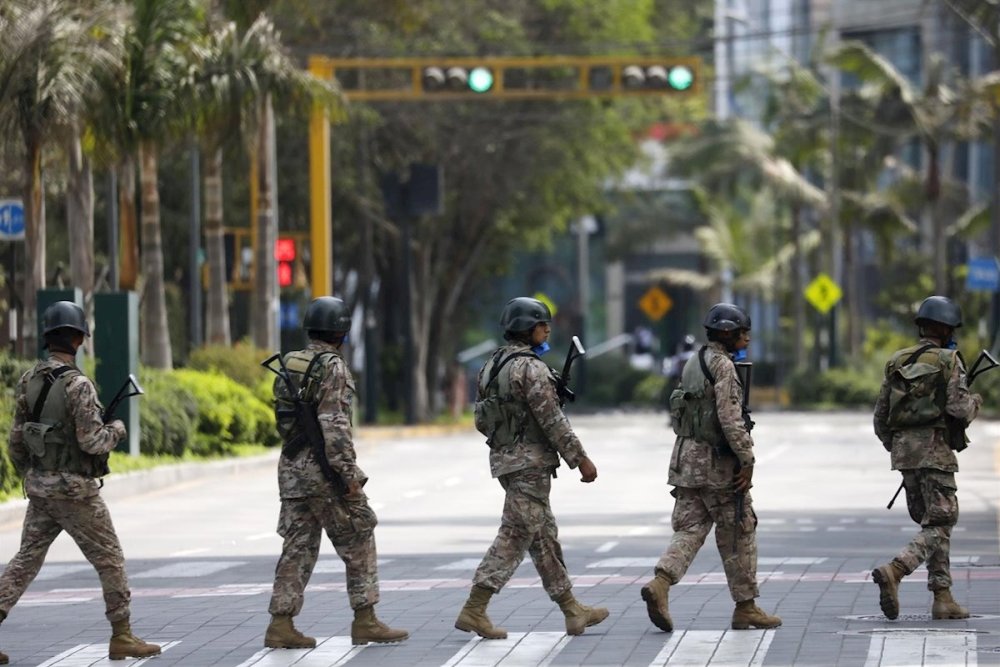 As the coronavirus health crisis intensifies throughout Latin American, leaders are increasingly turning to the armed forces for help. That is also true in the United States, where the National Guard has distributed food and the Navy is providing hospital services. But Latin America has a long history of military rule, and the image of troops in the streets — whether operating temporary health clinics or feeding quarantined citizens — has made many human rights advocates queasy.
Presumably, the duration of the pandemic will determine the duration of the military's increased involvement in civilian affairs. But what if it doesn't? Before Covid-19, watchdogs in several countries were already on high alert, after presidents deployed soldiers or paramilitary forces in response to anti-government protests last year. Those protests have died down, but they could easily reignite; the pandemic's economic fallout deprives governments of the meager resources they had to address demands for better public services. In the meantime, troops are enforcing broad lockdowns and travel restrictions. To compel strict social distancing measures in El Salvador, President Nayib Bukele has instructed soldiers "to get tougher on people in the street."
Adding to the discomfort, Bolivia, Chile and the Dominican Republic have delayed votes.
So far, there is no indication Latin America's armed forces are eager to rule. Though the military helped usher out Bolivian President Evo Morales last year, it did not attempt to govern. In Venezuela, the armed forces have resisted pleas from Nicolás Maduro's enemies to depose the dictatorial regime. In Peru last year, the military largely stayed on the sidelines, even as a clash between the president and congress set off a constitutional crisis. Moreover, in most cases, the military in Latin America boasts logistical capabilities unmatched by civilian agencies.
Nevertheless, given the region's history, fears of a slippery slope are hard to shake. As the Washington Office on Latin America (WOLA) warned, civil-military traditions in the region are hard-fought and vulnerable to backsliding: As troops leave their barracks to address the health emergency, it is important their presence on the street does not become "normalized," WOLA wrote, adding, "whatever supporting role the armed forces may play in responding to the pandemic, the military should remain under firm civilian control."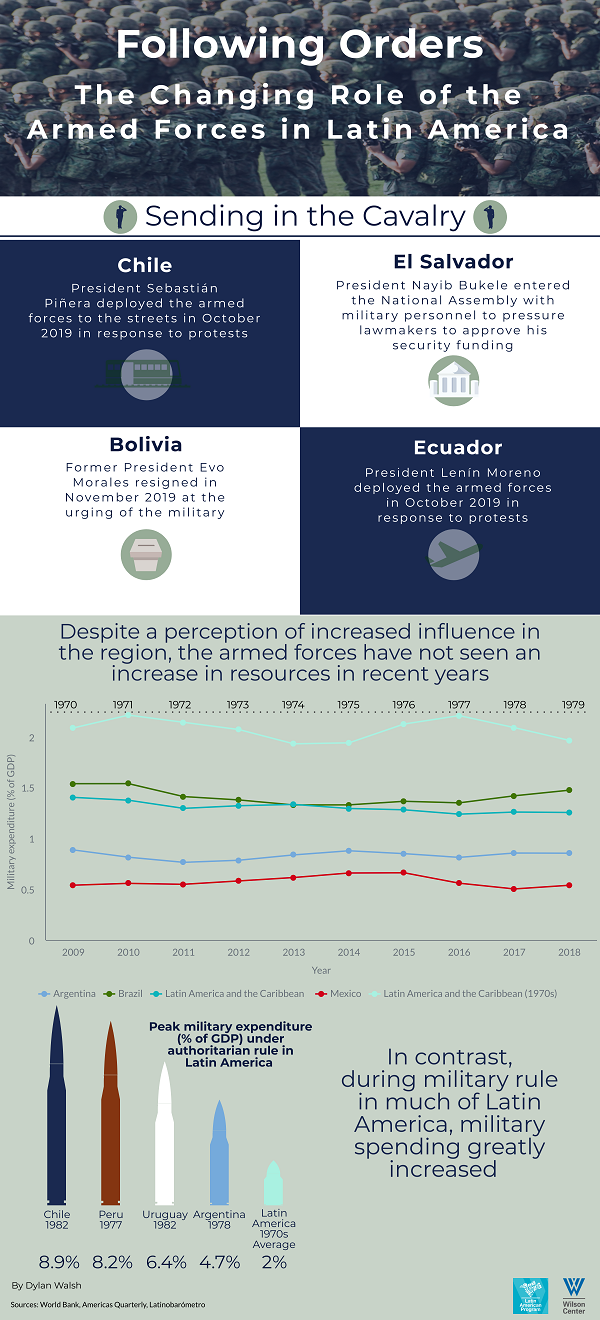 About the Authors
---
Latin American Program
The Wilson Center's prestigious Latin American Program provides non-partisan expertise to a broad community of decision makers in the United States and Latin America on critical policy issues facing the Hemisphere. The Program provides insightful and actionable research for policymakers, private sector leaders, journalists, and public intellectuals in the United States and Latin America. To bridge the gap between scholarship and policy action, it fosters new inquiry, sponsors high-level public and private meetings among multiple stakeholders, and explores policy options to improve outcomes for citizens throughout the Americas. Drawing on the Wilson Center's strength as the nation's key non-partisan forum, the Program serves as a trusted source of analysis and a vital point of contact between the worlds of scholarship and action. Read more
Argentina Project
The Argentina Project of the Latin American Program, aspires to be the premiere institution for policy-relevant research on the political and economic reforms underway in Argentina. The project will be a valuable resource for senior officials in the U.S. and Argentine governments, lawmakers, investors, diplomats, and journalists. Read more