Saving Their Profession: Russian Journalists and Their New Media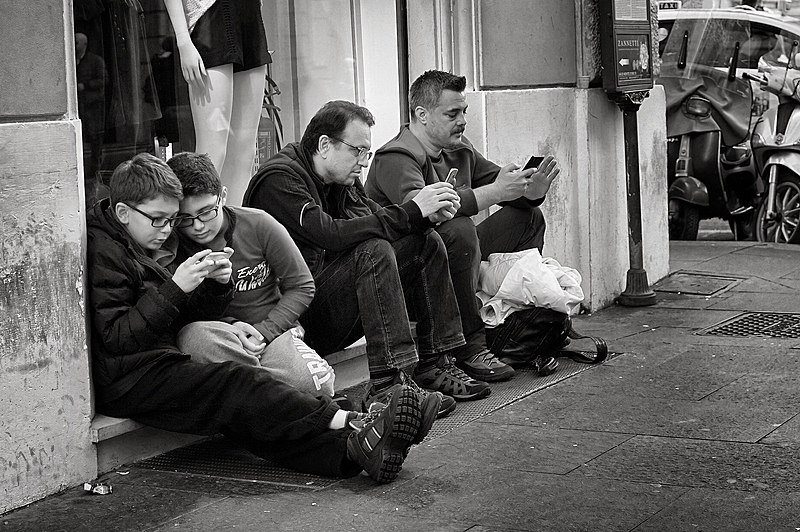 BY NATALIA ROSTOVA
With government pressure growing, Russia's journalists have been looking for ways to transcend the country's stifling political climate. Small, independent, agile projects run by tight-knit teams of committed people seem to be the going answer. How are they managing it?
Taisia Bekbulatova, who once worked for Kommersant, a national business daily, and Meduza, a Russian-language news site based in Latvia, this past August started a project she called Kholod ("Cold"). She is the resource's only contributor, helped by friendly colleagues from other media. "This is because Russia is our homeland; and our homeland is of course an icy wasteland where a brigand roams," Bekbulatova wrote on Facebook when launching her site (the allusion is to a description of Russia ascribed to Konstantin Pobedonostsev, a Russian statesman of the late nineteenth and early twentieth century). "This is what this zine is going to be about, it will tell long stories about Russia and the outlaws who wander it," her post continued. Bekbulatova runs a podcast, too. Her first story was about a maniac from the south Siberian region of Khakassia who killed four women and raped a few others. The police knew him but would always let him go.
Bypassing the Mainstream
Bekbulatova's very first investigation received the Redkollegia prize, which supports professional journalism in Russia's independent media. "I would not say I could not get a job with other media. But I could not find the right one," Bekbulatova said, explaining to me her reasons for starting a project of her own. "There are downsides: one has to start everything from scratch, with few resources; everything is very slow. But it gives you freedom and lots of opportunities to learn. Among the characteristics of the media today, freedom and unfreedom are the two most important. When I started studying journalism at Moscow State I thought the scene was half-empty. Too few cool publications, and it was unclear where to find jobs. This sounds funny today.… Entire niches of the market are empty. On the one hand, that is sad; on the other hand, it means that young ambitious media come and take those places. They are more flexible, they learn fast and adjust to the new reality. New formats arise, including podcasts. Like gas, new media strive to fill the void, but this space is not that large."
Bekbulatova's example is not unique. An entire new wave of projects has appeared, projects created by small groups of journalists and editors. The list includes MBK Media, supported by Mikhail Khodorkovsky; The Bell, a business news resource similar to the American news site Axios; Mediazona, a project dedicated to covering publicly significant arrests and trials; and Colta.ru, a site focused on culture. Resources focusing on interviews have been proliferating recently. Experienced journalists from the "old media" compete for audiences' attention with younger ones, those who have made their names on YouTube.
An array of media projects whose main platform is YouTube has also developed recently. Among them is Yuri Dud's channel. Originally a sports journalist, Dud has built an enthusiastic following for his high-profile interviews with independent-minded celebrities and politicians who are not allowed on Russia's state-run television channels. Leonid Parfenov, a veteran television anchor and author, has long been rejected by official television and is now producing his shows for YouTube. Alexei Pivovarov's Redaktsia, Nikolay Solodnikov's Eshche ne Pozner, and Elizaveta Osetinskaya's RusskieNorm are all examples of full-fledged regular programs that, through social media, provide the kind of independent, not necessarily oppositional content that is absent from mainstream TV. Deutsche Welle, BBC, and Radio Free Europe/Radio Liberty, foreign media outlets that have Russian-language services, have all strengthened their editorial offices with excellent Russian talent.
New Focus
Is this the start of a renascence of independent media in Russia? What drives Russia's small media phenomenon? "I can see a demand for precise and focused information," says Elena Myasnikova, renowned Russian publisher. "I don't think a large media [organization] focusing on detentions and arrests, like OVD-Info, would make sense. This is a niche player with a strong focus on the kind of information that is needed only at certain moments and by certain people.
"If a large mainstream publication starts digging that deep on a narrow subject, it will lose its broad audience. Large media need to go after a wide range of subjects. And besides, a large publication is a very expensive and heavy-footed machine," Myasnikova continues.
Gleb Cherkasov, the former deputy editor of Kommersant, has just supported his former colleague Bekbulatova by volunteering to write an obituary for Yury Luzhkov, mayor of Moscow from 1992 to 2010, who died recently. Cherkasov, a long-time Kommersant staffer, had left the newspaper this past May after an episode that he and his immediate colleagues considered an act of pressure on journalists from the publication's owner. Kommersant's entire politics desk quit in solidarity. Alisher Usmanov, a well-connected Russian billionaire businessman, owns the paper. 
"We are back to the early 1990s when a number of layers existed in media, different worlds that worked at cross purposes," Cherkasov tells me. "There was the former Soviet press, both progressive and conservative. And then there were newly established small publications that slowly, step by step, worked their way into the market. Kommersant, Nezavisimaya Gazeta, and Segodnya were among those daring young projects back then.
"Something similar is happening today. The projects initiated in the late 1980s and the early 1990s are losing their markets because it seems easier to make a proper thing from scratch than to rebuild an outlet that was a good thing ten years ago. Small media are easy to launch, platforms are available, but this does not yet constitute a real boom. It will be possible if sustainable economic models appear. I am not sure whether the current blossoming will still be around two to three years from now," Cherkasov concludes.
Small Media, Big Stir
"Usmanov has owned Kommersant for quite a while [since 2006—RF]," says Roman Dobrokhotov, editor-in-chief of The Insider. "But censorship has increased there relatively recently." Dobrokhotov, 36, was originally a political activist. One of his early projects in the 2000s was the movement Walking Without Putin. When the current prime minister, Dmitry Medvedev, served as a placeholder president in the late 2000s, Dobrokhotov was not buying Medvedev's benign rhetoric. "Don't listen to him. He abridged all the rights and freedoms.… He violated the constitution. There is censorship in the country, no real elections, and he talks about the constitution," Dobrokhotov shouted, interrupting Medvedev during the latter's speech at a Moscow conference. Dobrokhotov was among the public attending the conference. He was quickly apprehended, escorted out of the hall, and immediately fired from his job at the Moscow radio station Govorit Moskva.
Later, Dubrokhotov started a media project of his own. "When we launched six years ago, the trend of going after the large media [outfits] had already started. It intensified after the Ukrainian war," Dobrokhotov tells me. "In a short period of time most major outlets, including those that were good at journalistic investigations, changed hands and editorial leadership, in some cases more than once.
"RBC, Forbes, Vedomosti were among those. We were the first who came up with the concept of a small internet media [sphere] focused on investigations and fighting fakes. Over time, we added news, opinion, and general-interest features and ended up growing into a full-fledged media," Dobrokhotov says. He launched The Insider in 2013 and calls it "the oldest of the new media."
The Insider's investigations of the people who might have been behind the attempted murder, in Britain, of the former double agent Sergey Skripal caused a worldwide stir. Working in conjunction with the investigating group Bellingcat, The Insider claimed it had obtained the real names of the suspects, servicemen of the GRU, the Russian military's special service. In other joint Insider-Bellingcat investigations, the journalists wrote about an attempted coup in Montenegro, in which Russian operatives allegedly participated, and claimed they had identified the real names of the suspects behind the downing of MH17, a passenger jet shot down over Ukraine during the hostilities between the Russian-backed separatists and the Ukrainian armed forces. In one of its recent pieces The Insidersaid it had uncovered the person suspected of the murder in Berlin of a former Chechen guerrilla fighter, a Georgian national.
Dobrokhotov considers his audience rather small, at two to three million hits a month, depending on public response. But sometimes his work makes the world's top news. "When we found those Russian generals who were behind the movement of an anti-missile system from Russian territory into Ukraine, the entire world went haywire, Dobrokhotov tells me. "The Dutch included this in their official investigation. If you hit it big, it does not matter that your platform is small."
The way The Insider operates is informed by the "Russian censorship machine" (Dobrokhotov's words). The publication is registered in Latvia, keeps no office in Moscow, and uses a coworking space for editorial meetings. The site has no staff and pays people honorariums. "And searches will produce no results," an Insider editor tells me. "They won't be able to squeeze us economically the way they would normally do with media."
What Dobrokhotov's or any other outlet cannot defend itself against is blacklisting by Roskomnadzor, Russia's internet censor. When a resource is on the list, it cannot be accessed from Russia. Grani.ru, Kasparov.ru, Ej.ru, and the blog run by the anti-corruption crusader and politician Alexei Navalny have all been blacklisted. The sites' publishers did use mirror sites to bypass the blockade, but they still are less visible in Russia now. RosKomSvoboda, an NGO that describes its mission as fighting censorship, was established soon after those sites were first blocked.
Agile and Flexible
Over this past summer a competitor to Dobrokhotov's site appeared, an investigative project that calls itself just that, The Project. Roman Badanin, former editor-in-chief of the independent television channel TV Rain, won a Knight Journalism Fellowship at Stanford University and ended up launching a new media platform as a result. The eleven-member team of journalists produces one piece a week, usually an exclusive investigation of a sensitive subject. Badanin's Project published a series of exposés of the businesses run by Yevgeny Prigozhin, whose name is closely associated with Putin. Informally, Prigozhin is known as "Putin's cook." One of the stories detailed Prigozhin's exploits in a number of African nations, where he is often seen as an informal conduit for Russia's interests. The Project investigated Sevastopol's property market and found some shady deals that involved Russia's Defense Ministry.
The professional community quickly appreciated The Project's effort. Its journalists received three Redkollegia awards this year. One was for a story about the Kremlin's election interference in twenty countries, the second for a report on the state of the judiciary's independence in Russia, and the third for a study of the institution of presidential pardons. A profile of Alexei Gromov, the Kremlin pointman on media, was awarded a prize by the Open Russia foundation.
"Two major trends pushed us in this direction," Badanin tells me. As social media started to divert advertising revenue from mainstream media to their own pockets, traditional media started to cut back on the most expensive, labor-intensive, and time-consuming content, journalistic investigations. Dobrokhotov expressed a similar understanding of this universal trend as one of the drivers of the proliferation of small investigative projects. "Many in the world, especially in the United States, quickly realized the harm this change could do to society," Badanin says. "Complex, investigative journalistic work has hygienic purposes. If large mainstream media can no longer support it, society has to find a way to pay for it just for the sake of the kind of public good this work produces.
"This was how ProPublica and similar American projects came about. The number of investigative nonprofits is still growing, although hundreds of projects are now in existence," Badanin continues. "Russia's local factors pile up on top of that universal trajectory. Censorship and various pressures make it next to impossible to create, in Russia, an independent outlet that would be serious about investigations and would make money through advertising.
"Small media are growing in Russia because all the large ones have been successfully dealt with by the government. Moreover, the big ones are inflexible; they run old-school editorial offices that keep clinging to their image, which was invented twenty years ago in a very different country. If somebody can explain to me why Kommersant still spends a third of its paper space on calling everyone "gospodin" or "gospozha" [Russian equivalents of Mr. and Mrs. that are archaic and are never used in real speech], I will give them a bottle of good whisky."
Saving the Profession
The journalist Irina Borogan has little doubt that the small media phenomenon is the product of intensifying government pressure on media. "Of course, all those mini-media sprang up because the major ones had been squelched," Borogan tells me. "If somebody launches a large media project the Kremlin will kill it immediately. But nobody will launch a large media project because no one will invest in it. All those small projects represent a survival strategy. The journalists are trying to survive and save their profession."
Like her long-time co-author, the journalist Andrei Soldatov, Borogan has been focusing on investigating Russia's special agencies; together, they worked for a number of Russia's leading media. Novaya Gazeta was the last job they both had on a major newspaper. In 2009 they were fired. The paper says the reason for the decision was purely economic: Russia was going through an economic crisis at the time. The journalists themselves say the reasons were political. For the past years the two have been successful authors, in English, of books about Russian special agencies and the intelligence community.
The New Nobility: The Restoration of Russia's Security State and the Enduring Legacy of the KGB (2010) and The Red Web: The Struggle between Russia's Digital Dictators and the New Online Revolutionaries (2015), originally written and published in English, were later translated into numerous languages, including Russian. Soldatov and Borogan's most recent book, The Compatriots: The Brutal and Chaotic History of Russia's Exiles, Émigrés, and Agents Abroad, focuses on stories of the Russian state settling scores with its enemies abroad. "If we had a job with a media [outlet] we would not consider writing books. Books are lonely; you don't have colleagues, company," Borogan says. "Working in an editorial office is much more fun." Their incomes were higher when they worked for big media, Soldatov adds.
The two have worked for large mainstream media but are now struggling with what Borogan sees as Moscow media's provincialism. "Russia deserves to have brave journalists as much as, say, Turkey does. And we are not as brave as our Turkish colleagues," she continues. "There are about seventy journalists who are in jail in Turkey. Yet Turkey has media that are opposed to president [Recep Tayyip] Erdogan and provide their readership with a big picture of what is going on in the country. We have too few of those. Our media are focused on protests, and protests are easy to cover; it does not cost much. Others are doing digital investigations, that is, they go through data and find one more corrupt official who bought another villa.
"On the one hand, journalists do try to perform their duty and hold officials to account. On the other hand, this is not enough by far. Life is diverse and abundant, and corruption is only a tiny part of it. International politics gets little attention; papers limit themselves to translations and analytical pieces. Regional journalism is nearly dead. We know little about the North Caucasus. Novaya Gazeta does produce investigative pieces about it, but again, those are mostly about putting another social ill on display."
"We went to a number of seminars on journalism lately," Soldatov adds. "Our colleagues seem to be all into narrative journalism. Apparently what they mean by that are stories of private life, often their own stories. They write about somebody's depression or a loss. A sad picture emerges, one of contaminated genres, of obscuring the boundary between journalism and activism. Often people think they can ease up journalistic standards if that would help somebody. The boundary between human rights activism and journalism is blurred."
That said, Soldatov is cautiously optimistic about the mini-media phenomenon. Demand for information is growing, and this is new. "There are lots of people who get their news from the internet," Soldatov says. "There is a demand for information that you can get from your phone. Telegram, a Russian messenger app complete with channels for blogging, is an established presence now in Russia. Journalists who had to leave Vedomosti or RBC are blogging. They do what they can."
About the Author
---
Kennan Institute
The Kennan Institute is the premier U.S. center for advanced research on Russia and Eurasia and the oldest and largest regional program at the Woodrow Wilson International Center for Scholars. The Kennan Institute is committed to improving American understanding of Russia, Ukraine, and the region through research and exchange. Read more