Shinzo Abe's Legacy as Prime Minister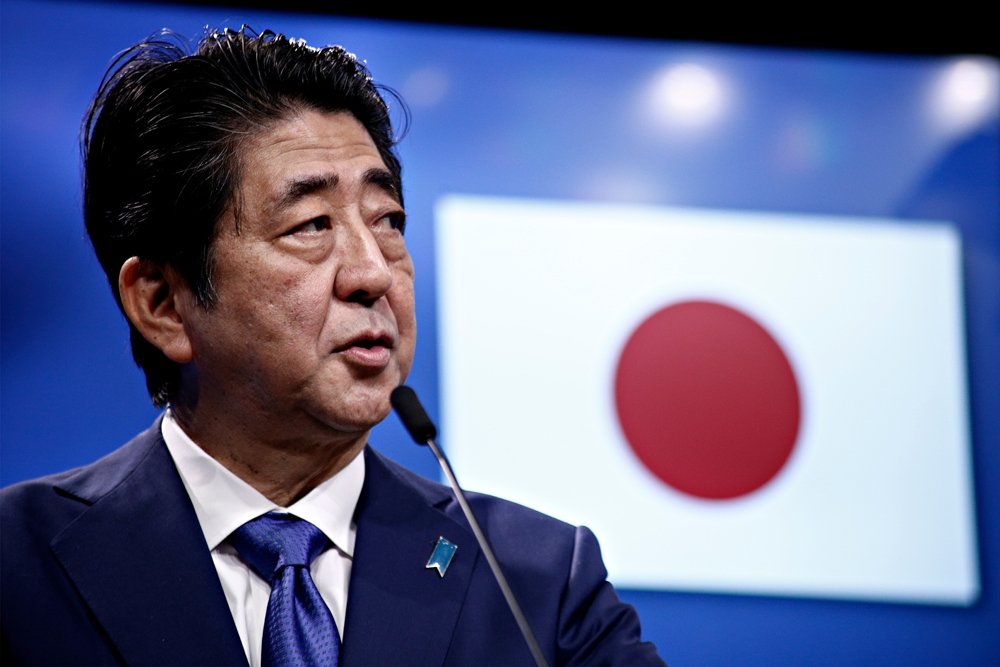 On August 28th, Japanese Prime Minister Shinzo Abe announced that he would resign from his position after nine years in office.  His resignation came only days after he officially surpassed the country's previous record for the longest consecutive term in office for a prime minister.  Citing health concerns, Abe also declined to endorse a successor to the position.  He will serve until a replacement is selected later this week.
"Abe's strength has been that he had an ambitious, longer-term vision for Japan and its global position. In addition to promoting Japan as a leader in free trade and multilateralism, he also pushed for Japan to reassess its military position and play a greater role in regional security," Shihoko Goto writes in one analysis of the news.  "With no clear successor in sight, Abe leaves behind a Japan that has been a source of stability in a world facing great upheaval. Expectations for the new prime minister to continue to provide stable governance at home, and articulate Japan's role as a champion of liberal values and free trade will be high."
Goto also discussed the news with other outlets as they joined the speculation on his successor:
"Japan hasn't suffered the wrath of Trump. Japan isn't seeing the unilateral withdrawal of U.S. troops like Germany. We could say that is one of Abe's successes," said Shihoko Goto, senior associate for Northeast Asia at the Wilson Center in Washington.
-Shinzo Abe Will Resign as Japan's Prime Minister, Citing His Health, The Wall Street Journal
Personalities are particularly important in global diplomacy during the Trump era because it is a time when "perception is not necessarily reality but perceptions do matter," said Shihoko Goto…Goto said she was not sure if any of Mr. Abe's most likely successors would be as skillful as he was in harnessing personal relationships with his foreign counterparts to Japan's diplomatic advantage.
-Shinzo Abe's Resignation Prompts Speculation About His Successor, The New York Times
Under Mr. Abe, Japan "filled some of the vacuum left by the United States in its reluctance to remain a considerable Pacific power," said Shihoko Goto, a senior associate for Northeast Asia at the Wilson Center in Washington. She said she wasn't sure if any of his likely successors would be able to assume the mantle of multilateral leadership in the region.
-Many Want to Be Japan's New Leader.  Do They Know What Awaits Them?, The New York Times
In a piece for The Globalist, Goto also goes into more detail about Abe's Legacy.  "History may look far more kindly on Shinzo Abe than Japanese voters did during his last few months of office," she writes. "Even his staunchest critics would not deny that Abe had a clear vision for Japan at a time when countries across the globe have been struggling to grapple with the shifts in the international balance of power and challenges to economic growth."
She also lent her expertise to interviews with The Heat on CGTN America and the Wilson Center's podcast Need to Know.
Follow Shihoko Goto, deputy director for geoeconomics and senior associate for Northeast Asia, on Twitter @GotoEastAsia.
The views expressed are the author's alone, and do not represent the views of the U.S. Government or the Wilson Center. Copyright 2020, Asia Program. All rights reserved.
About the Author
Shihoko Goto
Director, Asia Program and Director for Geoeconomics and Indo-Pacific Enterprise
Shihoko Goto is the director for geoeconomics and Indo-Pacific enterprise and acting director for the Asia Program at the Wilson Center. Her research focuses on the economics and politics of Japan, Taiwan, and South Korea, as well as US policy in Northeast Asia. A seasoned journalist and analyst, she has reported from Tokyo and Washington for Dow Jones and UPI on the global economy, international trade, and Asian markets. A columnist for The Diplomat magazine and contributing editor to The Globalist, she was previously a donor country relations officer for the World Bank and has been awarded fellowships from the East-West Center and the Knight Foundation, among others.
Read More
---
Asia Program
The Asia Program promotes policy debate and intellectual discussions on U.S. interests in the Asia-Pacific as well as political, economic, security, and social issues relating to the world's most populous and economically dynamic region.  Read more