Thrifty With COVID-19 Relief, Putin Pursues Other Goals
BY MAXIM TRUDOLYUBOV
Some of the European politicians whose approval ratings were underwater before February became popular "corona-time" leaders as they appeared open and determined in the face of the pandemic. Russia's president Vladimir Putin has not enjoyed the kind of "rally around the flag" effect that befell many of his counterparts, but Putin's political calculus is different, and he most likely intends to have the last laugh.
Germany's outgoing chancellor Angela Merkel's approval rating reached 80 percent recently; 77 percent of Austrians polled in late March had a positive opinion of the country's chancellor Sebastian Kurz; the Dutch prime minister Mark Rutte saw his support climb to a 75 percent high in early April. The Italian prime minister Giuseppe Conte has the support of more than 70 percent of Italians. In all those cases the ratings went up 20 to 40 percentage points in the space of a few weeks of quarantines.
As opposed to many of his European counterparts, Putin has not seen his support levels improve during the coronavirus pandemic. On the contrary, his approval rating has now hit a fourteen-year low. Over the past two months, it went down six points, to 63 percent, among those polled, according to Levada; it sank below 30 percent according to VTsIOM, a pollster supported by the Kremlin. In the latter instance VTsIOM had asked an open question without mentioning any politicians by name. That is why the figure is relatively low.
Putin's campaign managers have been known to be masters of approval ratings for decades, yet they seem to have missed a ready opportunity to improve their boss's outlook this time. But it may also mean that they saw the early stages of the pandemic as low-hanging fruit and decided to pass on it in view of more important challenges ahead. Putin faces no political competition at home, and his approval rating is still comfortably high by anyone's measure.
The biggest point of contention right now is economic and financial relief, which so far has been rather meager compared to that released by the United States, Germany, France, or Spain. The Russian government's relief measures stand at about 2.8 percent of GDP and have involved very limited direct aid, mostly amounting to tax holidays and loan guarantees. Many aid and stimulus packages in European countries run in the double-digit percentages of their respective GDPs. One unintended consequence of the United States having approved a $2.2 trillion stimulus package (11 percent of the U.S. GDP) is that half of all newly unemployed U.S. workers now stand to earn more in unemployment benefits than they did while still working.
As the size of relief packages goes, Russia is among other countries, such as China, Saudi Arabia, and Turkey, that have adopted conservative approaches to their respective fiscal emergency policies. As opposed to the 2008–2009 crisis, China cannot afford to launch the kind of stimulus measures other large economies are enacting because of Beijing's large levels of debt. With China's total domestic debt at 310 percent of the country's GDP, it faces a stark choice: it can stand by while many Chinese businesses fail or take on yet more debt.
Russia's fiscal position is very different. After years of prudent monetary policies, Moscow has effectively eliminated its debt problem. Russia's net public debt was below zero late last year, which means that the Kremlin can pay off all its debts if need be. Last August, the country's total debt (the state's external plus domestic debts) was 16.2 trillion rubles (about $211 billion). At almost 18 trillion rubles ($238 billion), the federal government's financial reserves and liquid assets on its federal and regional balance sheets amount to about 16 percent of the country's GDP, the Russian newspaper RBC Daily reported. Russia's National Wealth Fund alone exceeded 12 trillion rubles ($157 billion) or 11 percent of GDP by early April.
Putin is fundamentally opposed to building up debt because, in his view, that undermines a country's "sovereignty." "Putin prefers cutting public spending to borrowing… He treats the nation's financial reserves as a rainy day stash, not as instruments of monetary and fiscal policy," the economic journalist Boris Grozovsky wrote in these pages.
This conviction could only have grown stronger in the last few years as the Kremlin faced mounting economic sanctions and other forms of economic and political pressure. For a long time now, Putin has seen the West's actions toward Russia as hostile. That many in the West have seen Russia's foreign policies as aggressive does not complicate that view. Amassing financial reserves has been one of Putin's ways of getting back at his enemies.
Russia can afford a substantial relief and stimulus package without going into serious debt. Putin could easily have released an economic support package, reaping some collateral rewards in the process. Most likely he chose not to do so and to keep a tight lid on the country's reserves instead. The Kremlin clearly treats Russia's budgetary and other financial reserves as its main political resource and is not going to part with it lightly—and certainly not under political pressure from the grass roots, which the Kremlin has always prided itself on ignoring.
Russia's enviable fiscal standing and financial reserves are the Kremlin's defense and weaponry in what it sees as a global fight for domination. Both the United States and China may look down on Russia and its small and stagnant economy, but both giants are in debt, with no relief in sight, whereas Russia is clean, agile, and independent. Putin probably thinks that his counterparts in Germany or the United States, the countries that have launched some of the world's biggest stimulus packages, are giving up their economic might voluntarily and thus indirectly playing into Russia's hands.
History may or may not prove them wrong, but Russia's political leadership keeps considering lifting economic sanctions and liberating Russia from any pressure to pursue its foreign policy its overarching priority. Others may squander their resources on economic relief; the Kremlin is not that gullible. "The Kremlin is not likely to disburse large-scale financial aid until closer to a rescheduled all-Russia vote on Putin's proposed constitutional changes or the next elections," Alena Epifanova of the Robert Bosch Center for Central and Eastern Europe, Russia and Central Asia observed in a recent piece.
Of course, many Russians have lost their jobs and need support. Will they now turn away from the Kremlin's longtime leader? Some will, but the Kremlin has no qualms about that. Reviving the country's state sector has been his project for at least a decade now. This has led to an increase in the number of Russian citizens who are dependent on the state budget for their livelihoods. Public sector employees account for 40 percent of total employment in Russia, compared to 13 percent in Germany, 15 percent in the United States, and 25 percent in Finland. According to the IMF, the Russian state's share in formal employment is 50 percent.
Employees paid out of the state budget constitute Putin's political base. Expanding it means making more people dependent on the state budget. With the private sector bearing the brunt of the economic shutdown, the current crisis plays perfectly into the hands of a politician who is interested in expanding a dependent base for himself.
With the West burning its economic power in the pandemic and more Russians becoming dependent on Russian state resources, the situation does not seem all that dire if you look at it from the Kremlin's perspective.
The opinions expressed in this article are those solely of the author and do not reflect the views of the Kennan Institute.
About the Author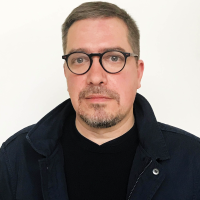 Maxim Trudolyubov
Senior Advisor; Editor-in-Chief, Russia File;
Editor-at-Large, Meduza
Maxim Trudolyubov is a Senior Fellow at the Kennan Institute and the Editor-at-Large of Meduza. Mr. Trudolyubov was the editorial page editor of Vedomosti between 2003 and 2015. He has been a contributing opinion writer for The International New York Times since the fall of 2013. Mr. Trudolyubov writes The Russia File blog for the Kennan Institute and oversees special publications.
Read More
---
Kennan Institute
The Kennan Institute is the premier U.S. center for advanced research on Russia and Eurasia and the oldest and largest regional program at the Woodrow Wilson International Center for Scholars. The Kennan Institute is committed to improving American understanding of Russia, Ukraine, and the region through research and exchange. Read more