Turkey Quietly Positions Itself Between Ukraine and Russia, with a View to Boosting Its Regional Leadership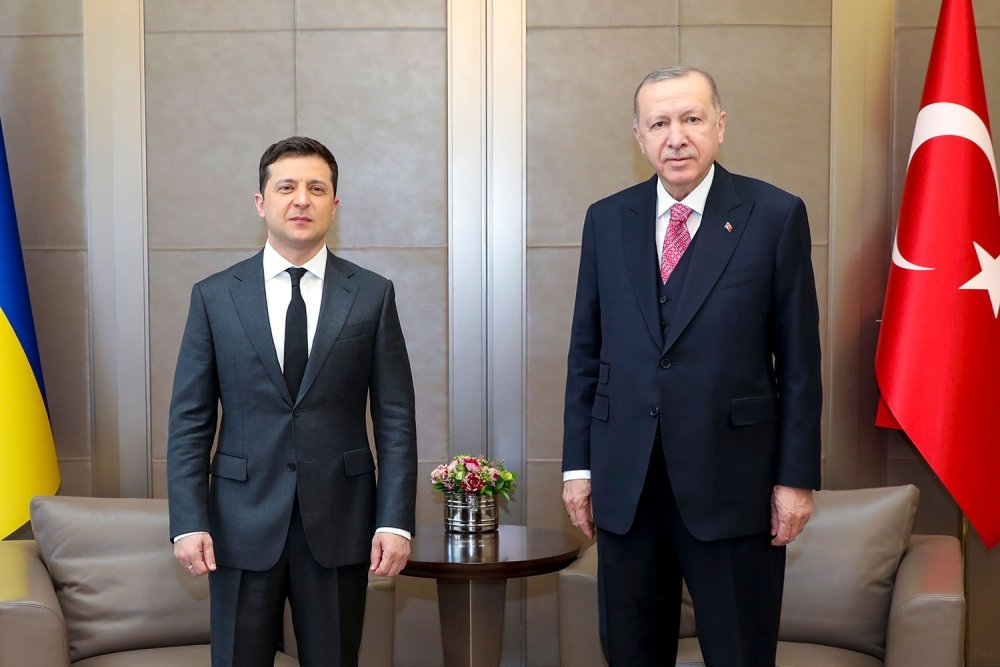 BY ILIYA KUSA
The visit by Turkey's president Recep Tayyip Erdoğan to Ukraine on February 3, 2022, was just his latest effort to carve out a comfortable position between Ukraine and Russia as relations between those two countries continue to deteriorate. Three major conclusions can be drawn from his visit.
First and foremost, the visit was about Turkey and its interests, not about Ukraine or Russia. Ankara secured a very profitable free trade agreement with Ukraine, which will certainly benefit Turkish companies more than Ukrainian ones. A new drone manufacturing factory will be built in Ukraine to coproduce the long-range tactical Bayraktar TB2 system, further promoting the Turkish drone brand and expanding it to other markets. The visit also afforded Erdoğan the chance to speak publicly about his mediation efforts and peace initiatives aimed at de-escalating tensions between Ukraine and Russia. A successful conclusion to his efforts would show Turkey to be capable of mediating conflicts and of playing a more active role in regional developments.
Second, Turkey is unlikely to take sides in case of an armed confrontation between Russia and Ukraine. Inserting itself into such a crisis would run counter to Turkish economic and security interests as it could disrupt trade in the Black Sea region and create additional problems for Turkey's commercial ties with Russia should Western sanctions be strengthened.
Third, Turkey should not be seen as Ukraine's military and political ally against any Russian incursion. The relationship between Ukraine and Turkey is definitely long term, but limited and situational in some respects. Turkey sees Ukraine as a potential counterweight to Russia in the region, a barrier against Russia radically expanding its geopolitical clout over the Black Sea region. Ukraine considers Turkey to be a powerful alternative partner, one that can boost Ukraine's military capabilities, help raise Crimea-related issues in the international arena, and contribute substantially to foreign trade.
However, the two countries have their own limits, which affects the relationship. Ukraine has close ties with the West, while Turkey, though a member of NATO, tries to position itself as a separate center of political power poised between West and East. Erdoğan's policies have often been criticized in the West, prompting Ankara to drift away from Western alliances and toward a more pragmatic Turkey-centered multifaceted regional agenda. This may put Turkey at odds with the West in certain circumstances.
At the same time, Turkey has equally close ties with Russia, ones it doesn't want to lose or sacrifice for the sake of Ukraine. Turkey and Russia are certainly not friends or allies, but over the years they have managed to reach a unique and stable set of agreements and mutual understandings in different regional playgrounds, from Syria to the Southern Caucasus. Their ability to negotiate and maintain a dialogue despite their differences is very important for both Ankara and Moscow. Erdoğan is unlikely to agitate Putin by throwing substantial military support behind Ukraine sufficient to change the balance of power between Kyiv and Moscow. The Russian factor is why Ukraine-Turkey relations will always be limited.
Nevertheless, Erdoğan's visit to Kyiv showed that Turkey is keen to explore new options for increasing its regional political presence. This was evident in the mediation initiative that the Turkish president put forward during negotiations with Ukraine's president Volodymyr Zelensky. It is unclear how Turkey could reshape the position of Ukraine or Russia on the conflict in the Donbas. The adamantine positions of those two countries are the very reason why the peace process stalled in the first place, not bad mediators or an ineffective negotiations format. So, just changing the venue to Istanbul or Ankara is unlikely to contribute to progress in the Russian-Ukrainian talks.
However, this mediation offer is a chance for Turkey to seize the initiative from the European leaders and try to position itself as an alternative political platform prepared to play a significant role in regional issues. Should such a mediation take place and prove fruitful, that would boost Erdoğan's image even more.
That said, the prospects for Russia-Ukraine negotiations still depend predominantly on the outcome of the Russian-U.S. talks in Geneva rather than on Turkey's mediation attempt. Putin cares only whether he can reach a compromise on Ukraine with the United States. Therefore, his willingness to talk to Zelensky directly with Erdoğan's mediation will likely be shaped by whatever understanding he may reach with President Biden, including on Ukraine and the Minsk agreements. The latest round of the Geneva "security dialogues" between the Russian and American delegations demonstrated that the two sides can in fact compromise on certain issues regarding Ukraine and on the implementation of the Minsk agreements.
In this context, Russia will likely agree to hold direct talks with the Ukrainian leadership in Istanbul or Ankara, giving Turkey the chance it wants to position itself as an important regional interlocutor, showing off its capabilities to bring parties together and to serve as an effective, pragmatic alternative for both Ukraine and Russia.
The opinions expressed in this article are those solely of the authors and do not reflect the views of the Kennan Institute.
About the Author
---
Kennan Institute
The Kennan Institute is the premier U.S. center for advanced research on Russia and Eurasia and the oldest and largest regional program at the Woodrow Wilson International Center for Scholars. The Kennan Institute is committed to improving American understanding of Russia, Ukraine, Central Asia, the Caucasus, and the surrounding region though research and exchange. Read more