Ukraine's Decentralization will Empower the Center, but Not in Ways You Think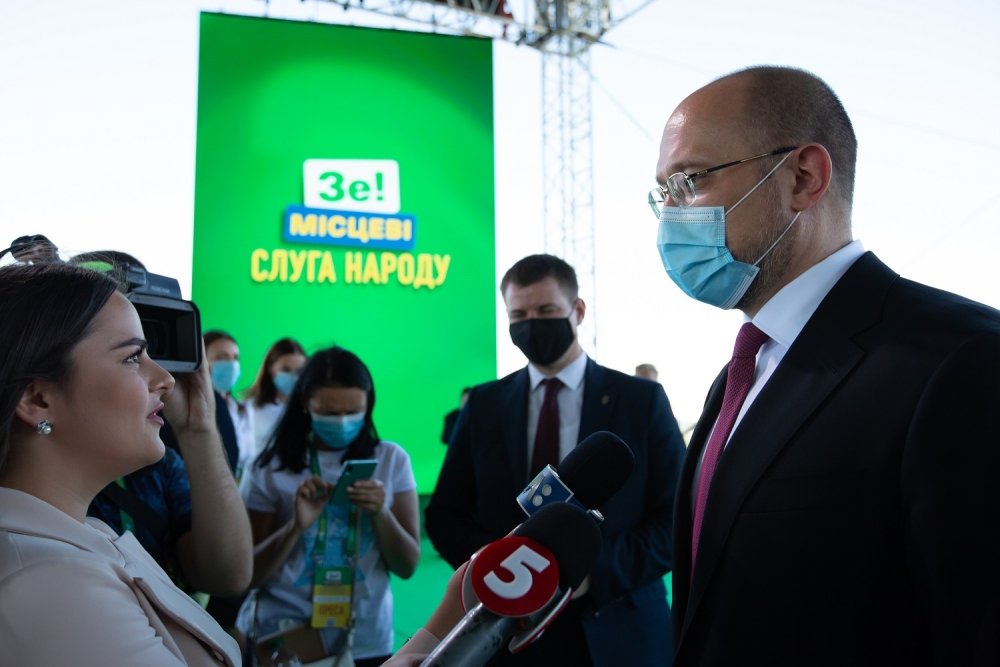 BY OLENA LENNON
With most run-off elections completed, the results of the October 25, 2020 regional, district, and municipal elections in Ukraine have now crystallized into more conclusive narratives. Chief among them is that President Volodymyr Zelensky and his Servant of the People party have suffered a major setback, while the opposition parties, especially those considered pro-Russian, have gained more prominence. In that context, Chatham House experts have interpreted the election's results as reflecting an increasingly "fragmented political landscape" that may "endanger already fragile social cohesion," facilitated in no small part by the decentralization reform that started in 2014.
It is easy to see why the 2020 local elections may look like the return of regionalism after the unprecedented unity Ukrainians demonstrated in the 2019 elections when they handed Zelensky a landslide victory. But it may be premature to interpret Servant of the People's setback and the return of regional opposition as a sign of growing social and political division. Nor will the decentralization reform facilitate that disunity. On the contrary, decentralization is precisely what will hold the country together.
President Zelensky's party's upset is hardly the most interesting story of the election. After all, it is not uncommon for populists to fall out of grace once they assume office and find themselves unable or unwilling to deliver on the lofty promises that got them elected. Besides, the ruling party's lack of achievement stood in stark contrast to the amazing successes of amalgamated territorial communities created as part of the decentralization reform.
Thanks to the reform, local authorities received abundant funds from Kyiv to improve local infrastructure, public services, and the overall standard of living in their communities. Not surprisingly, voters rightfully attributed the tangible improvements in their daily lives to local rather than national authorities and expressed their approval accordingly in the voting booth. The candidates' geopolitical orientation mattered less, if at all.
Perceptions of political fragmentation were also partially reinforced by the sheer number of parties: of the 144 parties in the running, 110 parties won seats on local councils, and 46 parties sent representatives to municipal offices. On the one hand, the large number of parties that achieved representation can be seen as a triumph of political plurality. But it's worth noting why such a proliferation of political parties transpired in the first place.
This dynamic was triggered in no small part by the new legislation enacted three months before the election, whereby only political parties could nominate candidates to local councils in towns with more than 10,000 inhabitants. Given the short notice, the law greatly advantaged existing parties that had a well-developed institutional infrastructure in place to mobilize support in turbo mode, unlike their smaller and newer opponents. "If you are a party nominee, you have a party office and party infrastructure, which guarantees loyal party voters and administrative assistance—in short, you have more chances to win," said Vitaliy Kovach, former expert with the Decentralization Support Project.
Perhaps not surprisingly, the top five parties that won seats on city councils were national-level parties: Servant of the People (17.59 percent), Yulia Tymoshenko's Batkivshchyna (12.39 percent), the pro-Russia Opposition Platform—For Life (11.75 percent), the Ihor Kolomoisky-supported For the Future (11.45 percent), and former president Petro Poroshenko's European Solidarity (10.73 percent). Furthermore, because of the so-called imperative mandate provision of Ukraine's constitution, parties are allowed to "recall" elected representatives on local councils based on voters' petition and party members' majority vote. Thus the new law tightens parties' control over local politicians, potentially placing party loyalty and party sponsors' agenda above local governance issues.
In that vein, as the usual suspects—national party leaders and their sponsors—reasserted themselves on Ukraine's political landscape, either directly or through local proxies, and recaptured the electorate lost to Zelensky in 2019, traditional regional lines did seem to reappear on Ukraine's political map, further feeding "fracturing" narratives.
Thus Batkivshchyna won the most seats on the Kirovohrad regional council and is now among top three parties in western and central Ukraine (Volyn, Zakarpattia, Rivne, Kyiv, and Sumy oblasts). The victories of the Servant of the People party were concentrated in central Ukraine: the party was the top vote-getter in Zhytomyr, Sumy, Dnipro, Chernivtsi, and Rivne oblasts. The Kolomoisky-backed For the Future party dominated in western Ukraine. Opposition Platform—For Life recaptured its electorate in southern and eastern Ukraine: it took the lead in Zaporizhzhya, Mykolaiv, and Odesa oblasts, as well as in many districts in eastern Ukraine, in particular in Donetsk and Luhansk oblasts.
But the greatest comeback belonged to Poroshenko's European Solidarity; it is the only party that sent representatives to all city and regional councils, dominating in Lviv, Ternopil, and Kyiv.
Remarkably, these regional cleavages did not show up in the mayoral elections. And that is the most interesting story of the election. In contradistinction to high national party representation on regional councils, only two of the twenty-two mayors of regional centers represent a national-level parliamentary party. Moreover, that almost 70 percent of winning mayors were incumbents further testifies to voters' resounding vote of confidence in the existing municipal authorities. Clearly, local authorities' access to decentralized funding influenced not only their productivity in official duties but their electability as well.
This brings out the most important outcome of decentralization, one that reaches beyond improved standards of living in local communities: direct money transfers from Kyiv, coupled with a wide mandate for revenue administration, have allowed local self-governing bodies to further decouple from the districts and the regions.
A direct link between Kyiv and local communities not only improved procedural efficiency but, more important, it reduced the political leverage and corruption of the middlemen in regional centers. In that way, decentralization has moved the cities' center of gravity from the regions to Kyiv.
Anatoliy Tkachuk, a decentralization expert with Ukraine's Civil Society Institute, summarized it well in a personal interview: "If power is decentralized from Kyiv to the regions, Ukraine will disintegrate. Decentralization to local territorial communities will do the opposite—stitch Ukraine together." All in all, decentralization is likely to prevent, not exacerbate, further fracturing along regional lines and to facilitate social cohesion and unity, critical to Ukraine's long-term stability.
The opinions expressed in this article are those solely of the authors and do not reflect the views of the Kennan Institute.
About the Author
Olena Lennon
Former Title VIII-Supported Short-Term Scholar;
Adjunct Professor of Political Science and National Security, University of New Haven
Read More
---
Kennan Institute
The Kennan Institute is the premier U.S. center for advanced research on Russia and Eurasia and the oldest and largest regional program at the Woodrow Wilson International Center for Scholars. The Kennan Institute is committed to improving American understanding of Russia, Ukraine, Central Asia, the Caucasus, and the surrounding region though research and exchange. Read more