Vice President Harris in Ghana: Lessons from a Visit to Cape Coast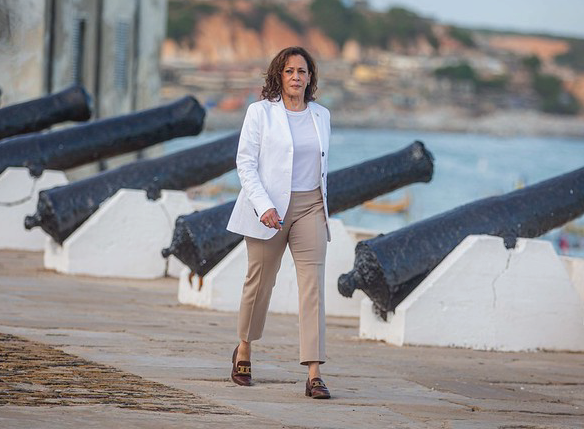 Vice President Kamala Harris recently made her first official trip to the African continent. Harris traveled to Ghana, Tanzania, and Zambia for a weeklong visit. During the White House's African Leaders Summit in December 2022, the Biden administration promised to make multiple high-level trips to Africa. First Lady Dr. Jill Biden, Secretary of State Anthony Blinken, Secretary of the Treasury Janet Yellen, Ambassador to the United Nations Linda Thomas-Greenfield, and Senator Chris Coons (D-DE) traveled to different African countries this year. Vice President Harris is the highest-ranking Biden administration official to travel to Africa thus far, and President Biden plans to make a visit later this year.
Harris's stop in Ghana was the most extensive of her trip, and it illuminated Ghana's historical ties to the African Diaspora. Diaspora means dispersal and can apply to different global communities. In that vein, African diaspora includes people of African descent on the African continent, in the Americas, and around the globe. Here, I highlight some historical and contemporary connections between members of the Diaspora in West Africa and in the Americas.
Harris is of mixed-race heritage, with a mother from India and a father from Jamaica. Jamaica played a part in the trans-Atlantic slave trade, with Ghana (formerly the Gold Coast), fueling some of the enslavement of those sold into the trans-Atlantic slave trade. After several high-profile events and dinners, Harris, her team, and some U.S. journalists and Ghanaian photographers visited Cape Coast Castle. In what was a heavily armed fortress, newly captured Africans were held in extensive underground dungeons until they were loaded onto the ships bound for the Americas.
My research and scholarship focus largely on Africa and the African Diaspora, and I grew up in Texas. I have visited slave plantations, slave castles, and slave houses throughout the United States and West Africa. However, I never experienced the horror and despair found in Cape Coast Castle elsewhere. The dungeons are dank, damp, and foreboding. Imagine someone who lived along the sunny, humid West African coast or a few hundred miles into the interior, who was suddenly captured, moved, and held in such conditions.
Not being free is stark, but not knowing when, if, or how you might regain your freedom is unimaginable. Captured Africans forcibly traversed the Middle Passage across the Atlantic and were enslaved in the Americas. Most had no idea why they were captured, where they were going, and how long they would be held. Kunta Kinte, whose life provided the basis for the main character in Alex Haley's Roots, was almost 20 when he was captured in the Gambia. He was shipped to Annapolis, Maryland, and enslaved on a plantation in Virginia. Kunta sought his freedom for years and ran away multiple times until his foot was severed, disabling him and limiting his mobility. His experience embodies the search for the freedom of African Americans in the New World.
Vice President Harris was affected by her visit to Cape Coast Castle, and the gravity of the visit is evident in photographs. She was visibly upset when she spoke after her visit; her husband, Doug Emhoff, wiped away her tears. Harris is the highest-ranking U.S. government official of African descent with ties to slavery ever to visit the Cape Coast Castle. While President Barack Obama visited the castle in 2009, he has no ancestral ties to those who had been enslaved in the Atlantic Slave Trade. At the castle, CNN journalist Anderson Cooper asked Obama what the trip meant to him as well as his wife Michelle and their daughters Sasha and Malia. Obama responded that the other three members of his family had different ties to the African continent than he — the child of a Kenyan father and white American mother — did.
When I visited Cape Coast, I traveled there from Accra, Ghana, where I was based for several weeks. I traveled to Cape Coast to attend a Juneteenth celebration. Ironically, a place with such strong historical ties to the trans-Atlantic slave trade acknowledged and even imported some semblance of the holiday created by freed Black Texans. While the celebration looked quite different from what I had experienced growing up, I used the opportunity to spend time in the community with local Ghanaians and Black Americans who made the sojourn to Cape Coast to honor their ancestors.
At Cape Coast Castle, Vice President Harris said, "But yet, they survived. And they tell another history — a history of endurance, a history of faith, a history in believing what is possible, a history not only that tells about the ability that each individual has to survive, but to thrive." With those fitting remarks, Harris spoke to the Diaspora in the Americas; but her words also apply to U.S. government policy in Africa. Everyone should be able to survive, thrive, and engage at the most equitable starting point possible.
In Ghana, the Vice President announced U.S. and partner government pledges for financial and technical support for regional security (West Africa and the Sahel). Vice President Harris also pledged $1 billion for women's economic empowerment that will help enable more women achieve economic independence. From a policy perspective, more substantial engagement in women's economic activity is well overdue. In my own research in Senegal, Ghana, and elsewhere on the continent, I've chronicled some of the disparities in women's access to formal lending structures for instance. In some cases, as the women pharmacy owners that I chronicle in Pharmacy in Senegal: Gender, Healing and Entrepreneurship, women have been able to transcend some of the barriers. However, this is largely tied to educational rank, class, and other factors of privilege. It is imperative that the U.S. government not only target women in high-level, "white collar," and major tech entrepreneurs but those who engage in more modest economic activities. Women of lower socio-economic strata often need the support the most.
Though the primary purpose of the Vice President's trip to Ghana was part of the White House's larger plan to renew U.S.-Africa foreign policy engagement, Harris's Cape Coast Castle visit fulfilled a larger mission. It illuminated the ties to African-descended people in Africa and the Americas and greater possibilities for future engagements between these groups. In December, President Biden announced the creation of an advisory council on African Diaspora engagement. Ideally, this committee will be one of many initiatives to engage Africa and its Diaspora. Members of the Diaspora with knowledge of the continent and ideas for sustained engagement should be key drivers in this initiative. Ideally, this committee will include diverse representation form myriad parts of the diaspora, particularly regional representation of recent African immigrant communities to the United States as well as Black Americans with long ancestral ties to the United States.
The Diaspora — from those whose ancestors were dispersed through the trans-Atlantic trade, to those born in the United States of African immigrants, and those who recently emigrated from the continent — are watching as the United States continues to advance its engagement with the continent.
Dr. Donna A. Patterson is Professor & Chair of the Department of History, Political Science, and Philosophy at Delaware State University. She is the author of Pharmacy in Senegal: Gender Healing and Entrepreneurship. She holds a PhD in African history.
Photo Credit: Vice President Kamala Harris visits the Cape Coast paramount chief and the historic Cape Coast Castle by the U.S. Embassy Ghana via Flickr. (License)
The opinions expressed on this blog are solely those of the authors. They do not reflect the views of the Wilson Center or those of Carnegie Corporation of New York. The Wilson Center's Africa Program provides a safe space for various perspectives to be shared and discussed on critical issues of importance to both Africa and the United States.
About the Author
---
Africa Program
The Africa Program works to address the most critical issues facing Africa and U.S.-Africa relations, build mutually beneficial U.S.-Africa relations, and enhance knowledge and understanding about Africa in the United States. The Program achieves its mission through in-depth research and analyses, public discussion, working groups, and briefings that bring together policymakers, practitioners, and subject matter experts to analyze and offer practical options for tackling key challenges in Africa and in U.S.-Africa relations.   Read more