Why No Collective Action by Russian Mothers?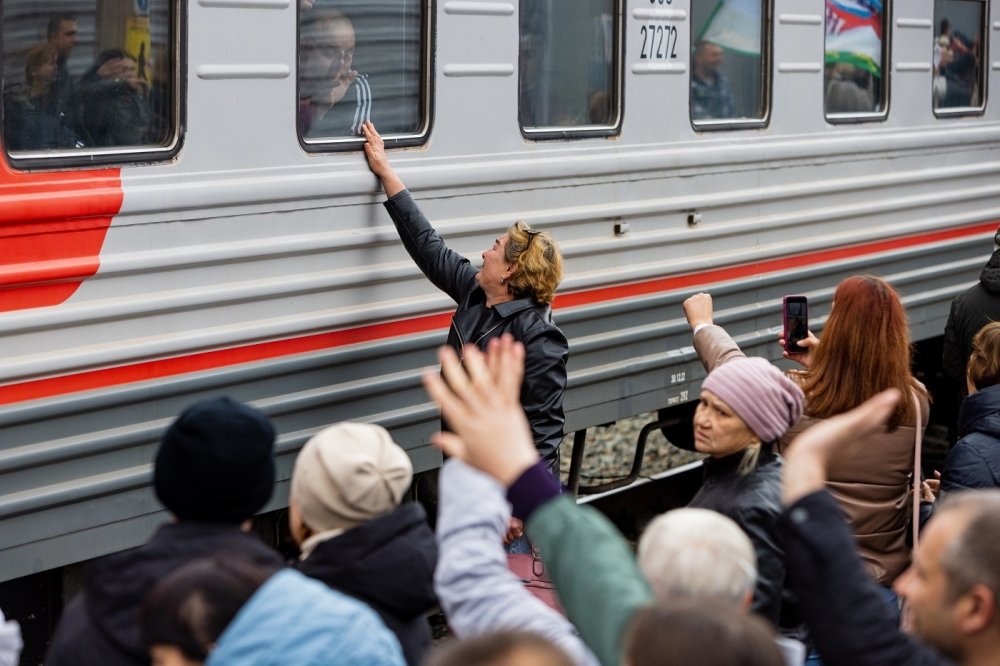 In the 1996 Russian film, Prisoner of the Mountains, an old Chechen man whose son is in Russian captivity orders two Russian soldiers held captive in the North Caucasus to write to their mothers so that they pressure the Russian side for a swap. "Write," Abdul-Murat explains, "so that they will come and make arrangements themselves with the [Russian] commander to trade you for my son." And so, in this adaptation of Leo Tolstoy's short story, one of the soldiers' mothers does just that, undertaking a long journey into a perilous region to rescue her child.
Even today, individual Russian mothers are taking action on behalf of their sons sent to fight in the Russo-Ukrainian War. Some have taken to social media to criticize abysmal battlefield conditions. Some have organized rallies, such as in Dagestan in September 2022, where family members chanted, "Our children are not fertilizer!" Wives and mothers of soldiers were also active in Penza, Belgorod and other regions. Yet, no widespread, organized movement by the mothers of Russian soldiers fighting in Ukraine has emerged. Why not? What are the obstacles to collective action?
Grievances Aplenty
The Russian government takes pains to suppress the true human toll, leaving families to search for missing soldiers on their own. According to a recent study by Mediazona and the news site Meduza, as of late May 2023, about 47,000 Russian soldiers under the age of 50 have died in the war. To be more precise, the researchers write that between 40,000 and 55,000 Russian men died fighting in Ukraine, based on "published obituaries, mortality data from the Federal State Statistics Service, and extensive records from the National Probate Registry." This estimate does not take into account losses in the so-called Donetsk People's Republic (DPR) and Luhansk People's Republic (LPR). According to estimates by senior U.S. officials, the number of Russian troops killed or wounded approached 200,000 in February 2023.
To source more troops amid the losses, Yevgeny Prigozhin, the notorious chief of the mercenary group Wagner, launched a recruitment drive in Russia's prisons in summer 2022 that involved a promise of a pardon in exchange for sixth months of service. Recruits were then used as cannon fodder. As of January 2023, only 20 percent of the estimated 50,000 convicts were still fighting in Ukraine; the rest were dead, wounded, missing in action, deserters, or POWs.
Putin's partial mobilization is another grievance that might have motivated Russia's mothers to organize on a national scale. That order was limited to military reservists, but its implementation suffered from major problems, such as the ensnarement of men over the age limit, possessing disabilities, or lacking military experience. It prompted a mass exodus from Russia of hundreds of thousands of fighting-age men, and those who stayed behind avoided city streets to evade the call-up. Also, young men increasingly are pressured into signing up as contract soldiers as they complete their compulsory service.
Why Mothers Have Not Mobilized
Despite all this, disincentives to collective action are numerous and powerful. State-run television is awash with messages that Russia faces an existential threat from a Western alliance bent on destroying the country. Although surveys show that Russian women are less supportive of the war than men, some mothers buy into the Kremlin's narrative that the cause for which their sons are fighting is just—defeating a "neo-Nazi" enemy just as the USSR did in the Great Patriotic War. Others do not notice "the causal relationship between their personal tragedy and the situation in the country," activist Oksana Paramonova explains. Still others, as Jade McGlynn writes, are so "bamboozled" by the constant stream of conflicting and confusing narratives emitted by state-run news outlets that they feel overwhelmed and stop "relying on facts for contours."
Indeed, state repression reached unprecedented levels in the run up to, and especially after, the invasion. Draconian laws passed soon after February 24, 2022, prohibit discrediting or spreading "false information" about the armed forces, and Russians have been detained for holding up a blank piece of paper in a "one-person picket" or sporting workout clothes in Ukraine's trademark blue and yellow colors. OVD-Info reports that almost 20,000 Russians have been detained for their anti-war stance since February 2022. Protestors are increasingly identified using facial recognition technology. This mix of propaganda and repression means that, with some exceptions, outrage over military conditions and losses (such as the January 2023 Ukrainian attack on the quarters housing Russian soldiers in Makiyivka, which killed scores of conscripts) is targeted at military commanders, Ukraine, and the West—and not at Putin. Some women, in fact, appeal to Putin himself for help.
In addition to the hard stick of state repression, the Kremlin offers carrots as side payments for Russians' loyalty. In contrast to the Afghan and Chechen wars, Russian conscripts are rather well paid. A September 2022 decree specifies that each mobilized soldier receives a monthly salary of at least 195,000 rubles ($2,180 at the end of June 2023), while federal compensation for the families of killed or wounded soldiers can be as much as 12.4 million rubles ($138,500) or 3 million rubles ($33,500), respectively. For most Russian families, these amounts are tantalizing, given that the average monthly salary in 2022 was 65,338 rubles ($730).
Mobilized soldiers are often major breadwinners in the impoverished Russian regions disproportionately targeted during mobilization. Also, as Andrei Kolesnikov writes, one-third of Russians depend on the state's social payments as a source of income, and people "who depend on the state are obedient, above all politically." In short, the material disincentives to protest are powerful enough to prevent organized opposition to the war.
There is, however, a more fundamental problem. As one of the present authors argues, political protests are essentially a coordination problem. "Action requires not just acute emotions," he writes, "but also some means of coordination, which take time to develop." Even if the will is there, coordinated protest inside Russia is difficult and risky. Secrecy also diverts energy, since frantic families spend months or even years trying to find out what happened to their loved ones missing in action. Finally, as mentioned earlier, the regions disproportionately targeted for conscription (e.g., ethnic republics such as Dagestan and Buryatia) are among the poorest, which means that they both lack the resources to mount an effective challenge and are often not taken seriously by the educated stratum in Moscow and other large cities.
Could Russian Mothers Unite?
A few existing platforms could help any Russian mothers willing to defy the Kremlin overcome their coordination problem. One is the Union of Committees of Soldiers' Mothers of Russia that provides legal aid and assistance to conscripts and their families as well as help evading conscription. Mothers are also connected through chat rooms, such as Mothers and Wives of Russian Mobilized Soldiers, where they share information and vent their frustration. Also worth mentioning is the newly-created Council of Mothers and Wives, created in the wake of the mobilization, that now has representatives in 89 cities across Russia. Its goal is to protect conscripts, and it sharply criticizes Russia's military leadership while avoiding direct criticism of Putin. At the same time, loyalist organizations such as the Committee of Soldiers' Mothers of Russia, founded soon after the USSR's withdrawal from Afghanistan, focus on material assistance to soldiers and do not criticize the authorities at all. As Anton Troianovski and his colleagues report, committees of soldiers' mothers are "trying to stay out of the public eye given the state's repression of opposition to the war."
Fissures in the mothers' movement had emerged well before 2022, but now that Russia is on a partial war footing, the potential for organized public opposition is weakened and the divide-and-rule tactics employed by the Kremlin for many years can be used to maximum effect.
Could these platforms overcome barriers to action and serve as a basis for confronting the Kremlin leadership responsible for the war against Ukraine? The situation changed somewhat last fall, as the partial mobilization finally brought the reality of the war home to middle-class families in Moscow, St. Petersburg, and surrounding regions. Nevertheless, the will to challenge the Kremlin does not yet exist and the obstacles to a coordinated maternal effort to force a change in policy toward Ukraine are great. As a result, sustained protests by mothers are unlikely to emerge any time soon.
The authors are grateful to Kirill Chmel, Philip Klinkner, Mikhail Komin, David Rivera, and Maxim Trudolyubov for helpful comments on previous drafts.
The opinions expressed in this article are those solely of the author and do not reflect the views of the Kennan Institute.
See our newest content first.
Subscribe to receive the latest analysis from the Russia File blog.
---
Kennan Institute
The Kennan Institute is the premier U.S. center for advanced research on Russia and Eurasia and the oldest and largest regional program at the Woodrow Wilson International Center for Scholars. The Kennan Institute is committed to improving American understanding of Russia, Ukraine, Central Asia, the Caucasus, and the surrounding region though research and exchange. Read more