Hindsight Up Front: A Discussion with Former Senior Officials on U.S. Policy and the Future of Afghanistan
Overview
Just weeks after the completion of the U.S. military withdrawal, the Biden administration confronts major policy challenges in Taliban-led Afghanistan. These include evacuations, humanitarian assistance, human rights, and terrorism. Many of these issues were discussed on October 9 and 10, when U.S. officials met with Taliban representatives in Qatar. The latest event of the Wilson Center's Afghanistan: Hindsight Up Front initiative convened a  group of former senior U.S. officials to discuss what the top U.S. policy priorities should be in Afghanistan moving forward—and how they can best be achieved.
Key Takeaways
The urgent need for humanitarian assistance for Afghans can't be overstated.
There needs to be more clarity and purpose in U.S. decision-making on Afghanistan.
U.S. responses require collaboration with allies and partners and international organizations.
Selected Quotes
James Cunningham
"There's a special category, where we have a special obligation, and that's the fate of Afghan women. From the woman in the street, in the home, to the thousands—tens of thousands—of women who were educated and have gone into the professions: into law enforcement, into the courts, into government, into civil administration, into the universities, into the elementary schools, the whole thing. Those people we repeatedly assured, I myself did, many times, that we were with them and we were going to have your backs, and we have not, during the withdrawal or since. And that's a special category that really needs to be addressed, I think. Because of the dire straits that they are in, some of these people will choose to stay with their families, and some of them are in grave danger.
Female prosecutors and judges are being hunted down, divorce lawyers are being hunted down, caregivers are being hunted down, by angry families who feel that, their members of their families have been what we regard as being helped, but they regard as being taken away from them basically.
And that, we can't lose focus on that. That's such an important aspect of what we did and such an important aspect of what we succeeded in doing.
And we can't let that get lost in the shuffle now that it's very inconvenient for the fact that we have all these thousands of women running around the country who need help and we can't get it to them."
---
Annie Pforzheimer
"Well, on the issue of Afghans who are eligible for any kind of evacuation or refugee status. First and foremost, I believe that the administration has to put its entirety together, all of these different agencies. If you're talking about parole, you might be talking about a State Department role and Department of Human Services, Homeland Security, but about three different areas of it maybe HHS and DOJ and, you know what we don't have is that sort of comprehensive approach. And that's just one aspect of it so, if they don't bring it together, it's been a slow roll. About 90 or 100,000 people probably were put on the priority two lists for refugees. A lot of organizations worked night and day to put people on the list. Nobody, nobody has been processed."
---
Ronald Neumann
"It's important to realize how little leverage we have right now. Yes, there is a humanitarian crisis, the rate will be a very large scale of death in Afghanistan. It is not clear how far that will move the Taliban—it might.
But when you look at the history of our negotiations, they had managed to stand pat and paid virtually no attention to the demands made of them while the fires basically, overtime, shifted. And just recently, you saw a very large outpouring of news from the international community, that there had to be a representative government, and we didn't get one.
And I think it stirred here because it's a reminder that the tools we have to work with now may turn out to be rather weak. We have the aid that they need, we have assistance, but they want recognition, they want acceptance. These are important things. How important they are in terms of changing things that they see as basic to values and to control a difficult political situation is extremely unclear. Because of that, I think it is really vital that we look to building an international consensus among the major aid donors, particularly Japan and regional players."
---
Earl Anthony Wayne
"I think you make a very good point that the Taliban is probably not one Taliban. We've already seen, they are struggling amongst themselves. And, we see this after many civil wars or revolutions or other things. There are divisions that need to be sorted out, and there are struggles going through, and we've already seen reports and struggles among the different factions about how you deal with it. So, it won't be a surprise that we might get mixed signals, that we might have an avoidance of really hard decisions, because they don't want to split themselves further."
---
Robin Raphel
"In terms of engaging directly with the Taliban, again as I said in the first instance, I think it's appropriate that we step back a bit, since we were so far forward and it didn't work out as some had hoped. I do think, however, that we need to be careful about ascribing intent to what the Taliban are doing or what they've planned or what they intended. And they're doing, you know exactly what they intended all along, I think they're totally overwhelmed. And the way they came into power as we all know surprised them as much as it did everybody else. So they weren't prepared. They weren't prepared and we didn't get what had been the object of the exercise, under the negotiations which was some kind of hybrid power, sharing arrangement where the Taliban wouldn't have the primary voice, it would have been modulated, moderated by other voices and that just didn't work out.
So I think we need to deal not with their intent or whatever, but to sparing way step by step, have serious talks with them about what needs to happen, and help them to realize that they can't carry on like they are and stay in power. I mean, I just don't think they can, I don't think it's practical. I think there'll be too much resistance. And then what do we have on our hands, you know? More fighting, more destruction and so on, and this time it will be on their heads."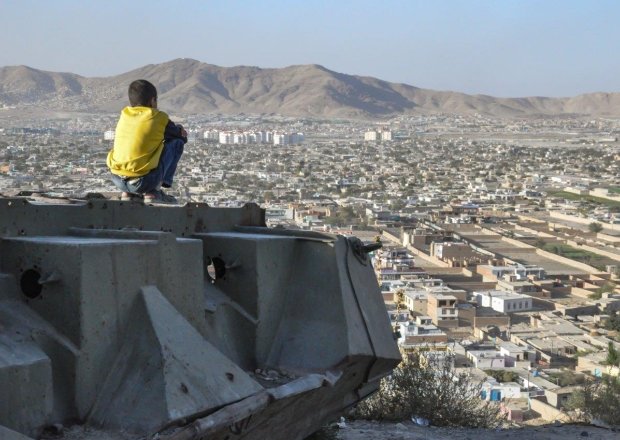 Afghanistan: Hindsight Up Front
Afghanistan's future is more uncertain than ever. Implications of the U.S. withdrawal cannot be ignored. The Wilson Center's new initiative — Hindsight Up Front — will keep you informed about the future of Afghanistan, its people, the region, and why it matters.
Learn More