Myanmar's Present and Future: Views from the National Unity Government
Overview
Since the February 1st coup in Myanmar, the military regime has deployed widespread violence and repression against protesters and anti-junta activists, while the mass movement continues to rally against the regime. Last month, democratically-elected members of parliament, activists, and members of ethnic minority groups announced the creation of a National Unity Government (NUG) to oppose the military and return the ousted government to power. Today, the movement to restore democracy continues to resist the military takeover, and the future of Myanmar hangs in the balance.
Please join the Wilson Center's Asia Program for a special event on the ongoing crisis in Myanmar. With opening remarks by Ambassador Mark Green, President, Director, and CEO of the Wilson Center, Daw Zin Mar Aung, Minister of Foreign Affairs of the NUG of Myanmar, will provide us with a keynote speech to discuss the National Unity Government's perspective on the crisis.
Keynote remarks will then be followed by discussion with Congressman Ami Bera (CA-07) and Congressman Steve Chabot (OH-01) for a view from Capitol Hill.
Next, Dr. Diana Villiers Negroponte will moderate a panel discussion and Q&A featuring U Htin Linn Aung, Special Representative of the NUG; Ambassador Derek Mitchell, President of the National Democratic Institute; and Dr. Daniel Twining, President of the International Republican Institute, on the possible outcomes facing Myanmar.
To conclude our special event, Senator Ben Cardin of Maryland will provide closing remarks on his views of the situation and the outlook for Myanmar.
Selected Quotes
U.S. Senator Ben Cardin
"In the backdrop of looking at what's happening in Burma, you need to understand that there's been a global challenge to democratic states. At the same time, we've seen a significant uptick in corruption. Corruption is in every country, but corruption is a fuel for autocratic regimes."
"If you don't know what's going on, you don't respond to it… You need to have accurate reporting in order to be able to get a global response. And reporters are challenged in all parts of the world in regards to their safety."
Zin Mar Aung
"It is very clear that the conspirators of the coup d'etat do not serve the people's interests. They are only interested in protecting themselves."
"The current situation is an indication that the coup has failed. The State Administration Council does not control the country. The military no longer protects the people of Myanmar, instead they are destroying the life and the interests of Myanmar. As long as the military remains in power, the people of Myanmar will continue to demand a return to democracy."
"The energy [of Generation Z] is a historic milestone in our struggle toward democratization over the last 70 years. We celebrate our milestone as a symbol of hope and the outcomes of our collective efforts to eradicate military dictatorships. However, we are not naive and remain grounded in reality in order to sustain our struggle. More hard work is needed to bring Myanmar back."
Congressman Ami Bera
"When we look at the history of Myanmar, when we look at the recent history, and then what's been happening since February, this is a unique moment in time. It's a moment in time where you see the young people… partnering with a generation that lived under military rule over decades, seeking out what our basic human values of freedom, of dignity… They have tasted a bit of democracy and they don't want to go back."
"Now that we move into the third or fourth month of the resistance and the people seeking freedom, we have to get ready for what potentially could be something that lasts not weeks but months."
Congressman Steve Chabot
"It's time for a full civilian rule in Burma and an end to the ethnic conflict that has been perpetuated by the military to the detriment of the country. For our part, the west must continue supporting the democratic aspirations of the citizens of Burma."
"Sustained international engagement is critically important to restoring democracy in Burma and setting the country on a path once again to peace and prosperity. For all of us who care deeply about Burma's future, now is the time to act."
Keynote Speaker
Zin Mar Aung
Minister for Foreign Affairs, National Unity Government (NUG) of Myanmar
Panelists
Congressman Ami Bera
Chairman, House Foreign Affairs Subcommittee on Asia, the Pacific, Central Asia, and Nonproliferation
Congressman Steve Chabot
Ranking Member, House Foreign Affairs Subcommittee on Asia, the Pacific, Central Asia, and Nonproliferation
U Htin Linn Aung
Special Representative, National Unity Government (NUG) of Myanmar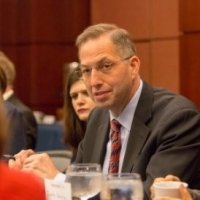 Ambassador Derek Mitchell
President, National Democratic Institute
Dr. Daniel Twining
President, International Republican Institute
---
Hosted By
Asia Program
The Asia Program promotes policy debate and intellectual discussions on U.S. interests in the Asia-Pacific as well as political, economic, security, and social issues relating to the world's most populous and economically dynamic region.  Read more