Unpacking the U.S. Role in Global Plastic Waste: A Green Tea Chat with the Monterey Bay Aquarium's Margaret Spring
Overview
The world's governments will meet in Nairobi later this month to begin discussions on creating the first global treaty to reign in plastic pollution that is threatening our oceans, food security, and human health. By 2030 ocean plastic leakage could equal half the total weight of fish caught annually and plastic production and disposal is also becoming a larger source of greenhouse gasses.  
The public narrative surrounding plastic waste has long pointed to China and Southeast Asia as leading the world in plastic production and ocean plastic waste leakage, but a recent study from the National Academy of Sciences,Reckoning with the U.S. Role in Global Ocean Plastic Waste, concluded that the United States is the world's top generator of plastic waste and, while leakage cannot be precisely estimated,  recommended a systemic national policy and research strategy to address its role in this global problem.
We invite you to join this conversation with Margaret Spring, the Chief Conservation and Science Officer at the Monterey Bay Aquarium. Ms. Spring is the chair of the committee that wrote the National Academies of Science plastic report, and she will share with us insights into the U.S. plastic challenge and key interventions to policies to reign in plastic.
Please submit questions through the chat box below or via email to : elijah.patton@wilsoncenter.org
Speaker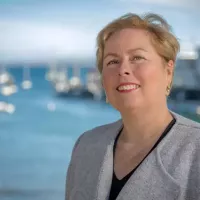 Margaret Spring
Chief Conservation and Science Officer
---
Hosted By
China Environment Forum
Since 1997, the China Environment Forum's mission has been to forge U.S.-China cooperation on energy, environment, and sustainable development challenges. We play a unique nonpartisan role in creating multi-stakeholder dialogues around these issues. Read more