U.S. Leadership in Addressing the Global Forced Displacement Crisis
Overview
By Joshua Peng
"We are looking into the twenty-first century as a century of displacement where the problem is likely to get worse not only from conflict but also from climate. So, we need to look for solutions in the future that are greater than the solutions that we have offered in the past," said Dr. Peter Laugharn, President of Conrad Hilton Foundation, at a recent Wilson Center event he moderated. The humanitarian system needs to grow to match the magnitude of the crisis and this needs leadership, he said.
In the last 25 years, the number of forcibly displaced persons has grown from 33.9 million in 1997 to over 100 million displaced people in 2022. Such rapid change demands world leaders to reimagine the global response architecture for refugees, internally displaced persons, and asylum seekers. It is incumbent upon the U.S. and the international community to demonstrate leadership and cooperation in addressing the global forced displacement crisis.
On September 19, 2022, the Refugee and Forced Displacement Initiative (RAFDI) of the Wilson Center partnered with Concordia in hosting a high-level event at the 2022 Concordia Annual Summit. The dialogue sparked discussion on how the U.S. can lead in supporting humanitarian and development efforts to address both the symptoms and root causes of forced displacement.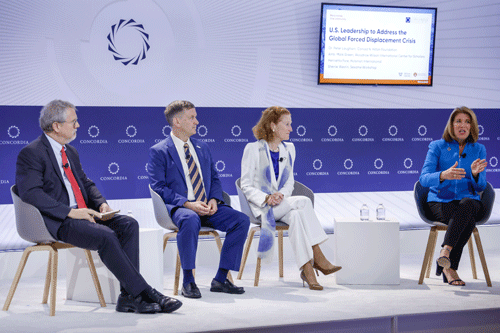 American Leadership and Why it Matters
Ambassador Mark Green, President and CEO of the Wilson Center, gave two reasons why U.S. leadership matters.  Firstly, "in a practical sense, the U.S. is far and away the largest bilateral donor of humanitarian assistance," and as such, the international community response is guided by U.S. funding priorities. Secondly, "the U.S. is a country that is not defined by territory, but a set of values and a set of principles, and so aspirationally," our leadership on this issue "represents who we are." He adds that demonstrating such a leadership matters, particularly, when the world looks to the U.S. as a "force for good, and sees that we set this as a priority."
Green argues that reimagining a humanitarian system for the 21st century requires American leadership to "identify that basic toolbox of services that we believe are prerequisite for human dignity." In addition, it requires breaking through the barriers and applying the American ingenuity in much more productive ways. "We don't need workarounds. We need to embrace the challenges and the opportunities that are in every human beings, whether they are displaced or not," he said.
A Multidimensional Approach to Tackle Root Causes and Symptoms
Tackling the complex challenges of forced displacement and their multidimensional impacts requires a holistic approach involving government, development, humanitarian and private sector partners.
Henrietta Fore, former UNICEF executive director, emphasizes the distinction between humanitarian and development funding in addressing the issue. She notes that while humanitarian funding meets the basic emergency needs of the displaced people, development funding supports long-term needs and addresses the root causes. Without long-term development assistance, Fore argues, "then you actually are just being palliative, you are not being helpful enough, you are not changing the world." Development programs can offer health services, agricultural innovation, and education infrastructure to improve the overall quality of life, which, "if we don't address it as a root cause, then America and the world will see it as a larger problem," said Fore.
Public-private partnership in addressing the need of the displaced people is essential and so is creativity in programming. Sherrie Westin, President of Sesame Workshop, calls for investment in early childhood development, arguing that about half of the displaced people are children. She notes that some of the most powerful interventions made have been focusing on the youngest children affected by crisis, yet, only two percent of humanitarian funding has gone to such programs. Partnerships and creativity can help close this gap. "'War takes away everything and the only thing it does not take away is education'. We have to invest in that which can't be taken away," said Westin.
With the displaced people spending more and more time in displaced settings, Green suggests that the U.S. should focus not only on protecting the displaced people, but also on growing their human potential. Fore emphasized the role of internet and technology to connect displaced populations with education, arguing that remote learning can cover some of the gap left by lack of formal education. Thus, education programs must reimagine the ways they teach displaced youths, both in a remedial sense, and an entrepreneurial sense.
Key Takeaways
The way the U.S. and the global community respond to forced displacement crisis can lead to great costs or great gains for society. "For us to invest in scalable solutions, it needs to be a global response but local programs really meeting the needs of that community," said Westin.
Speakers deliberated on a plan of action for forced displacement response and agreed on three points. First, the need to recognize the scale and scope of forced displacement challenge as a global problem, which requires collective efforts and leadership. Second, the need to support both the displaced people and host communities that are resource-stretched. Collaboration with local communities is key for refugee integration and peaceful co-existence, including access to education. Third, the need to take a leadership role in prioritizing and investing in the education of children, which is also an investment in all the United Nations Sustainable Development Goals (SDGs).
Forced displacement challenges are vast, cross-cutting, and growing. They require leadership. We must not only engage our creative capacities for a reimagined humanitarian and global development system, but we must also foster the creative and entrepreneurial capacities of the displaced people.
Speakers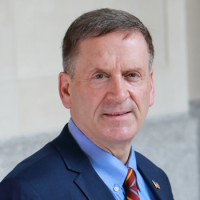 Ambassador Mark A. Green
President & CEO, Wilson Center
Henrietta Fore
Former USAID Administrator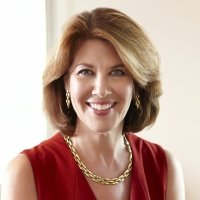 Sherrie Westin
President, Sesame Workshop
---
Hosted By
Refugee and Forced Displacement Initiative
The Refugee and Forced Displacement Initiative (RAFDI) provides evidence-based analyses that translate research findings into practice and policy impact. Established in 2022 as a response to an ever-increasing number of people forcibly displaced from their homes by protracted conflicts and persecution, RAFDI aims to expand the space for new perspectives, constructive dialogue and sustainable solu­tions to inform policies that will improve the future for the displaced people. Read more