China Environment Series 12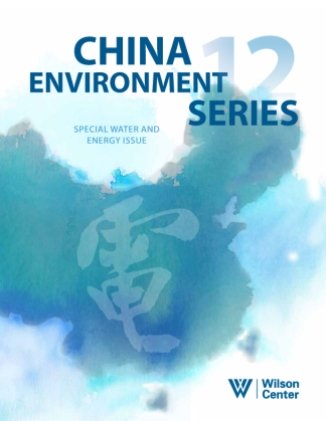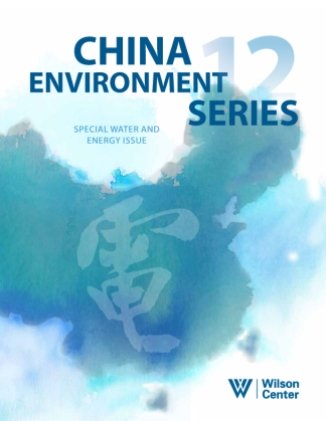 A Peek Inside This Issue
To highlight our growing engagement in "Choke Point" issues, this year's China Environment Series opens with a Special Review of Water-Energy Nexus Challenges in China. Michael Davidson, Gretchen Green and Meng Jingjing kick off this review with an encyclopedic (in a good way!) survey of the untapped potential of saving energy through improving water use efficiency. Peter Marsters, one of my former assistants, draws on his year as a Fulbright Fellow in Sichuan Province to reflect on the water challenges in China's shale gas revolution. David Tyler Gibson explores the water-energy-food tangle surrounding coffee production and hydropower in Yunnan, while two stellar energy researchers from LBNL—Nina Zheng and David Fridley—ponder the oft overlooked water footprint of wind, solar, and hydropower in China. The boxes in this review section cover desalination (David Cohen-Tanugi); solar PV production (Jodie Roussel); and coal gasification in Inner Mongolia (Troy Sternberg, Caitlin Werrell and Francesco Femia). To highlight the major role cities play in driving water-energy confrontations, my team at CEF (Luan Dong, Susan Chan Shifflet, D. Tyler Gibson, and Katie Lebling) and Andrew Maddocks created a neat infographic on the urban Choke Point challenges.
This year's commentaries covered a broad range of issues with some sprinkling of Choke Point issues as well, such as Peter Bosshard and Katy Yan's piece on China's hydropower sector hitting limits. A commentary authored by staff from WWF (Sheri Willoughby), IKEA (Stephen Guo, Maja Dahlgren & Thomas Schaefer ) and a Chinese glass manufacturer (Hongming Jia) present a promising case of the non-energy benefits of a carbon reduction initiative at a glassware company in Shanxi Province. Cities were a popular topic with Sha Yu, Meredydd Evans, Benchi Guo and Jianmin Zhang examining market transformation for urban energy efficiency in China and Warren Karlenzig and Daniel Zhu discuss how Chinese cities could become low-carbon leaders in the world. Shifting out of the cities, Li Zhang and Yayue Peng highlight the value of Conservation International's ecosystem service and freshwater initiative for biodiversity in Sichuan Province. Three commentaries hone in on different aspects of good governance—Tucker Van Aken looks at promising changes in industrial energy performance targets for local cadres and Jingjing Liu reflects on recent developments in water pollution public interest litigation. Finally, Sam Geall explores whether Chinese media reports tend to confuse or enlighten the public regarding climate change. Two commentaries were placed in their own Focus on China's Troubled Lakes section of the publication. First, Leah Larson-Rabin relates a story on the struggles in developing legal reforms to control pollution in Yunnan's lakes. Next, Cai Ming, head judge at the Environmental Law Court in Qingzhen Guizhou, documents the first environmental public interest case that was successfully adjudicated in his court.
Scattered throughout the issue are short, but rich Feature Boxes, so please don't ignore them! Energy was a popular topic with two feature boxes examining China's hydropower development overseas (Peter Bosshard) and within China (Su Liu); Shannon Selerowski highlights the growing problems of lead pollution from batteries for wind power and electric bicycles while Darrin Magee and Tom Drennen reflect on the challenges facing nuclear power in China. Susana Moreira looks at China's overseas oil investments and Adina Matisoff examines the impact of environmental disclosures in the Hong Kong Stock Exchange on Chinese overseas investment. Jingjing Liu crafted a lengthy box on all the great environmental governance training and capacity building work that Vermont Law School has been carrying out in China.
Our Spotlights on NGO Activism in China introduce the relatively new, but dynamic grassroots group Green Hunan (Luan Dong); the advocacy work on incinerators by Friends of Nature (Chang Cheng); and environmental protection efforts by the Pendeba Society of Qomolangma National Nature Preserve (Rongkun Liu).  Long-time contributor Kristen McDonald from Pacific Environment writes compellingly about the need for permanent river protection strategies for China.
About the Author
Jennifer L. Turner
Director, China Environment Forum & Manager, Global Choke Point Initiative
Read More
---
China Environment Forum
Since 1997, the China Environment Forum's mission has been to forge U.S.-China cooperation on energy, environment, and sustainable development challenges. We play a unique nonpartisan role in creating multi-stakeholder dialogues around these issues. Read more