Linking Development & Migration: A Binational U.S.-Mexico Dialogue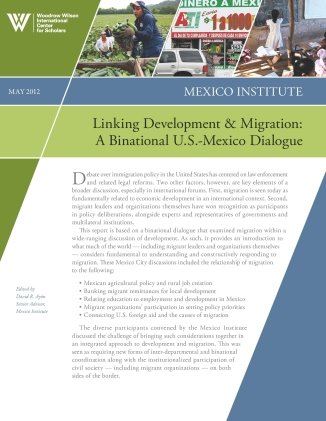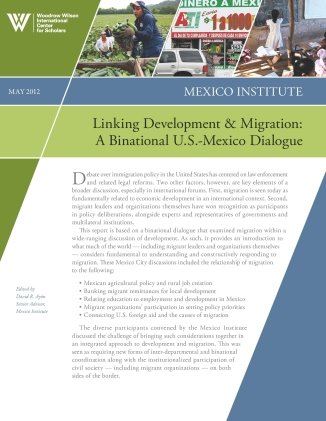 Debate over immigration policy in the United States has centered on law enforcement and related legal reforms. Two other factors, however, are key elements of a broader discussion, especially in international forums.
First, migration is seen today as fundamentally related to economic development in an international context. Second, migrant leaders and organizations themselves have won recognition as participants in policy deliberations, alongside experts and representatives of governments and multilateral institutions.
This report is based on a binational dialogue that examined migration within a wide-ranging discussion of development. As such, it provides an introduction to what much of the world — including migrant leaders and organizations themselves — considers fundamental to understanding and constructively responding to migration. These Mexico City discussions included the relationship of migration to the following:
• Mexican agricultural policy and rural job creation
• Banking migrant remittances for local development
• Relating education to employment and development in Mexico
• Migrant organizations' participation in setting policy priorities
• Connecting U.S. foreign aid and the causes of migration
The diverse participants convened by the Mexico Institute discussed the challenge of bringing such considerations together in an integrated approach to development and migration. This was seen as requiring new forms of inter-departmental and binational coordination along with the institutionalized participation of civil society — including migrant organizations — on both sides of the border.
About the Author
---
Mexico Institute
The Mexico Institute seeks to improve understanding, communication, and cooperation between Mexico and the United States by promoting original research, encouraging public discussion, and proposing policy options for enhancing the bilateral relationship. A binational Advisory Board, chaired by Luis Téllez and Earl Anthony Wayne, oversees the work of the Mexico Institute.  Read more
Latin American Program
The Wilson Center's prestigious Latin American Program provides non-partisan expertise to a broad community of decision makers in the United States and Latin America on critical policy issues facing the Hemisphere. The Program provides insightful and actionable research for policymakers, private sector leaders, journalists, and public intellectuals in the United States and Latin America. To bridge the gap between scholarship and policy action, it fosters new inquiry, sponsors high-level public and private meetings among multiple stakeholders, and explores policy options to improve outcomes for citizens throughout the Americas. Drawing on the Wilson Center's strength as the nation's key non-partisan forum, the Program serves as a trusted source of analysis and a vital point of contact between the worlds of scholarship and action. Read more