One Year On: The Momentum of Myanmar's Armed Rebellion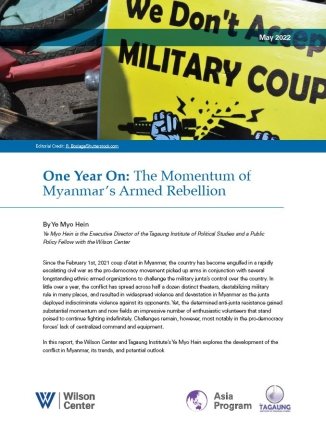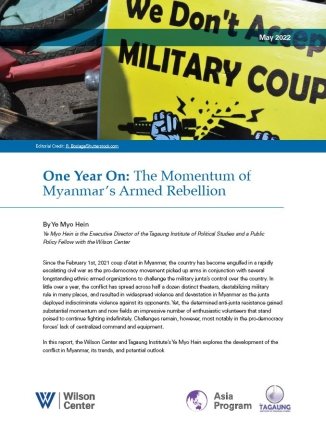 Since the February 1st, 2021 coup d'état in Myanmar, the country has become engulfed in a rapidly
escalating civil war as the pro-democracy movement picked up arms in conjunction with several
longstanding ethnic armed organizations to challenge the military junta's control over the country. In
little over a year, the conflict has spread across half a dozen distinct theaters, destabilizing military
rule in many places, and resulted in widespread violence and devastation in Myanmar as the junta
deployed indiscriminate violence against its opponents. Yet, the determined anti-junta resistance gained
substantial momentum and now fields an impressive number of enthusiastic volunteers that stand
poised to continue fighting indefinitely. Challenges remain, however, most notably in the pro-democracy
forces' lack of centralized command and equipment.
In this report, the Wilson Center and Tagaung Institute's Ye Myo Hein explores the development of the conflict in Myanmar, its trends, and potential outlook.
This is a joint report by the Asia Program and Tagaung Institute of Political Studies.
About the Author
Ye Myo Hein
Global Fellow;
Visiting Scholar, US Institute of Peace; Former Executive Director, Tagaung Institute of Political Studies
Read More
---
Asia Program
The Asia Program promotes policy debate and intellectual discussions on U.S. interests in the Asia-Pacific as well as political, economic, security, and social issues relating to the world's most populous and economically dynamic region.  Read more