Opening Up the Demographic Dividend Window in Sub-Saharan Africa: How Did Low-Fertility Countries Do It?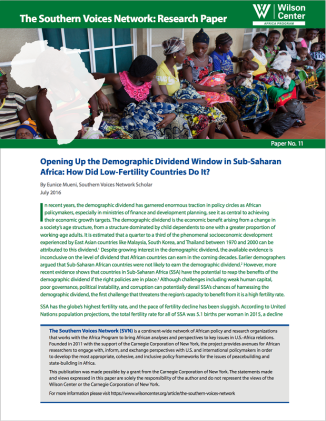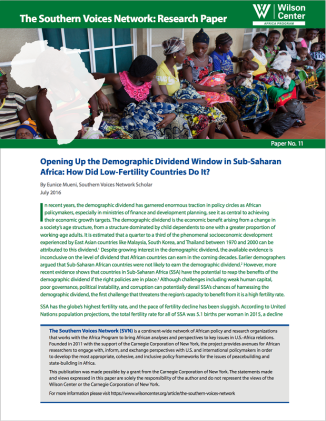 A rapid drop in fertility rates can produce a demographic dividend, the economic growth unleashed when a society transitions from an age structure dominated by child dependents to one with a greater proportion of working-age adults. This huge boom in young adults can (if the right policies are in place) can be a boon to development and economic growth, which has caught the attention of African policymakers. But while some African countries have seen fertility rates fall sharply, including Botswana, South Africa, and Mauritius, rates have stayed persistently high in most of the continent.
In this paired policy brief and research paper, Southern Voices Network Scholar Eunice Mueni provides research and policy options on what African governments, international policymakers, and donors can do to encourage the voluntary fertility decline needed for a demographic dividend, and what they can learn from those African countries that have seen fertility rates fall.
Please see the policy brief and the full 8-page research paper linked below.
This publication was made possible by a grant from the Carnegie Corporation of New York. The statements made and views expressed in this paper are solely the responsibility of the author and do not represent the views of the Wilson Center or the Carnegie Corporation of New York.
About the Author
Eunice Mueni Williams
Southern Voices Network Scholar;
Knowledge Translation Officer, African Institute for Development Policy (AFIDEP)
Read More
---
Africa Program
The Africa Program works to address the most critical issues facing Africa and U.S.-Africa relations, build mutually beneficial U.S.–Africa relations, and enhance knowledge and understanding about Africa in the United States. The Program achieves its mission through in-depth research and analyses, including our blog Africa Up Close, public discussion, working groups, and briefings that bring together policymakers, practitioners, and subject matter experts to analyze and offer practical options for tackling key challenges in Africa and in U.S.-Africa relations.   Read more