Proceedings of the First Annual International Youth Symposium: The Arctic in 25 Years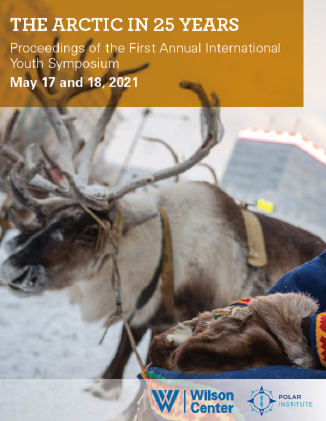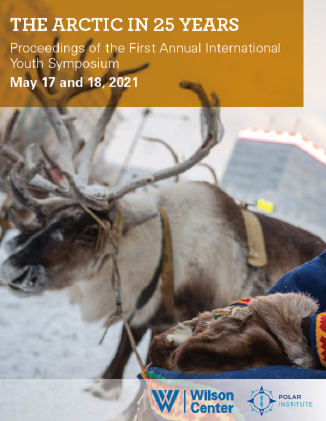 Hosted by the Wilson Center's Polar Institute, in partnership with Arctic Frontiers, Arctic Council Permanent Participant Youth
(supported by the Arctic Council Indigenous Peoples' Secretariat) and Arctic Youth Ambassadors, The Arctic in 25 Years: First Annual International Youth Symposium gathered emerging Arctic leaders to inform and influence potential Arctic policy for the next generation. Panelists represented all eight Arctic states, as well as Indigenous Peoples who live there. Based on the research they conducted, policies they coordinated, as well as traditional lifestyles and subsistence missions they've led, youth leaders discussed the Arctic they envision for the future and the actions needed to achieve it. Common threads among the panelists encouraged:
The necessity of free, prior and informed consent of Indigenous Peoples when considering development in the
Arctic region;
Intentional relationship-building and bottom-up policy approaches to produce successful solutions to Arctic challenges; and
Leveraging power from institutions to communities so that research, policy and decision-making are created by and for peoples who have been marginalized.
The Polar Institute is pleased to summarize each speaker's presentation in these proceedings. The event recording of the First Annual International Youth Symposium is available here.
About the Author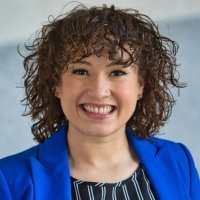 Michaela Stith
Former Program Assistant, Polar Institute;
Author of Welp: Climate Change & Arctic Identities; Climate Justice Director, Native Movement
Read More
---
Polar Institute
Since its inception in 2017, the Polar Institute has become a premier forum for discussion and policy analysis of Arctic and Antarctic issues, and is known in Washington, DC and elsewhere as the Arctic Public Square. The Institute holistically studies the central policy issues facing these regions—with an emphasis on Arctic governance, climate change, economic development, scientific research, security, and Indigenous communities—and communicates trusted analysis to policymakers and other stakeholders. Read more