Herder-Farmer Conflicts in South East Nigeria: Assessing the Dangers
The conflict between herders (nomadic and semi-nomadic Fulani pastoralists) and farmers (non-Fulani agrarian communities) has routinely occurred in many African countries for over a century. It has taken more lives than terrorism in Africa and poses a great challenge to human safety and food security. Herder-farmer conflicts in South East Nigeria are a relatively new phenomenon. Other regions of Nigeria have been harder hit in recent years; however, the problem in South East is set to worsen in the absence of effective government action at all levels. If left to deteriorate, a cascade of negative consequences will follow on the region's food security, the delicate Christian-Muslim cleavages, and issues related to the legacy of the Nigeria-Biafra Civil War, not least rising secessionism sentiment and the perceived marginalization of South East in the Federal Republic.
In this paired paper and policy brief, Southern Voices Network for Peacebuilding scholar Hyginus Banko Okibe analyzes the background of Fulani migration across Nigeria and the politics of herder-farmer conflicts in South East region including noted peacebuilding efforts.  He also provides policy recommendations for entities including the African Union (AU), the Economic Community of West African States (ECOWAS), the Federal Government of Nigeria, state governments, and local/regional leaders in order to help mitigate the effects of the herder-farmer conflict, both in terms of public safety and food security. 
About the Author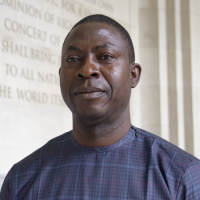 Hyginus Banko Okibe
Former Southern Voices Network for Peacebuilding Scholar;
Lecturer, Enugu State University of Science and Technology, Department of Political Science
Read More
---
Africa Program
The Africa Program works to address the most critical issues facing Africa and U.S.-Africa relations, build mutually beneficial U.S.-Africa relations, and enhance knowledge and understanding about Africa in the United States. The Program achieves its mission through in-depth research and analyses, public discussion, working groups, and briefings that bring together policymakers, practitioners, and subject matter experts to analyze and offer practical options for tackling key challenges in Africa and in U.S.-Africa relations.   Read more