The Rebellion of Criminal Networks: Organized Crime in Latin America and the Dynamics of Change
Organized crime in Latin America is undergoing constant and substantial changes, positioning itself as a relevant strategic actor in the hemisphere, reconfiguring geographic borders, penetrating political and social structures, playing a significant role in the economy, and threatening progress in building the state and strengthening democratic systems. Although its manifestations differ from place to place, organized crime is present in every country in the region and has become one of the biggest challenges governments face.  
In light of the constant changes in criminal structures and their capacities to learn, innovate, and adapt, it is useful to examine the factors that explain these constant shifts as well as how such organizations have managed to expand their influence and presence.  This essay introduces the concept of the "rebellion" of criminal networks" to explain the current dynamic of and context within which organized crime operates. The author also outlines the changes that have fostered the emmergence of local markets for illegal drugs. The essay concludes with ten recommendations for addressing this challenge.
This bulletin, published simultaneously in English and Spanish, summarizes the forthcoming Spanish-language article "La rebelión de las redes: El crimen organizado en América Latina y las fuerzas que lo modifican."  
About the Author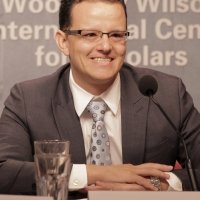 Juan Carlos Garzón
Global Fellow;
Security and Conflict Resolution Expert; Former Consultant, United Nations Development Program and Organization of American States
Read More
---
Latin American Program
The Wilson Center's prestigious Latin American Program provides non-partisan expertise to a broad community of decision makers in the United States and Latin America on critical policy issues facing the Hemisphere. The Program provides insightful and actionable research for policymakers, private sector leaders, journalists, and public intellectuals in the United States and Latin America. To bridge the gap between scholarship and policy action, it fosters new inquiry, sponsors high-level public and private meetings among multiple stakeholders, and explores policy options to improve outcomes for citizens throughout the Americas. Drawing on the Wilson Center's strength as the nation's key non-partisan forum, the Program serves as a trusted source of analysis and a vital point of contact between the worlds of scholarship and action. Read more
Mexico Institute
The Mexico Institute seeks to improve understanding, communication, and cooperation between Mexico and the United States by promoting original research, encouraging public discussion, and proposing policy options for enhancing the bilateral relationship. A binational Advisory Board, chaired by Luis Téllez and Earl Anthony Wayne, oversees the work of the Mexico Institute.  Read more