Building Borders that Foster Security and Prosperity in North America
Canada, Mexico and the United States are collaborating to enhance security and foster prosperity at North America's borders, while respecting each nation's sovereignty. Prime Minister Trudeau, President Peña Nieto and President Obama can give this effort a big boost when they meet for the North American Leaders Summit (NALS) on June 29 in Canada.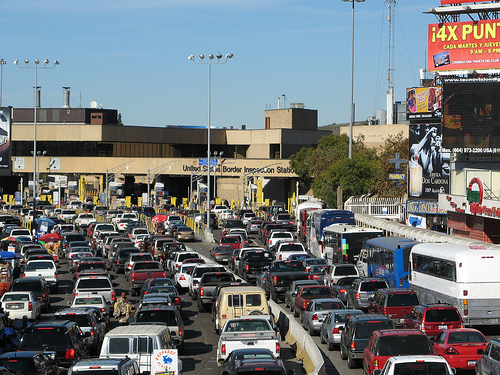 Canada, Mexico and the United States are collaborating to enhance security and foster prosperity at North America's borders, while respecting each nation's sovereignty.  Prime Minister Trudeau, President Peña Nieto and President Obama can give this effort a big boost when they meet for the North American Leaders Summit (NALS) on June 29 in Canada.  Given the contentious nature of the public and political debates about border security right now, it will be especially important for the leaders to articulate clearly what it means to build twenty-first century borders that are smart, effective, and meet both the security and competitiveness needs of North America. They should also bless a strong, substantive work agenda to make those objectives reality.
The three countries trade some $3.6 billion in goods and services each day.  Over a million citizens of the three nations cross the borders as part of their daily routine.  Border management tasks are enormous.  But, officials, the private sector and the many states, provinces and cities that benefit from border trade and travel see the tremendous value of a North America in which borders are places of connection and cooperation at least as much as division.  Around our borders, the three governments fight illicit activity; help our economies by facilitating legal trade and transit; and work to protect all three societies from threats ranging from terrorism to invasive species and diseases.
When the leaders of North America last met for the so-called "Three Amigos" Summit in February 2014, they presented a vision of broad-based economic growth for all three countries and enhanced security for their citizens.  They recognized that transforming the borders was a huge challenge, but one with tremendous payoffs.  There is often too much traffic and trade for border facilities and staff to handle efficiently.  Officials need to be on the lookout for terrorists and criminals, while processing legitimate travelers and trade efficiently.  Drug trafficking is far too substantial, as are the billions in illicit money and goods that cross the borders.  Illegal migration remains a serious problem, even if most migrants heading north are now from Central America.  But, the challenges underscore the need for closer partnership, more information sharing, better coordinated actions and wiser investment in North America's borders.
The economic and commercial benefits of smarter border cooperation and better facilities are enormous.  The three countries can save their businesses and citizens many billions of dollars by making the flow of North America's 1.3 trillion dollars in cross border commerce and legal transit more smooth, timely and efficient.  Given the interconnected supply chains and production networks that crisscross the continent, improvements at the borders make all three countries more competitive compared to producers in China and elsewhere.  More efficient borders lower prices for our consumers and support U.S. sales to our top two export markets in the world: Canada and Mexico.  More than ten million U.S. jobs depend on trade with our neighbors.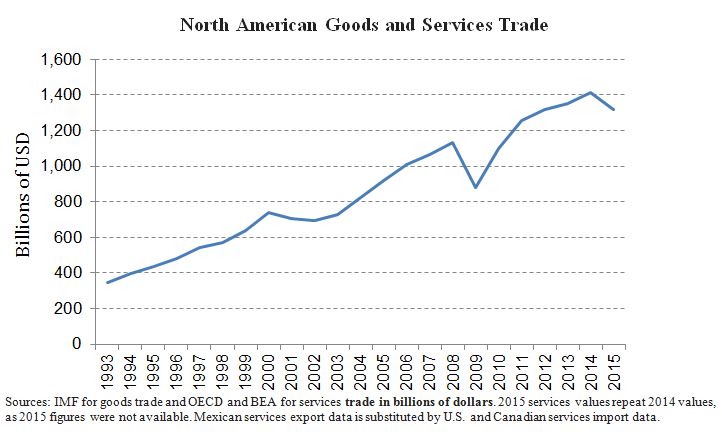 Cross border trade in goods and services in North America has grown at an impressive rate in recent years (except for a decline in 2015 as a result of depressed energy prices).  It now totals about $2.5 million dollars a minute!  Legitimate cross border travel is also massive – an estimated 1.4 million people a day cross our two borders, and growing tourism between the three countries comes on top of that daily border transit.   Indeed, U.S. relations with our two neighbors touch the daily lives of more U.S. citizens than our relationship with any other foreign countries.
But as former Mexican ambassador to the United States, Eduardo Medina Mora, was fond of reminding, we have twenty first century cross border commerce using nineteenth century infrastructure and a twentieth century legal framework.  To date, the three countries have predominately been working bilaterally to improve processes and cooperation at the borders.  Mexico and the United States launched the "Twenty first Century Border Initiative" in 2010, and Canada and the United States launched the "Beyond the Border" Program in 2011.  Both programs aim to enhance security and economic competitiveness.  Each has made significant progress, as have efforts to construct new and more efficient facilities.  The governments are developing collaborative approaches on related issues, from how to plan new infrastructure and begin inspection of goods and travelers before they get to the borders to better involving stakeholders from border regions and the business sector.  Simultaneously, law enforcement and security entities are cooperating more closely than before to reduce crime and violence.  The longer term strategic vision is to extend effective security against such threats as far out as possible beyond the physical border or point of entry.
At the 2014 North American Leaders Summit, the three countries agreed to begin to bring components of bilateral efforts to the North American level:
The creation of a North American Trusted Traveler Program.
The development of a North American Transportation Plan to help ensure the connection of the north-south freight corridors upon which our shared manufacturing platform depends.
Identifying best practices and innovative concepts from bilateral work that could be applied along the other border as well.
Cooperation to combat the importation of counterfeit products.
Better emergency management communications.
 
All of these efforts need a continued push from the top level.
On June 29, the leaders should validate and reinforce on-going cooperation and identify a package of specific actions and timelines to provide concrete results of more efficient and secure flows of goods and people.   The Summit should share a steely-eyed review of the actual progress made to date, and prioritize the tasks that can be done productively among the three countries, while acknowledging that important work must continue bilaterally.  Making progress entails tough, technical work, but the leaders should set ambitious goals and approve mechanisms to measure results.
Security and economic competitiveness are not mutually exclusive in North America, but rather two dimensions of a single process that manages risk in the flow of people and goods toward and across borders.  This is a win-win process.  Among the most promising programs are those which identify low risk travelers and provide them with expedited access, as the US does with Global Entry and TSA Pre for air travelers.  The three governments should press ahead to harmonize existing Trusted Traveler programs.  Related to this, the three governments should further expand sharing data to help each other identify travelers of concern, including expanding collection and sharing of biometric data.  The three governments should also work on expanding use of and integrating the various North American Trusted Trader programs and ensure efficiency gains for companies that participate.  They should look establish and expand pre-inspection of cargo before it gets to the border to speed shipment of land based shipments.  The leaders can ask their teams to move rapidly to establish "single window" environment for cross-border commerce in North America so that shippers and producers can submit the same required data to one place and have it automatically relayed to all relevant government authorities.  Businesses have also suggested detailed mapping of the time and processes in border-crossing facilities to identify and eliminate blockages and duplication.  They have also recommended regulatory improvements to facilitate, for example, transportation by common carriers across the border and lower costs for express shipments.  The governments should develop and explore new methods for better infrastructure and transportation planning and funding, including greater use of public-private financing to pay for facilities and staff.  They should explore giving a greater role to the North American Development Bank, which currently focuses only on environment-related projects along the US-Mexico border.
These steps will contribute to a North American Competitiveness Work Plan, which the three countries set as a goal in 2014.  Along the border, that work can be enhanced by encouraging regional economic development strategies.  Bilaterally, the US and Mexico have begun mapping the clusters of industries and businesses that can potentially promote trans-border economic development. This work could be extended to the US-Canada border.  The governments should create mechanisms for receiving and using input from private sector and civil society stakeholders, and the governments must do the technical but vital task of collecting more detailed data on what crosses the border so we better understand the complex supply chains that fuel all three economies.
Through deeper security and intelligence cooperation, Mexico and Canada help provide the United States with "defense in depth" against those who would seek to harm the country. Through the Beyond the Border program, the United States and Canada have articulated a goal of moving toward a perimeter security approach to prevent the entry of dangerous individuals and goods to the region. There is also an implicit vision of moving toward larger perimeter security with the United States and Mexico working together to help strengthen Mexico's southern border. The three governments should articulate a shared perimeter security goal and commit to steps to achieve it.
In 2014, the leaders of Canada, Mexico and the United States stated that "the future of North America is even more brilliant than its past, and together we can make it the most competitive and dynamic region in the world."  That vision remains valid, but success hinges on developing and implementing a new model of more efficient and secure borders across the continent.
This article was originally published on the Mexico Institute's blog on Forbes.com
---
Mexico Institute
The Mexico Institute seeks to improve understanding, communication, and cooperation between Mexico and the United States by promoting original research, encouraging public discussion, and proposing policy options for enhancing the bilateral relationship. A binational Advisory Board, chaired by Luis Téllez and Earl Anthony Wayne, oversees the work of the Mexico Institute.  Read more