Kennan Institute Marks 40th Anniversary at 2014 Davis Dinner
On Tuesday, May 13, 2014, Eugene K. Lawson, Chairman and CEO of Lawson International, Inc., and Paul Rodzianko, Chairman of the Hermitage Museum Foundation (USA), were presented with the Woodrow Wilson Award at the Kennan Institute's Davis Dinner. The event commemorated the Wilson Center's 40th anniversary.
Mr. Lawson received the Woodrow Wilson Award for Corporate Citizenship in recognition of his years of leadership at the U.S.-Russia Business Council and continued high-level work with American corporations facing complex problems in the Russian market. 
In accepting his award, Lawson observed: "The U.S.-Russia relationship is important for reasons that are obvious to everyone in this room. We need to be patient, patient, and more patient. Let's stop talking about red lines and start talking about areas where our common and permanent interests intersect—like economic development and the benefits that flow from it. But above all, we just need to find a way to get along."
Mr. Rodzianko received the Woodrow Wilson Award for Public Service in recognition of his tireless work in promoting U.S.-Russian cultural exchange as Chairman of the Hermitage Museum Foundation (USA).
During his acceptance, Rodzianko advised: "Let us remember that Russia matters very much to us and that Russia is not going away. Neither is America. So: how best to understand each other? Exchanges, apolitical interaction, and tourism, of course, but we also need to maintain a national American commitment to study Russian language, Russian history and Russian culture - not to de-emphasize it. And we should also welcome any analogous Russian initiatives."
Drew Guff, dinner co-chair and managing director at Siguler Guff, announced the launch of the Solzhenitsyn Initiative at the Kennan Institute. Under this initiative, major works by Nobel Laureate Alexandr Solzhenitsyn will be translated into English for the first time. (for additional information on the Solzhenitsyn Initiative, click here)
According to Mr. Guff, Solzhenitsyn remains as relevant as ever as a window into understanding Russian culture and history. As an example, he quoted at length Solzhenitsyn's views on Ukraine, as written in 1978 in his autobiography, "The Little Grain," one of the works to be translated as part of the Solzhenitsyn Initiative, and published once in Russia in the journal Novy Mir in 1998:
"The Ukrainian question is one of the most dangerous questions facing us in the future. It can strike a bloody blow at us during the very moment of liberation.  On both sides, we are mentally poorly prepared to face it. I constantly sense the burden of this question on myself, in large part due to my origins.  I wish Ukrainians happiness from the bottom of my heart, and I would like us to jointly, without enmity, properly settle the accursed question. I would like to bring reconciliation to heal this dangerous split.  Moreover, I was friends with western Ukrainians at the Ekibastuz Special Camp, I know their uncompromising stance, and I respect the courage they displayed there. In league with them against Soviet power -- there I sensed no gap between us.  I expect that many of my camp mates who live in Ukraine will yet come forward and will enhance our future dialogue.  Discussing the topic with Russians won't be any easier.
Just as it is useless to prove to Ukrainians that we all hail by blood and in spirit from Kiev, so too Russians do not want to appreciate that the those living along the Dnieper are a different people, and that many injuries and grievances were sown by the Bolsheviks. As everywhere and always, these murderers only tormented and rankled the wounds.  And when they leave, our wounds will remain, festering.  It will be very difficult to guide this conversation to a sensible haven.  But whatever voice and weight I have, I shall apply it to this end. In any case, I know one thing: should there arise, God forbid, a Russo-Ukrainian war, I won't join it myself and I won't let my sons go."
The Kathryn and Shelby Cullom Davis Awards Dinner was established through a generous donation from Kathryn W. Davis and her family, recipients of the Woodrow Wilson Award for Public Service in 2006, and is intended to raise public awareness of individuals demonstrating outstanding and enlightened corporate citizenship and public service in connection with the U.S.-Russian relationship.
During the dinner's opening remarks, dinner co-chair and former U.S. ambassador to Russia John Beyrle paid special tribute to Kathryn W. Davis: 
"We lost Kathryn just over one year ago at the age of 106. If you have ever wondered, as I have, what it takes to live to such a long and active life, I would imagine the answer lies in Kathryn's response when asked by one of her great-grandchildren to name her favorite day: "Tomorrow." Those of us who care about Russian and international studies know what a great loss her passing represents, and as sad as we are, we take solace and comfort in knowing that thanks to Kathryn and her family, the field of Russian studies will always have a "tomorrow.""
A video tribute to Kathryn W. Davis can be found at the top of the page. 
Guest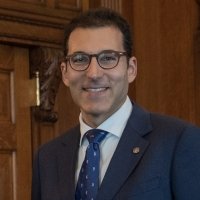 Matthew Rojansky
Distinguished Fellow, Kennan Institute;
President and CEO, U.S. Russia Foundation
Matthew Rojansky, the President and CEO of the U.S. Russia Foundation and a Distinguished Fellow at the Wilson Center's Kennan Institute, is as much a regular at Congressional briefings and on prime-time news shows as he is on the streets of Moscow, Kyiv, or Berlin. One of the country's leading analysts of US relations with Russia, Ukraine, and the region, he has advised governments and international organizations and leads track two diplomacy on Eurasian conflicts.
Read More
---
Hosted By
Kennan Institute
The Kennan Institute is the premier U.S. center for advanced research on Russia and Eurasia and the oldest and largest regional program at the Woodrow Wilson International Center for Scholars. The Kennan Institute is committed to improving American understanding of Russia, Ukraine, Central Asia, the Caucasus, and the surrounding region though research and exchange. Read more