The Korean Peninsula after the U.S. Election - Event Summary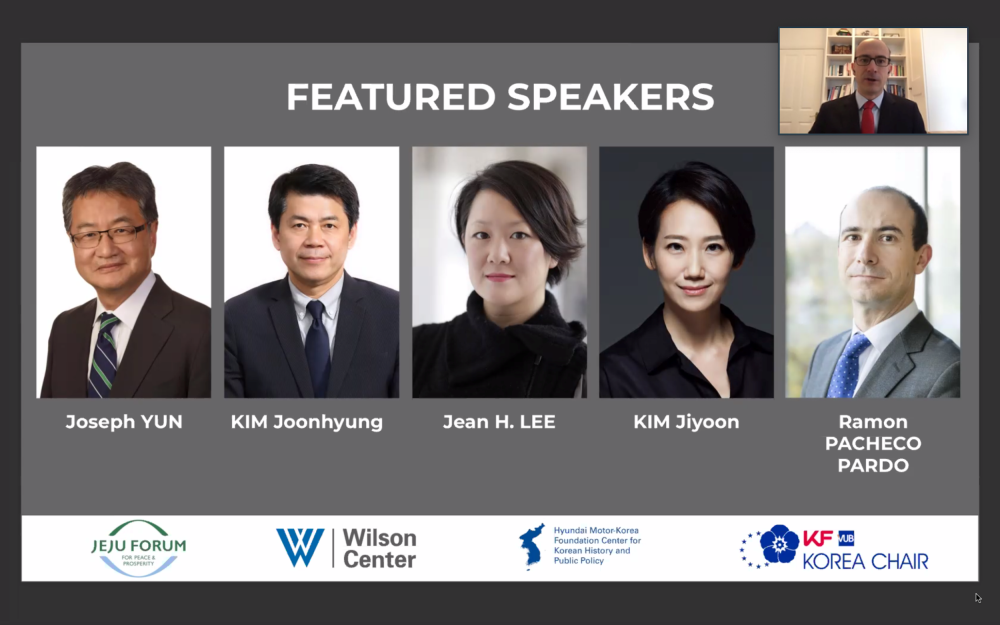 President Donald Trump's first four years in the White House sparked dramatic shifts in diplomacy in Northeast Asia, including historic summits with North Korea's Kim Jong Un, protracted military negotiations with South Korea and rising strategic competition with China.
With North Korea's recent reveal of a bigger intercontinental ballistic missile, new submarine-launched ballistic missile and short range missiles on Oct. 10, concerns over North Korea's expanding nuclear arsenal have escalated.
Americans have chosen former Vice President Joseph "Joe" Biden as their next president, potentially putting an era of summit-style diplomacy and "love letters" in the past.
This past week, experts weighed in on the election's impact on the Korean Peninsula, including how to rein in North Korea's nuclear ambitions, navigate a rising China and restore fraying alliances.
On Nov. 5, 2020, the Hyundai Motor-Korea Foundation for Korean History and Public Policy collaborated with the KF-VUB Korea Chair in Brussels, Belgium, to organize a panel that was broadcast at the 2020 Jeju Forum for Peace and Prosperity entitled "The Korean Peninsula after the U.S. Election."
The Wilson Center's Korea Center Director, Jean H. Lee, was joined by fellow panelists Amb. Joseph Yun of the U.S. Institute of Peace, Dr. Kim Joonhyung, chancellor of the Korea National Diplomatic Academy, and political analyst and talk show host Dr. Kim Jiyoon. The discussion was moderated by Dr. Ramon Pacheco Pardo, the KF-VUB Korea Chair at the Institute for European Studies.
Will President-elect Biden follow former President Barack Obama?
How President-elect Biden will formulate a new foreign policy for the Korean Peninsula was a key part of Amb. Joseph Yun's presentation. Drawing on his experience as a career diplomat who served during the Obama-Biden Administration and as the former U.S. special envoy on North Korea from 2016 to 2018, Amb. Yun rejected the notion of former Vice President Biden as an "Obama III."
The Obama Administration engaged in a policy known as "strategic patience" in which Washington aimed to wait out North Korea provocations while instituting sanctions and pressure as a way to force Pyongyang back to negotiations.
While analysts have raised the possibility of a return to Obama-era style engagement in Korea, Amb. Yun noted that a Biden Administration is unlikely to revert entirely to "strategic patience."
"Biden comes with a lot of experience," Amb. Yun said. "This matters greatly, especially when we come to hotspots like the Korean Peninsula, because he already has an idea of what he would like to do, what he wants to do, and what he has done in the past."
Amb. Yun advised President-elect Biden to remain open to diplomacy with North Korea.
"My hope is that the progress Trump made on Korea issues, which is opening communication channels -- Biden should keep [and sustain these]," Amb. Yun said.
What is the future of the U.S.-South Korea alliance?
The future of the U.S.-South Korea alliance has also captured the attention of Korea analysts as President Trump and President-elect Biden's rhetoric have continued to deviate.
Notably, President Trump has pursued a more hard-line stance on the issue of defense cost-sharing with South Korea.
Meanwhile, President-elect Biden promised, in an op-ed aimed at the South Korean public, to strengthen the "alliance to safeguard peace in East Asia… rather than exporting Seoul with reckless threats to remove our troops."
Dr. Kim Joonhyung, Chancellor of the Korean National Diplomatic Academy in South Korea, offered his thoughts on how the alliance might evolve in the next four years.
"Since the two countries fought together in the Korean War, the alliance has continued … since its formalization in 1953 by the Mutual Defense Treaty," Kim said. "It is a seven decades-long relationship."
"But it has not been a shoulder-to-shoulder relationship. South Korea has constantly been under the U.S. security protection as a junior partner of an uneven alliance structure."
Dr. Kim Joonhyung further argued that the United States justifies this "uneven" relationship by citing "Pyongyang's nuclear adventures" and the "security dilemma" surrounding the Korean Peninsula.
Political analyst Dr. Kim Jiyoon, the former director of the Public Opinion Studies Center at the Asan Institute, said South Korean support for the alliance varies among key demographic groups.
She also noted that support for the alliance has evolved based on a perceived growing threat from China.
"As of now, the (South) Korean people do not really feel the necessity of the alliance or have strong feelings for the United States because of the North Korea threat," she said. "Because of China -- … THAAD and [China's] economic retaliation -- the trauma still remains with and among the (South) Korean people."
Support for the alliance in South Korea is different among the elderly and younger generations, and between men and women, Dr. Kim Jiyoon said.
"Socially, economically, [young people] are very liberal," she said. "The difference between young males and the elderly is this: The elderly see North Korea as the enemy, but at the same time, 'one of us.' Young males disproportionately see North Korea as an enemy."
"There is a huge emotional difference between these two generations."
For the younger generation in South Korea that sees the U.S. as "a great friend and ally," a Biden Administration may be welcome, she said.
How will North Korea react?
Having spent a significant amount of time in North Korea as the founding Associated Press Bureau Chief in Pyongyang, Jean H. Lee offered her insight into how North Korea and its leader may be thinking about the election.
"There's no doubt that Kim Jong Un would [have preferred] another Trump presidency," Lee said. "Kim Jong Un has taken advantage of President Trump's maverick style of diplomacy, and the opportunity that Trump's impulsiveness and craving for attention and drama have provided."
However, their "special" relationship has not quite yielded all that Kim Jong Un needs and wants, and he had been hoping to resume negotiations with President Trump, she said.
Kim has focused on domestic issues while waiting for the election outcome. A party congress that Kim is convening in January should offer hints of his approach in 2021, Lee said. Meanwhile, Kim will be watching for clues to President-elect Biden's North Korea policy.
"If North Korea doesn't figure in the Biden Administration foreign policy's priorities quickly, I think that Kim Jong Un may turn back to a very tried and tested pattern of behavior of waging a major provocation to get back on Washington's radar," she said.
Lee added that room for negotiation with the Biden Administration exists, given that Kim Jong Un stands to benefit from a better relationship with the United States.
"Kim Jong Un truly does want to move away from war and focus on the economy -- when it's the right time for him," she said.
But the stakes are high for Kim.
"The Kims have invested in nuclear weapons instead of their people's wellbeing, and they need those weapons to pay off politically and economically, with not only legitimacy but also major economic concessions," said Lee.
President-elect Biden's promise to repair alliances should help with a long-term strategy on North Korea, she said.
"I have found in my own dealings with the North Koreans that they like to play a game of divide and conquer," she said. "The more we have regional unity and international unity, the more we will be able to bring [North Korea] into the international fold. The less they are able to divide the neighbor, the less effective that strategy will be."
Biden's promise to return to "principled diplomacy" may yield positive results.
She applauded his emphasis on the "importance of principled engagement with the North Koreans and the importance of bringing them back into the international fold, while protecting security and promoting the values that we want all good global citizens to uphold."
"Will that process be slower? Possibly. Will it be more thorough and better for the long term security of the Korean peninsula? I think, definitely."
About the Author
---
Hyundai Motor-Korea Foundation Center for Korean History and Public Policy
The Center for Korean History and Public Policy was established in 2015 with the generous support of the Hyundai Motor Company and the Korea Foundation to provide a coherent, long-term platform for improving historical understanding of Korea and informing the public policy debate on the Korean peninsula in the United States and beyond. Read more
Asia Program
The Asia Program promotes policy debate and intellectual discussions on U.S. interests in the Asia-Pacific as well as political, economic, security, and social issues relating to the world's most populous and economically dynamic region.  Read more