The Transatlantic Energy Economy
U.S. and European firms are deeply embedded in each other's traditional and renewable energy markets – through trade, foreign investment, cross-border financing, and collaboration in research and development. 
Over the years, foreign companies have invested roughly $400 billion in U.S. energy-related industries.[i] In 2018, FDI in the U.S. energy industry directly supported 173,500 U.S. jobs, contributed $1.2 billion in R&D and generated $5.7 billion in U.S. exports.[ii] European companies have been among the largest investors, and German companies by far are the leading source of foreign direct investment in the U.S. energy economy. Over the past decade, German firms were behind about 16% of the 830 greenfield investment projects in the U.S. energy sector (Table 1). Other notable European investors include France (9%), the UK (8%), and Spain (7%). 
In particular, renewable energy has become an increasingly important sector in terms of FDI. As shown in Table 2, renewable energy projects outpaced traditional energy investments in 2020 for the first time in history. Despite the coronavirus recession, renewable energy investments proved to be relatively resilient during 2020. According to the Financial Times' investment monitor, fDi Markets, renewable energy FDI fell 11% in 2020, versus an overall 40% drop in FDI across all industries. "Greenfield investment" (or investment in new assets) in the coal, oil and gas industries, meanwhile, dropped by over 62% in 2020. The United States and the U.K were the top countries for renewable energy FDI announcements, while wind and solar were the top sectors. The fastest growing region was Europe, with greenfield FDI into European renewable projects rising by 70% last year, driven by the UK, France, Poland, Portugal, Italy and Ireland.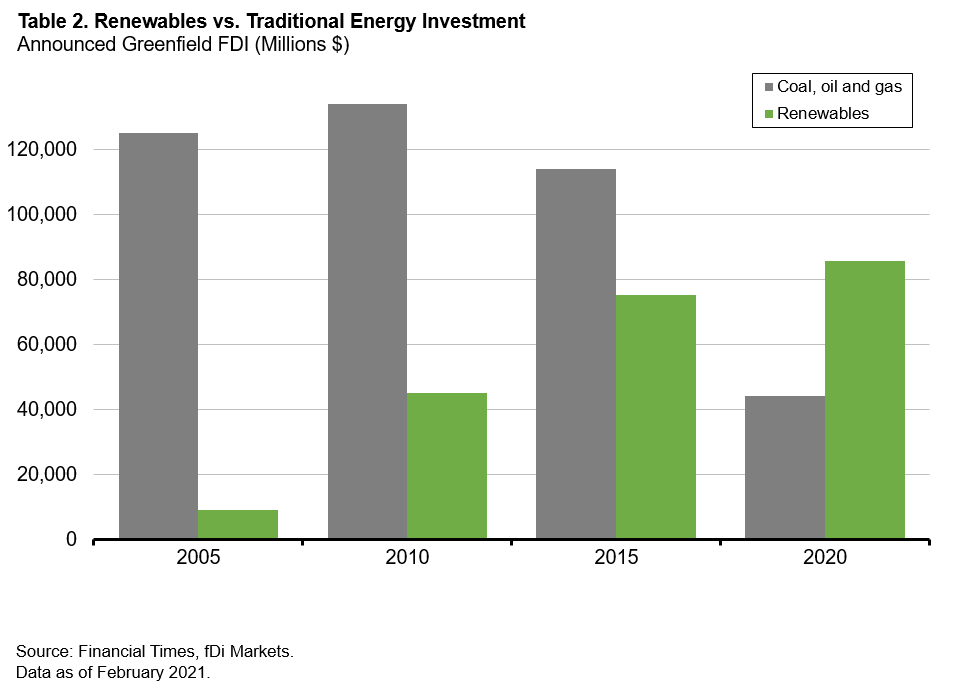 Growing interest in sustainable investing has been a key area of support for the sector. According to data from Bloomberg, social, sustainability and green bond issuance surged 31% in 2020 to $742 billion (Table 3). These include debt issued for social projects, such as job support, as well as for environmental causes. Sales of green bonds last year rose 13% to $304 billion. Europe and the United States made up over 80% of all green bonds issued in 2020, and 78% of all sustainable debt issuance.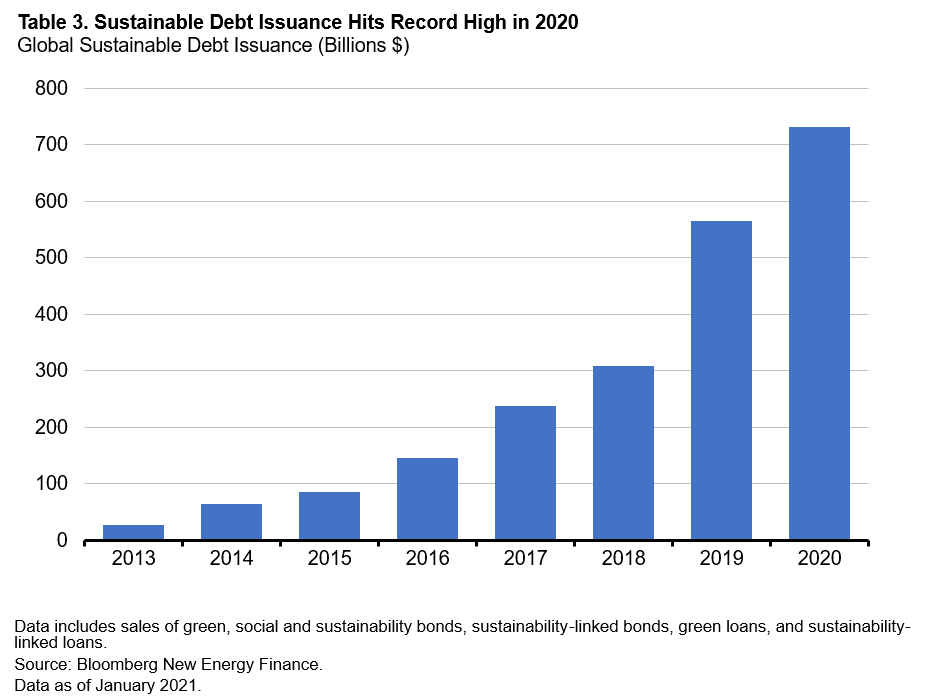 In terms of international trade, U.S. energy exports slumped in 2020 on account of the pandemic-induced slowdown in global travel. That said, U.S.-EU trade in energy products is still much higher today than a few years ago. Rising domestic and foreign investments in the U.S. energy economy, as well as a liberalization of energy trade policy, have helped propel the United States to become a top producer and exporter of energy. Monthly liquefied natural gas (LNG) exports from the United States to Europe dipped in 2020, but still averaged 65 billion cubic feet for the year, up from 57 billion cubic feet in 2019 (See Table 4). 
U.S. and European companies will be critical to the development of a cleaner energy future. The EU's ambitious European Green Deal outlines a wide set of initiatives ranging from the de-carbonization of the energy sector, development of cleaner modes of transport, renovation of buildings to reduce energy use, and investments in the circular economy. The plan will require trillions of euros in investments to achieve the ambitious target of making the continent climate neutral by 2050. More recently, policymakers in the EU reached an agreement in November for a €1.8 trillion package from 2021-2027 to "rebuild a greener, more digital and more resilient Europe."[iii] According to data tracked by Rhodium Group, stimulus spending commitments for "green" initiatives made up 15% of total COVID-19 stimulus announced by the EU and its member states' governments in 2020.[iv] Largely unnoticed by media and politicians, U.S. companies in Europe have become a driving force for Europe's green revolution, especially through the addition of wind and solar capacity on the continent. Since 2007, U.S. companies have been responsible for more than half of the long-term renewable energy agreements in Europe. As shown by Table 5, U.S. companies account for four of the top five purchasers of solar and wind capacity in Europe. 
Meanwhile, in the U.S., the new administration has made climate change a top priority, moving to rejoin the Paris Climate Accord in early 2021. Future stimulus plans in the U.S. are likely to be focused on rebuilding jobs through sustainable infrastructure development and clean energy. According to the U.S. Energy Information Administration, the renewables share of electricity generation in the United States is estimated to increase from 21% today to 42% by 2050.[v] Supporting the discovery of future green technologies, government budgets for energy research, development, and demonstration (RD&D) in the United States and Europe were $17 billion in 2019, according to the International Energy Agency – about double the amount spent in China. Business-funded R&D has also become an increasingly important source of R&D in the United States and Europe. A dynamic and innovative private sector should continue to drive investments and innovations in renewable energy R&D over the coming decade.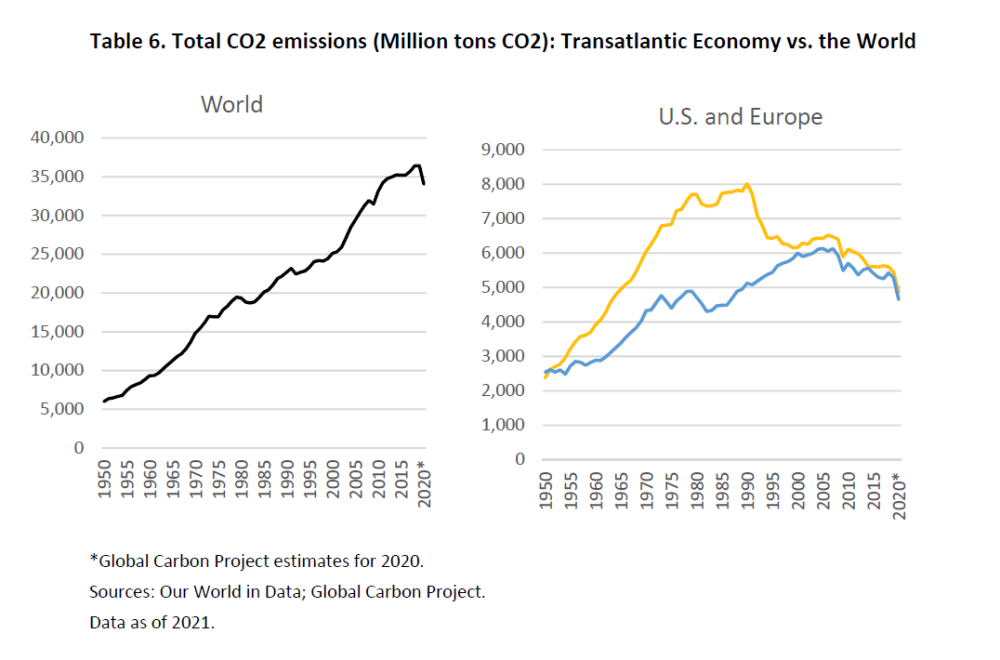 Endnotes  
[vi] Bureau of Economic Analysis, total inward foreign direct investment position on a historic cost basis in 2019 in petroleum and related industries, and electric power generation transmission and distribution.  
[vii] SelectUSA, https://www.selectusa.gov/servlet/servlet.FileDownload?file=015t00000001nSg.  
[viii] European Commission, Recovery Plan for Europe, https://ec.europa.eu/info/strategy/recovery-plan-europe_en. 
[ix] Rhodium Group, "2020 Green Stimulus Spending in the World's Largest Economies," February 4, 2021. 
[x] U.S. Energy Information Administration, Today in Energy, February 8, 2021. 
---
Global Europe Program
The Global Europe Program addresses vital issues affecting the European continent, US-European relations, and Europe's ties with the rest of the world. We investigate European approaches to critical global issues: digital transformation, climate, migration, global governance. We also examine Europe's relations with Russia and Eurasia, China and the Indo-Pacific, the Middle East and Africa. Our program activities cover a wide range of topics, from the role of NATO, the European Union and the OSCE to European energy security, trade disputes, challenges to democracy, and counter-terrorism. The Global Europe Program's staff, scholars-in-residence, and Global Fellows participate in seminars, policy study groups, and international conferences to provide analytical recommendations to policy makers and the media. Read more