Argentina's Unicorns, Resilient or Endangered?
Argentina's Unicorns, Resilient or Endangered?
Auth0, a password management company, became Argentina's fifth unicorn in May 2019, joining the elite club of start-ups valued at over $1 billion. Founded in 2013, Auth0 has survived Argentina's prolonged economic malaise and frequent economic crises. The challenge of building a company in Argentina pushed Eugenio Pace and Matias Woloski, Auth0 founders, to look beyond Argentina's borders from the get-go. Today, the company employs 650 workers in over 35 countries, with offices in Buenos Aires; Bellevue, in Washington State; London; Tokyo; and Sydney. After growing revenue 70 percent in 2019, it recently announced a new investment round that valued Auth0 at almost $2 billion.
Other Argentine unicorns include the online travel agency Despegar; a classifieds platform operating in 30 emerging countries, OLX; the IT and software development giant Globant; and, most famously, an online marketplace known as the "Amazon of Latin America," Mercado Libre. (Globant and Mercado Libre are technically no longer unicorns, now that they are publicly traded, but they remain exemplars of resilient entrepreneurship in battle-scarred Argentina.)
Against All Odds
Argentina ranks 83rd in the World Economic Forum's Global Competitiveness Index, lower than most other Latin American economies. That makes the success of these fast-growing startups particularly noteworthy. So how have these companies navigated their tumultuous homeland? Like Auth0, they have mostly looked outward to expand their businesses amid Argentina's economic volatility. But they also found advantages to operating in Argentina, including a relatively low-wage but highly educated workforce accustomed to innovating under hostile and fast-changing conditions.
Moreover, Argentina's entrepreneurs have not been completely ignored by the state. The City of Buenos Aires, for example, implemented a series of policies to incentivize tech-startups while former President Mauricio Macri was mayor. The city scaled up these pro-investment policies after Mr. Macri became president. In 2017, national lawmakers enacted an "entrepreneurship law" that reduced bureaucratic barriers to registering firms, reducing the average start-up time from one year to 24 hours. The law also established a special legal category for start-ups, and provided financial support to incentivize innovators, including ten public-private venture capital funds, with 40 percent of the capital provided by the government. The country known for its sprawling soy farms, cattle ranches and vineyards was positioning itself as a serious technology entrepreneurship hub.
A New Wave of Restrictions
Since Alberto Fernández came to power in December 2019, however, some of these reforms have come under scrutiny. Ricardo Nissen, Mr. Fernández's inspector general, raised concerns about companies that rapidly opened under the "entrepreneurship law," citing concerns about limited oversight and no requirement to submit accounting records. In June, Mr. Fernandez's allies in congress re-imposed onerous registration requirements. The reversal provoked backlash, both from the opposition and from private sector actors, who complained about increased costs and delays for opening businesses and creating jobs. The National Association of Entrepreneurs, promoters of the original reforms, filed a lawsuit contesting the legality of the new regulations. Tensions between the government and the tech sector were already high. Following Mr. Fernández's victory, Marcos Galperin, the legendary founder and CEO of Mercado Libre, moved to Uruguay, and a number of Argentine technology firms announced plans to cross the Río de la Plata as well. In all, 200 Argentine companies have sought help relocating to Uruguay since the election, according to Montevideo-based Bergstein.
Mercado Libre, the Outlier
Mr. Galperin's departure was a blow to Argentine prestige, as Mercado Libre is the most successful Argentine unicorn in history and the country's most valuable company, with a $50 billion market capitalization. Founded in 1999, the platform claims 320 million active users across 17 countries, in a region slow to embrace online shopping. Today, Mercado Libre is the most popular e-commerce website in Latin America.
It has expanded rapidly despite Amazon's significant investments in the region, where the U.S. technology giant has struggled to compete. Competition between the two e-commerce firms is fiercest in Brazil, the region's largest market. Brazil represents 62 percent of Mercado Libre's revenue, and the firm has more than double Amazon's market share. Analysts attribute Mercado Libre's advantage to its understanding of Latin American consumers and the successful integration between its e-commerce platform and five other business lines (see Figure 1).
Figure 1: Mercado Libre's Business Lines

Mercado Pago, launched four years ago, is the company's most important bet, and the main reason for its rising stock price in the NASDAQ. Used first as a payment method exclusively on Mercado Libre's platform, it is now widely available for a variety of digital transactions. From 2017 to 2019, Mercado Libre's revenues doubled, reaching $2.3 billion. Mr. Galperin expects that growth to continue, as more Latin Americans gain internet access, and more small businesses adopt Mercado Pago.
Until 2016, the market capitalization of YPF, Argentina's state-owned oil company, was the second highest in Argentina, behind only Tenaris, a steel pipe manufacturer. Today, Mercado Libre is 20 times more valuable than YPF.
Figure 2: Mercado Libre (MELI)Share Price vs. YPF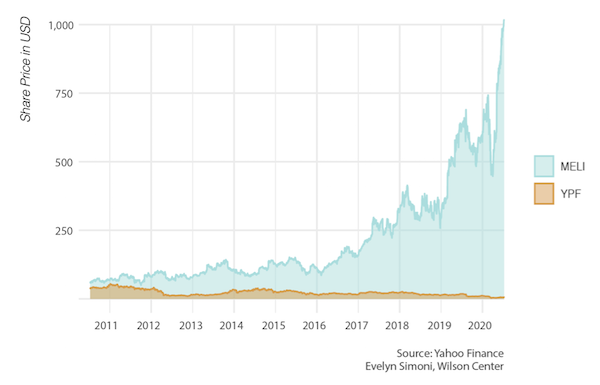 COVID-19 Silver Lining
Latin America is a global hotspot for the coronavirus, and the economic consequences are catastrophic. The International Monetary Fund expects Latin America to be among the hardest hit regions, with Gross Domestic Product declining by 9.4 percent this year. Argentina will be particularly impacted, given its prolonged quarantine, dependence on commodity exports and pre-pandemic recession and debt crisis.
That said, for many technology firms in the region, the pandemic is an opportunity. E-commerce and fintech are thriving thanks to widespread and prolonged stay-at-home orders, facilitating a rapid change in how consumers shop and pay for goods and services. A recent study by Bain & Company, for example, found the use of digital wallets was "increasing across all income levels in the region." The adoption of digital payments is a boom not only for fintech firms, but also for advocates of financial inclusion. Latin America is notorious for its inequitable financial systems, with high interest rates, high fees and limited access. Before COVID-19, nearly half of Latin Americans did not have a bank account, and only 20 percent owned a credit card.
Figure 3: Bank Account Holders in Latin America (% of population aged 15+)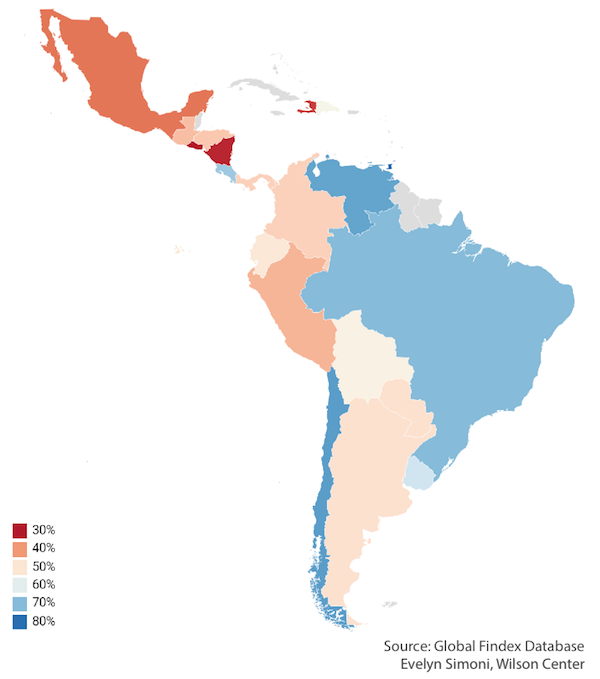 Until the pandemic, fintech growth was steady, but the coronavirus has pushed these technologies into the mainstream. Items sold through e-commerce channels are up 71 percent in Argentina compared to the first quarter of the year. Meanwhile, many consumers are transitioning away from cash purchases. Not only elites; 34 percent of low-income and 41 percent of medium-income Argentines are using online banking for the first time, according to the Bain study. This is good news for Mercado Libre. The expansion in e-commerce is boosting traditional banking firms as well as relative newcomers. But despite the competition – including e-commerce firms such as Ualá – Mercado Pago is the most popular among new users.
Booting Up, Weighed Down
Though widely admired, Mercado Libre's success story is part of a national debate on Argentina's economic strategy. Though the goal of incubating new unicorns is non-partisan, there is little agreement on the right set of incentives, or how to protect technology start-ups from the business challenges that clip the wings of many firms.
Indeed, even Mercado Libre has not overcome all obstacles that inhibit investment in Argentina. Recently, one of the country's largest unions, led by Hugo Moyano and his son, Pablo, blocked Mercado Libre's distribution center for two days to pressure Mercado Libre's logistics personnel to join unionized truck drivers in a push for higher pay and other employment benefits. In a play on the company's name ("Free Market"), Pablo Moyano tweeted a manipulated image of Mercado Libre's logo alongside a protest slogan: "The market might be free, but the worker is a slave."
About the Author
---
Argentina Project
The Argentina Project of the Latin American Program, aspires to be the premiere institution for policy-relevant research on the political and economic reforms underway in Argentina. The project will be a valuable resource for senior officials in the U.S. and Argentine governments, lawmakers, investors, diplomats, and journalists. Read more
Latin American Program
The Wilson Center's prestigious Latin American Program provides non-partisan expertise to a broad community of decision makers in the United States and Latin America on critical policy issues facing the Hemisphere. The Program provides insightful and actionable research for policymakers, private sector leaders, journalists, and public intellectuals in the United States and Latin America. To bridge the gap between scholarship and policy action, it fosters new inquiry, sponsors high-level public and private meetings among multiple stakeholders, and explores policy options to improve outcomes for citizens throughout the Americas. Drawing on the Wilson Center's strength as the nation's key non-partisan forum, the Program serves as a trusted source of analysis and a vital point of contact between the worlds of scholarship and action. Read more