Capturing Moments with Emirati Women Photographers in the UAE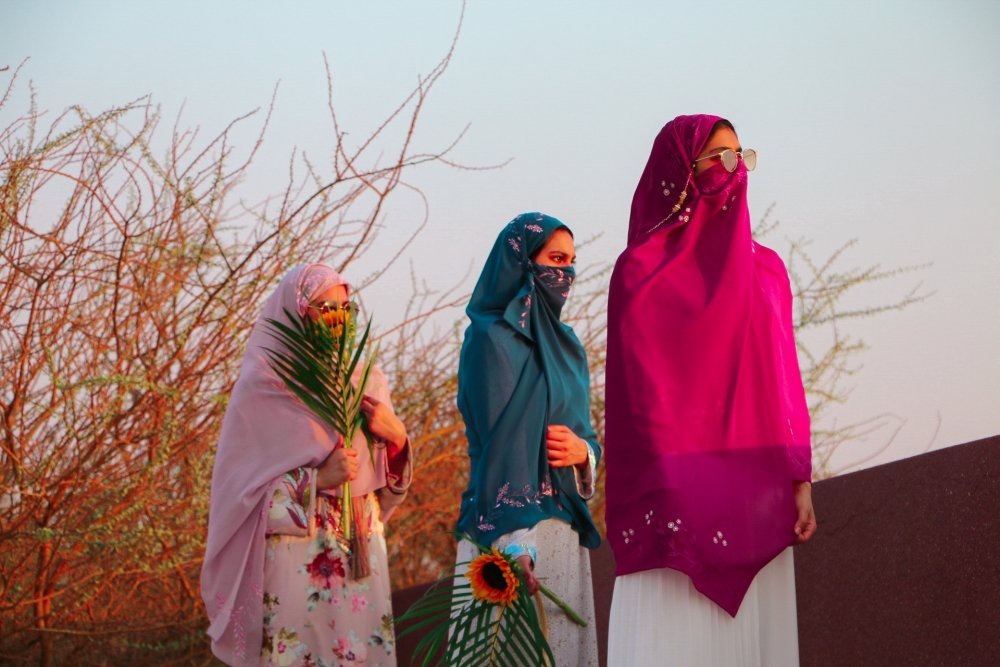 While the UAE has the resources such as institutions, galleries, and studios to support emerging artists, it's thanks to the artists' own drive and initiatives that the cultural scene is evolving and breaking barriers.
Picture yourself meeting likeminded artists on a warm and humid day in Dubai. You walk up and down bustling streets with your cameras in hand, talking to shopkeepers at the gold souk and snapping their portraits. You stop for a cup of hot chai tea at an Indian cafeteria. This was my experience in October 2019, when I was invited to join a local photography group for one of their photo-walks around Dubai. The group, called Foto UAE and run by photographer and artist Ola Allouz, would meet monthly during the cooler months to collectively shoot with their photography gear in locations around the UAE.
Allouz launched Foto UAE on Instagram in 2016 when she saw there was a gap in the UAE's art community for Emirati and Arab photographers like herself.  Since 2016, Allouz has hosted free photo-walks for the group, which can see as few as five attendants or up to 100 different photographers joining for the walk.
Ola had personally invited me to join a Foto UAE photo-walk and the event had me hooked for many more to come. The first time I attended a photo-walk two things stood out to me. The first was that the Foto UAE community felt like a welcoming family. If you showed up alone and didn't know anyone, you could still bond and geek out over each other's photo gear. The second was that after the photo-walk, Ola would encourage everyone to post their results on Instagram and use a specific hashtag generated by Foto UAE for the outing.
The outings were inspirational, but more so, it was the collective feeling of being part of a group of artists that motivated me more. I had connected with diverse artists; we shared our photos online, using reblogs and tags to link us and our works together. I felt like I needed to take it a step further and put the photographs into a collection that other artists, researchers, and historians from the MENA region and beyond could look at one day.
I recalled how when I was a student in art university I would go to the library and pore over photobooks and catalogs of different photographers' work. Photobooks like Robert Frank's "The Americans" and Lebanese-American photographer Rania Matar's "A Girl and Her Room" left strong impressions on me as a young artist. To see a photograph in print, be it in a book or mounted up on a gallery wall, is a different experience than glancing at an image on your phone.
I set out to research a niche part of the UAE photography community: up-and-coming Emirati women photographers, such as Allouz and myself. In summer 2020, art institutions in the UAE banded together to provide pandemic relief opportunities for artists who had missed out on scheduled exhibits and bookings. My proposed photobook project, Laqta (translates to shot or moment in Arabic), received a grant under Art Jameel's Research and Practice Programme. Part of my proposal was to conduct Zoom interviews with photographers, then compile their works into a photobook anthology to document this significant moment in the UAE's history of art.
I started with a short list of women I personally met on the photo-walks, but upon interviewing them I connected with their friends and colleagues, discovering an even wider network of photographers.
The diversity of their work is what kept me engaged. Other than street photography, there's drone landscape photography, traditional portraiture, and conceptual studio photography, to name a few. One of the photographers from Abu Dhabi, Mazna Al Mazroue, spoke to me about how she learned film and dark room photography in university and continued to shoot beyond graduation.  "I was developing film in my bathroom for years and looked for a public darkroom to rent but couldn't find any in Abu Dhabi," she recalled. Al Mazroue managed to order the equipment she needed for a dark room online. "When my equipment arrived, I was eager to test out the film enlarger, [so] I converted my bathroom into a darkroom by sealing the window and door with black duct tape. It was not very practical but seeing my prints and being hands-on with every step reminded me how much I loved the development process." Al Mazroue has since built a fully functional darkroom on the roof of her home in Abu Dhabi, and can often be found shooting portraits around the city streets with her medium format Hasselblad camera.
It has been a privilege to connect with other women artists and document these moments captured in the UAE. There's a strong sense of dedication and kindred spirit that has allowed the photography community to thrive. While the UAE has the resources such as institutions, galleries, and studios to support emerging artists, it's thanks to the artists' own drive and initiatives that the cultural scene is evolving and breaking barriers.
Laqta is set to publish in Fall 2022 and features photographs and interviews with 15 Emirati women photographers.
About the Author
---
Middle East Program
The Wilson Center's Middle East Program serves as a crucial resource for the policymaking community and beyond, providing analyses and research that helps inform U.S. foreign policymaking, stimulates public debate, and expands knowledge about issues in the wider Middle East and North Africa (MENA) region. Read more
Middle East Women's Initiative
The Middle East Women's Initiative (MEWI) promotes the empowerment of women in the region through an open and inclusive dialogue with women leaders from the Middle East and continuous research. Read more