Challenges and Opportunities for Lebanese Women
Culture and perceptions still influence the role of women in Lebanese society.  They are undermined on many levels ranging from social conservatism to policy matters. Despite the numerous ministerial commitments and declarations on their intentions to support women and promote their involvement in economic and political affairs, progress has been limited and more has to be done.
Nevertheless, and for the first time, the recently appointed Lebanese government nominated four female ministers, where one of them is the first woman to be appointed as Minister of Interior not only in Lebanon but in the Arab world. Moreover, the parliamentary elections that took place in May 2018 witnessed a breakthrough in the number of women running for and elected to Parliament. Eighty-six female candidates were running for political participation. Six women were elected, thus only a total of five percent of members of parliament are females. This ratio of female candidates is extremely minimal in comparison to female political representation in developed countries. However, it represents movement in the right direction.
This progress can be attributed to various legislative and constitutional reforms that focused on inclusivity and gender equality. For instance, in 1953, women were accorded equal rights to engage in politics and in 1997 Lebanon acceded to the UN convention of the eradication of all forms of discrimination against women (CEDAW). Lebanon became one of the first countries in the Arab region to provide women equal rights to participate in the world of politics. However, the socio-economic and cultural factors prevailing in Lebanon and in many other Arab countries still impose constraints on women and subsequently limit more impactful participation. 
In addition to political participation, educational and economic empowerment remains vital issues to address.  Those are challenges that constitute the core mission we will be tackling through the Ministry for the Economic Empowerment of Women and Youth. Bearing in mind that drastic changes require perseverance and time. Based on my experience prior to becoming a minister, we have seen many successes across several projects we undertook in Lebanon, which aimed at empowering women and youth economically, and we aim to replicate and further build on that and scale it up across the country.
There is reason for hope. Studies show that women in Lebanon are eager to have their economic independence from their families and husbands. The eagerness is the key objective at the Ministry to capture, motivate, train, and create job opportunities for women. Moreover, we have seen in the private sector through diverse businesses, that women have proven themselves and excelled in some instances especially in domestic furnishings, retail consumer goods and financial institutions at large. The role of the Ministry now is to make sure that women economic empowerment is a strategic issue to be addressed by the Government and also necessitates collaborative and continuous efforts with several stakeholders, international agencies, non-profit organizations and other ministries in the Lebanese government.  
About the Author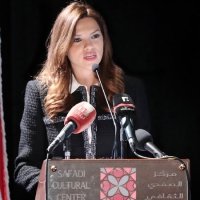 Violette Khairallah Safadi
Minister of State for the Economic Empowerment of Women and Youth, Lebanon
Read More
---
Middle East Program
The Wilson Center's Middle East Program serves as a crucial resource for the policymaking community and beyond, providing analyses and research that helps inform U.S. foreign policymaking, stimulates public debate, and expands knowledge about issues in the wider Middle East and North Africa (MENA) region. Read more
Middle East Women's Initiative
The Middle East Women's Initiative (MEWI) promotes the empowerment of women in the region through an open and inclusive dialogue with women leaders from the Middle East and continuous research. Read more