Challenging Cultural Norms through Performance Art in the UAE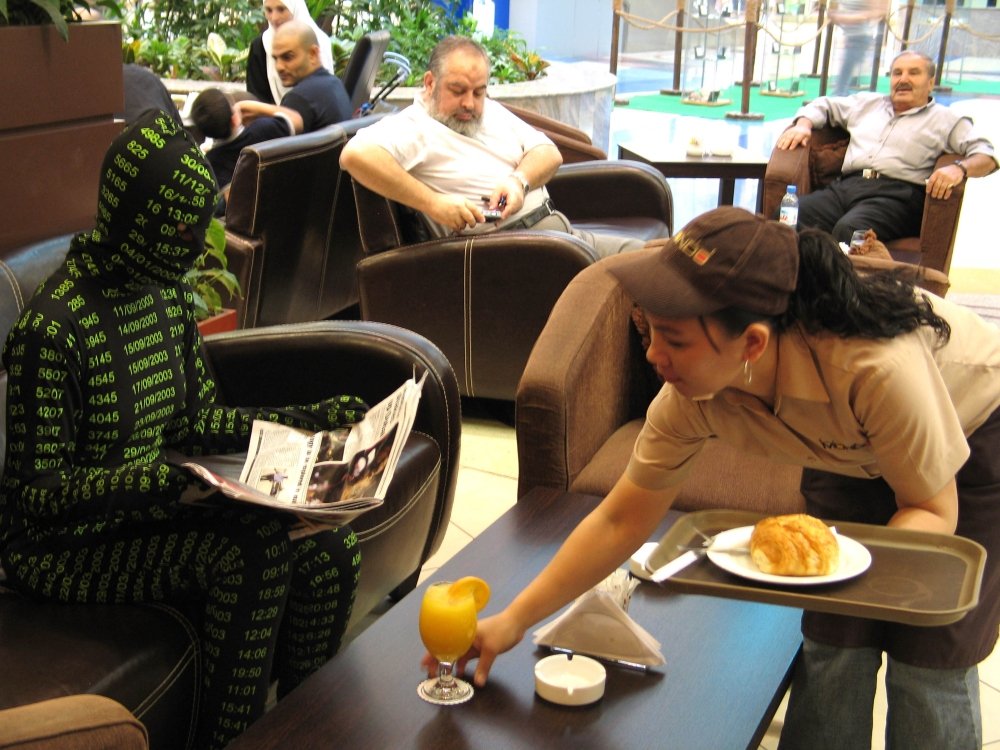 My work was not accepted and as a woman, I had to explain myself... I was showered with accusations that I produced anti-cultural and anti-Islamic works.
As an artist and writer, I explore issues of identity and culture through installations, performances, painting and works on paper. I have been very active in contributing to the art world and engaged in the movements of art as a form of empowerment. I work hard and ought to have a role in the society, especially in the Arab world, where women are not treated as equals in all aspects.
I have been interested in art since I was a girl, but couldn't pursue it due to a lack of appropriate degrees in the region at the time. Also being very fascinated by numbers, I chose to study mathematics, which later was combined with my love for the arts when I started creating systemic art, which uses standardized forms. I then began my training as an artist working in more traditional formats like painting and still life, but I was not  interested in realistic or craft arts because the canvas was too small for my ideas.
Eventually, I found myself engaged in unfamiliar art forms; I started producing performance works themed mostly around the body and the self. I became well-known for being a troublemaker when I started using my body in my art, shocking the audience. Most of my works were very thought-provoking and quite disturbing. I wanted to create works that broke free from the old style of painting on canvas and object-based materials. My works carry bravery and boldness. At the time, in early 2004, performance art was not yet widely accepted, especially in the Middle East. My work was not accepted and as a woman, I had to explain myself. I was questioned and misunderstood. For instance, during my art talks, I was showered with accusations that I produced anti-cultural and anti-Islamic works.
There were few women in the UAE and Arab world who produced works of art that include performance art. I had to think through every detail to ensure my work did not cross limits, as I was keen to respect all religions and societal traditions, knowing there are topics that should not be addressed.  I aimed to express the conflicts between the individual and society. Through this experience, my work addresses questions of women seeking their freedom, the diaspora, and inclusion versus exclusion. It discusses the concepts of governments, institutions, and the media feeding us numbers and information we cannot check, but which we are supposed to believe, leaving the audience to question perceived realities and where we stand.
When I was rejected and not heard, I felt a responsibility to educate my people instead of fighting them. I began teaching in early  2000, the same time I turned away from painting and began to work more conceptually. This was a shock for people who knew me. I tried to explain my goal through new works, then began to read and write about art. I quickly became known as a writer on art, and co-editor of the Emirates Fine Art Society's magazine Al-Tashkeel. When I noticed that many important books on contemporary art were not available in Arab countries, and certainly not in the Arabic language, I began to publish articles in Arabic about the history of art in a local newspaper.
In 2009, I made a risky decision to resign from my respected position as an art center manager, and became a professional artist. Everyone was worried about my financial and professional future and they didn't really understand my conceptual art. So this became my next mission, for my people to understand and believe that art is a profession, not a hobby. I succeeded, and now my art is exhibited and collected internationally.
I believe I inspired thousands of young women in the Middle East and here in Washington, D.C. - artists and non-artists alike - to explore their femininity, humanity, and creativity. It wasn't easy being a woman, especially in the trying times of the past, but today, successful women artists are gaining a louder voice.
About the Author
---
Middle East Program
The Wilson Center's Middle East Program serves as a crucial resource for the policymaking community and beyond, providing analyses and research that helps inform U.S. foreign policymaking, stimulates public debate, and expands knowledge about issues in the wider Middle East and North Africa (MENA) region. Read more
Middle East Women's Initiative
The Middle East Women's Initiative (MEWI) promotes the empowerment of women in the region through an open and inclusive dialogue with women leaders from the Middle East and continuous research. Read more