Contemporary Pastoralism in Kazakhstan | A Conversation with Title VIII Short Term Scholar Russell Zanca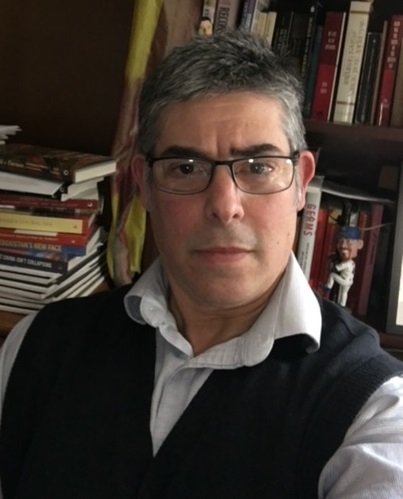 Q: Describe your background and what brought you to the Wilson Center.  
I am an anthropologist who specializes in Central Asia. While I previously made a presentation at the Kennan Institute, I always wanted the chance to work here. Once I began my research into contemporary pastoralism in Kazakhstan, I knew that a short-term grant from the KI would really help me work through some of my ideas and questions. My intention is to launch a long-term research project into the nature of Kazakhstan's animal husbandry with a strong focus on the livestock owners and herders. I have worked in Chicago for almost 25 years as a professor at both Northeastern Illinois University and the University of Chicago.
Q: What project are you working on at the Center? 
While there has been significant research into Kazakhstan's pastoralism during the previous three decades, not a lot of that inquiry focused on pastoralist practitioners themselves, or should I say not a lot of the research has been ethnographic. While at the KI and the Library of Congress, I have been reading about this subject from the perspectives of Soviet and present-day scholars (stretching back nearly a century), including works of botany, environmental science, geography and history. The big task for me now will be to formulate my research question based on appropriate theory so that I can apply for grants and fellowships that will help me initiate fieldwork in Kazakhstan in late spring of 2023.
Q:  How did you become interested in your current research topic?  
In the 1990s and into the 2000s my work in Central Asia centered on Uzbekistan, Kyrgyzstan and Turkmenistan. I worked on topics ranging from collective farm household economies to the oral history of Stalinist collectivization. Nevertheless, I have had an abiding interest in pastoralism—mobile and sedentary—ever since I was an anthropology student in the 1980s. In the 1990s, I studied at the University of Wisconsin under Anatoly Khazanov, one of the world's foremost thinkers concerning nomadic pastoralism. Thus the theme has endured. Why I chose to wait till the latter stages of my professional career to undertake the current research is hard to say. Maybe I just wanted to save the best for last. I will say that since 2010 I have had an affiliation with Nazarbayev University in Nur-Sultan, so the idea for my current research has been in utero, shall we say, for a while.
Q: Why do you believe that your research matters to a wider audience? 
Of course, I get that pastoralism would strike most policy-minded people as esoteric or remote, but it really isn't. Since Kazakhstan occupies much of Eurasia's vast remaining grasslands or steppe, the stakes for sustaining, let alone enriching, these natural environments are enormous—in all ways. Not only will my research speak to global climate change (owing to the vast influence this territory has on weather patterns globally) but also directly to food security in Kazakhstan, Central Asia, China and parts of the Middle East. As a growing exporter of animal protein, Kazakhstan may play a pivotal role in competition for animal products before long. And for those of us intellectually invested in former Soviet territories and systems, the reality of Russia's chronic threats to Kazakhstan's sovereignty cannot be devoid of concerns about climate and food supplies.
Q: What is the most challenging aspect of your research?  
What's been keeping me awake at night lately where this developing project is concerned has all to do with managing its scale and understanding that whatever I ask as questions now will inevitably change as my research team grows in size and disciplinary diversity. While much of the steppe is akin to America's great plains or prairies, there are also many variations in terms of micro-environments, types of livestock, and foodstuffs, including alpine areas, cattle, sheep, horses and camels, meats and fermented milk products. Therefore I worry about the totality of the project's scope, especially trying to ensure that I present as complete a picture as possible.
Q: What do you hope the impact of your research will be? 
Over time I have three major aims for the project, and none of these really has much to do with a final academic product per se:
To understand the relevance of contemporary pastoralism—socially and economically—in a country whose very political ideology in part is bound up with a national identity of mobile pastoralism and the significance of the steppe
To create a self-sustaining academic institute of pastoralist studies in Kazakhstan (one currently does not exist)
To bring together pastoralists, political leaders, scientists, and activists in order to sustain a 21st century livestock industry that doesn't continue to contribute to grasslands degradation and negative climate change
The opinions expressed in this article are those solely of the authors and do not reflect the views of the Kennan Institute.
About the Author
Russell Zanca
Former Title VIII Short Term Scholar;
Professor, Department of Anthropology, Northeastern Illinois University
Read More
---
Kennan Institute
The Kennan Institute is the premier U.S. center for advanced research on Russia and Eurasia and the oldest and largest regional program at the Woodrow Wilson International Center for Scholars. The Kennan Institute is committed to improving American understanding of Russia, Ukraine, Central Asia, the Caucasus, and the surrounding region though research and exchange. Read more