Games Round Up: National Native American Heritage Month
In the United States, November is National Native American Heritage Month, a month designated since 1990 to honor "the significant contributions the first Americans made to the establishment and growth of the U.S." Government organizations such as the National Endowment for the Arts, the National Endowment for the Humanities, the National Park Service, and more have banded together to provide lists of resources for educators in communicating the legacy of Native Americans. The closing of this month provides an opportunity to think of how to extend those lessons beyond November.
One way educators (and everyone) could continue to honor this legacy is to consider the representation of indigenous voices in media. To say Native Americans are underrepresented in media is an understatement; this underrepresentation having been recently brought to the fore with election coverage where Native Americans did not even appear as a minority voter category on cable news coverage. Perhaps more problematically, as a study from the Journal of Social Issues argues, when Native Americans are represented, that representation is narrow (confined to the representation of a few tribes) and perpetuates antiquated stereotypes. This is not restrictive to Native Americans, either, but other international indigenous communities.
One potential solution is to support indigenous authorship and ownership of digital spaces, a path that has been the case in several game development projects. Games in this usage serve a dual purpose: filling gaps in representation while also providing indigenous communities with resources to amplify their culture and language to a broader audience.  Below, we have captured some of the game projects that could be used to continue the legacy of Native American Heritage Month -- as well as international examples for other indigenous communities that are increasing representation in games. When possible, educational resources have been linked as part of the game.
Never Alone (Kisima Inŋitchuŋa) 
Available through Mobile, PC, and Console ($5+); Ages: 10 years or older
In November of 2014, a project by the Cook Inlet Tribal Council (CITC), Upper One Games (a for-profit subsidiary of CITC) and E-Line Media called Never Alone (Kisima Inŋitchuŋa) was launched. Based in Anchorage, Alaska, CITC provides educational and social services for Native Alaskan people, and had the idea of a cultural project through video games that could share Alaskan Native culture globally. The game follows the story of Nuna and her Arctic fox friend as they work together to figure out what is causing a blizzard that is impacting their community -- following the story of Kunuuksaayuka. Unlike most puzzle-platformers, the story is narrated in Inupiaq and the narrative is guided further by embedded video of Inupiaq elders and cultural ambassadors. 
The game earned critical acclaim, and marks many firsts in the field. What is important not to be lost in the narrative of the game is how the game is a product of indigenous knowledge systems. The game was developed with 24 cultural ambassadors, who provided the words, voices and knowledge base central to the game. But this is more than just about consulting; the game development process honored indigenous traditions around the curation and telling of stories, starting with the story of Kunuuksaayuka that is the central storyline:
"In Inupiaq culture, the storyteller who has been telling a story for the longest time is considered to "own" the story and other storytellers will refer to that person when telling "his or her" story – for example, another storyteller might start off by saying "This is Nasruk's story" or "I heard this story from Nasruk." before telling Kunuuksaayuka." (Why A Girl?, 2014)
To use the story of Kunuuksaayuka, the team had to seek permission from the person who owned the story. Robert Nasruk Cleveland, a master storyteller, recorded the story originally and thus the team had to find the oldest living relative, his daughter Minnie Gray. It is with Minnie Gray's permission that the team made changes to the story to fit the video game media, but also in character changes--such as changing the protagonist of the story from a boy to a girl to increase representation in video games. 
CITC has made available a curriculum guide for Never Alone for middle school and high school students.
Molly of Denali
Games available through App or Website (Free). Ages: 4 to 8 years old.
Another key story from Alaska is the recently launched Molly of Denali PBS series, which includes a plethora of games. Funded by the Department of Education, Molly of Denali is set in a rural Alaskan village and follows the adventures of Molly Mabray, an Athabascan. It is the first nationally broadcast children's program in the U.S. with a Native American lead character. The show is not just a landmark for representation, however. Over 70 Alaska Native people work on the show through different vocations, and the show developed a Scripting Fellowship to encourage Alaska Native writers' participation in public broadcasting. The show deals with both representing the authentic experiences of Alaska Natives through favorite activities, such as beading, fishing and snowboarding (which was done in consultation with Callan Chythlook-Sifsof, the first Alaska Native to make an Olympic team), to topics that for many can be quite painful. Gwich'in and Koyukon, the native languages Molly speaks, is brought in throughout the show, along with other Alaska Native languages; this is part of a language revitalization effort. However, historically, there was a repression of Native American language and cultural practices, even singing -- a topic addressed in the first episode, Grandpa's Drum. 
Yet while the pillar of Molly of Denali is the TV program, the show amplifies Alaskan Native representation through a multi-modal approach: podcasts, downloadable activities, an app, and games. Games include a Cooking Mama-esque beading game, a sled dog game, and an agricultural game, and more. Many of these games come with background reading, handouts, and teaching tips to help build them into the educational experience. The learning goals can range from vocabulary building, critical thinking, and cultural knowledge.
On the Path of the Elders
Webpage (Free, Requires Flash); Recommended for Grades 4-10
Launched in 2008, On the Path of the Elders is a free online game exploring both the culture and history of the Mushkegowuk Cree and Anishinaabe Ojibway of Northwestern and Northeastern Ontario, the signing of Treaty No. 9, and the impact of that treaty. As a role playing game, players explore the history surrounding Treaty No. 9, sometimes referred to as the James Bay Treaty, and the treaty's impact on the community. As a predecessor to many other games on this list, it still stands out due to not only the depth of resources but the multiple stakeholders that came together to support the project. The project was originally made possible by support from the Department of Canadian Heritage through the Canadian Culture Online Strategy, Indian and Northern Affairs Canada, the Inukshuk Fund, the National Research Council of Canada, and the Inukshuk Fund. It was a collaborative effort, developed in partnership between the Mushkegowuk Council, Neh Naak Ko, Carleton University, BlackCherry Digital Media, Archives Deschâtelets, Learning Methods Group, and Pinegrove Productions.
The project reflects multiple avenues of amplifying indigenous culture. Beyond the game itself, where players can learn the story of Treaty 9 as well as activities such as canoeing, trapping, hunting and healing, the website that houses the game offers other educational resources. Among these resources are interviews with Elders which explore the story behind the game and points of Omushkego language, culture, and identity, as well as a robust set of rare archival photographs, language resources (the game includes English, Cree, and French) and teacher's guides to help facilitate cultural education. The website allows for a robust search function that allows learners to look for a specific area of interest. The Mushkegowuk Council, which owns and operates the site, has plans for upcoming updates that will modernize the technology behind the game.
AzTech: Beginnings
Available on Desktop/Mobile App (Free); Recommended for grades 5-8
7th Generation Games is a studio led by Dr. AnneMaria De Mars and Maria Burn Oritz, which aims to combine accurate Native American history, culture and traditions with STEM -- particularly offering a wide portfolio of games supporting mathematics education. Much as with other games on this list, the games produced by this studio challenge the assumption of a Eurocentric approach to game themes. AzTech, one of their latest games, is an example of STEAM education: combining statistical learning outcomes, Latin American history, and is bilingual as well -- it can be played in either English or English/Spanish. Other games in their portfolio also feature the Dakota and Lakota languages. This form of combined historical, language, and mathematical learning -- which may seem like a lot -- does not negate the ethos of making learning fun.
Their games have received grant funding from the Department of Education, and the United States Department of Agriculture, to help develop these tools for rural communities. In testing and retesting their games (particularly research that surrounded a previous game, Spirit Lake) there is a demonstrated positive impact in terms of mathematical learning outcomes. An initial pilot study focusing on tribal schools in North Dakota found that their games have demonstrated gains in math education, with students using the game improving their math scores by 30% as opposed to a control sample. There are a wealth of other resources available to educators, who are able to track this progress in their own classroom with pre and post tests, one of the many resources offered through their educator resources page.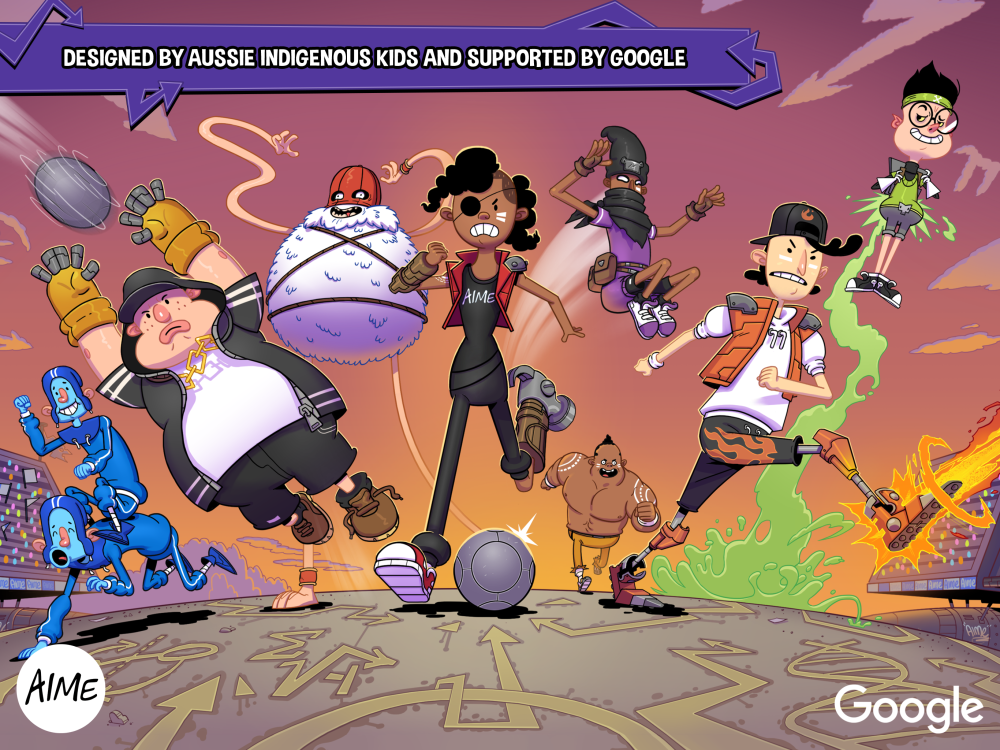 Second Chances (Australia)
Available on IOS and Android (Free); Age range unclear, but recommended like for middle and high school students
Indigenous voices are not limited to North America, and there are several game projects coming out of communities in Australia and New Zealand that support youth engagement in games. We have previously noted SPARX in our Games Round Up: LGBTQ+, a game developed in New Zealand to help address mental health in youth. Research and resources for that game have demonstrated the positive impact that this form of representative gaming can have on the mental health of Maori youth, due to the cultural relevance of the game and its content. The issue of cultural relevance and representation in games is vital for indigenous youth, underscoring the need for game developers to think of ways to support these efforts when developing educational products.
The game Second Chances was developed for that reason by the Australian Indigenous Mentoring Experience (AIME), with support from Google through the Google Impact Challenge in 2014. To address concerns around graduation rates of Australia indigenous students, AIME wanted to develop a game with indigenous youth and for indigenous youth that inspires them to go into STEM fields. Motivation to learn is a key area that educational games address, as games--when combined with the right mechanics--can have a significant impact on enjoyment and engagement in learning.
The goal of engaging youth was embedded in not just the final design but the production of the game: 2,000 students pitched ideas for the game theme and focus. A select few indigenous students travelled to Sydney to take it one step further, to learn about STEM-based careers and what happens behind curtain at Google's Australia headquarters and Mode Games, the developer of the end game. The game concept that moved forward was a soccer tournament in a school setting, with a fair blend of Hip Hop and monsters. Second Chances, released in 2017, has a unique aesthetic that brings indigenous youth culture into account--partially because they had feedback on the concept--and a theme song that other educational games would do well to note. For educators, there were no additional resources that the author could find to help incorporate this as a learning tool into the classroom. However, the game seems to test standard math concepts.
Innchanted
Forthcoming, Demo Available for PC on Steam (Free); Ages Unknown
In many classrooms, commercial games are used to underscore key lesson plans or used as a 'text' to analyze. We wanted to include some notes on indigenous game developers who are not, strictly, working in a space of games designed for educational purposes. A Melbourne-based studio named DragonBear Studios is a collective that is developing the game Innchanted (formerly Chaos Tavern, forthcoming in 2021) with "strong indigenous themes" as a way to challenge the notion that fantasy-based games must be Eurocentric. There is both representation on the screen, as well as off the screen. The team includes indigenous game developers and artists on staff, but the ethos of the project is to provide a 'taste' of cultural exposure for non-Indigenous people. From the art, music, narrative and mechanics -- there is a strong emphasis on nature caretaking -- the game is designed for entertainment, but steps were taken to make it a collaborative and inclusive project. One way this can be seen is through the music, as was explored in the PAX Australia talk answering the question: How does a non-Indigenous composer try to create an Indigenous Australian game score? 
Part of the answer was to be conscious of the gaps, and to collaborate with indigenous artists. The notion of collaboration--with tribal communities, students or individuals--has been vital to the production of not just Innchanted, but all games on this list. In the pursuit of amplifying culture and representation of indigenous peoples in these games, it is critical to look not just in front of the screen but to who is in the room when creating these stories.
This post is intended for educational purposes only. This is a sample of games and not a comprehensive list. We have not vetted all of these games, but have in some cases relied on reviews and publications surrounding the games. Being included on this list is not an act of endorsement by the Wilson Center, Science and Technology Innovation Program, or Serious Games Initiative.
About the Author
Elizabeth M H Newbury
Director of the Serious Games Initiative; Senior Program Associate, Science and Technology Innovation Program
Read More
---
Serious Games Initiative
The Serious Games Initiative communicates science and policy complexities through the world's most dynamic medium: gaming. Read more
Science and Technology Innovation Program
The Science and Technology Innovation Program (STIP) brings foresight to the frontier. Our experts explore emerging technologies through vital conversations, making science policy accessible to everyone. Read more