Games Round Up: Serious Games in 2020
The majority of 2020 has been an epic cataclysm for the world, we are right now switching gears to a Mario Kart-style race for the finish line. Before we say goodbye to the bumpy course that was 2020, let's take a moment to look in the rearview mirror to see what victories we have had in the serious game field this year.
One of the powerups of this year has been the government support of the broader ecosystem of games being used for good. The Department of Education's Institute of Education Sciences supported webinars and other online resources for in-class and remote learning, many of which featured games created through grant lines like ED/IES SBIR Phase I. As a response to social distancing, the Institute of Museum and Library Services and General Motors supported Games for Change's Game Plan initiative, designed to help encourage innovation in museums through games -- even when we cannot physically be there.
There have been a host of other small victories. The list below is a quick sample of some of the serious games from 2020 either produced by or otherwise supported by the government entities. For those who are looking to make great games or conduct great games research in 2021, a sample list of federal funding opportunities for game-based approaches can be found here.
Available through Mobile (Android, Apple & iPad) and Browser (Free); Ages: Grade 4-8
Designed for grades 4-8, Pick Your Plate! is an incredibly fun game for all ages that focuses on nutrition through cultural exploration. Players are tasked with picking from an array of countries, including Argentina, Australia, Benin, Cambodia, Finland, Lebanon, Mexico, and the United States of America, and then play out a day of meals by balancing both their budget, nutritional goals, and negative intakes (e.g. salt and fat). There is a lot to learn in terms of nutrition; culture; and financial management, namely by asking players to balance a budget and learn currencies from different countries. For any kids (big or small) who get excited about the game after playing it, there is even a brief recipe booklet available on the website. While the game was published in 2019 in English, the Spanish version was published in 2020. This game was designed in-house by the Smithsonian Science Education Center, aligns with the United Nations Sustainable Development Goals​, and was funded by Johnson & Johnson.
Available through Browser (Free); Ages: 15+

"It doesn't matter which side you're on so long as you sow chaos." 
As the Chief Disinformation Officer of Harmony Square, your job as the player is to develop a robust strategy to spread disinformation by being, well, a troll. In a similar style to Troll Factory, Breaking Harmony Square is intended to be a tool to help enable players not just identify disinformation but understand how disinformation spreads. In about 10 minutes (more or less), players are guided through the game by using key techniques connected to disinformation campaigns, from trolling and emotional language to polarizing audiences. In a controlled trial, players of the game had a statistically significant improvement in three dimensions after playing the game: they became more confident in identifying disinformation; they found disinformation less reliable on social media; and, perhaps most critically, they were less likely to share it. The game was developed in collaboration between the University of Cambridge and DROG, a Dutch media collective, with funding and support from the U.S. Department of State's Global Engagement Office (GEC) and the U.S. Department of Homeland Security's Cybersecurity and Infrastructure Security Agency (CISA).
Available through Browser (Classroom License); Ages: Grades 6-8
Civics! An American Musical is where Hamilton meets historical pedagogy. You are tasked with making the next Broadway smash hit (no pressure) based off of primary source material from the Library of Congress around key moments in our nation's history. Those moments include the desegregation of public schools, the National Parks, the FDA, and the Chinese Exclusion Act. The game is one part a theater production game, as players are shown what happens behind the scenes of a theater production, but equal parts historical analysis, as points scored largely by critically engaging with primary source material. The game was developed by partners Fablevision Studios, Maryland Public Television, Maryland Humanities, Center for Information and Research on Civic Learning and Engagement (CIRCLE) at Tisch College of Civic Life at Tufts University.  Primary source materials and funding came from the Library of Congress' Teaching with Primary Sources Program.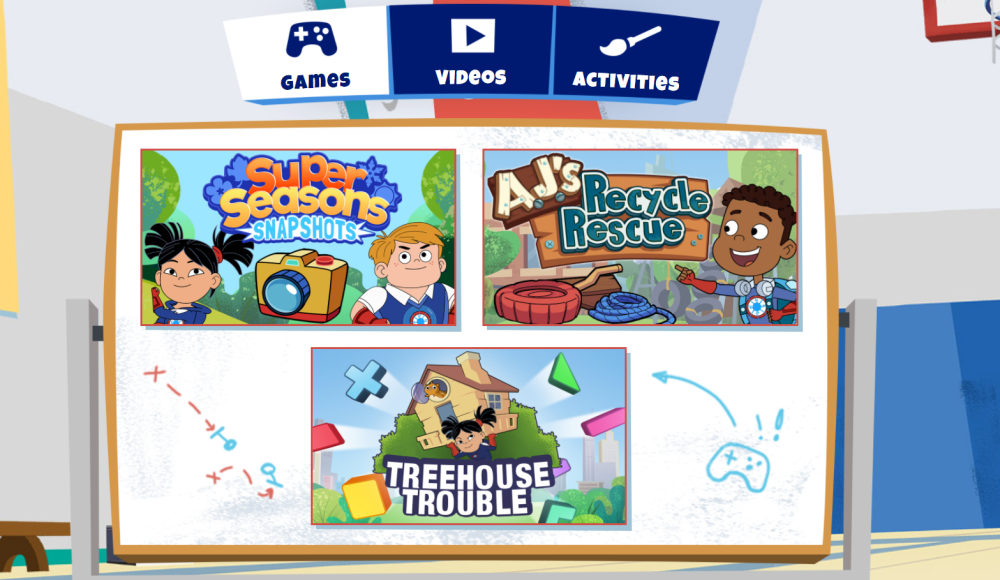 Available through Browser (Free); Ages: 4-7 Years Old
Focusing on STEM, literacy, and socioemotional learning, the Hero Elementary TV show launched in June 2020--alongside a host of games developed by Twin Cities PBS (TPT) and Filament Games. The games include themes such as identifying wildlife (Super Seasons Snapshots), recycling (A.J.'s Recycle Rescue), and engineering (Treehouse Trouble), and feature characters from the TV series to help guide players along. While designed to accompany the TV show, the games are also standalone and can be played across platforms. They have been played more than 4 million times across platforms. The games were funded in part from the Ready to Learn Initiative from the U.S. Department of Education, which has catalyzed several games associated with PBS shows, including Molly of Denali which was covered in our Games Round Up: National Native American Heritage Month.
Available on Desktop/Laptop (Classroom License); Ages: Grades 3 & 4
In a similar vein, Cyberchase Fractions Quest is based on the PBS KIDS math series Cyberchase, where players have to save the world from Hacker and his henchbots Buzz and Delete through a host of STEM-based minigames. It is designed for the classroom to integrate with Common Core State Standards for Mathematics, and specifically marketed to support distance learning. In a pre-study conducted by Education Development Center, Inc. the game showed promise in several categories specific to supporting mathematics mastery, supporting mathematical knowledge gains regardless of previous knowledge or attitudes towards math, and self-efficacy in mathematics beyond the game. In short, the game not only supports learning about math but empowering students' sense of their capacity to do math. The game was developed by THIRTEEN, Educational Development Center's Center for Children and Technology, and Fablevision Studios., and funded by the U.S. Department of Education's Small Business Innovation Research (SBIR) Program.
Available through any browser; Ages: Grades 7+
Selected as one of the best educational apps for kids to game during the pandemic by the New York Post, The Fiscal Ship challenges players of all ages to put the federal budget on a sustainable course. Players pick from a menu of tax and spending options to reduce the debt, measured as a share of gross domestic product, from projected levels over the next 25 years. The choices are difficult, but the goal is achievable; and as a nonpartisan educational tool, the game gives players the agency to pick their own pathway to victory. The game is consistently updated to use the latest projections from the Congressional Budget Office.  The Fiscal Ship was given a makeover this year in honor of the election (sadly, a the election is over, the stars and stripes are no longer available) and hit the landmark of 1 million plays worldwide. Beyond aesthetics, we incorporated content that allowed players to experiment with both new policies and the platforms of the presidential candidates. It is important to note that we are also biased towards this game, as it was a project by the Wilson Center's Serious Games Initiative, The Hutchins Center on Fiscal and Monetary Policy, and game studio 1st Playable.
That's the round up! We look forward to seeing what 2021 holds for the serious games field. Thank you for reading.
This post is intended for educational purposes only. This is a sample of games and not a comprehensive list. We have not vetted all of these games, but have in some cases relied on reviews and publications surrounding the games. Being included on this list is not an act of endorsement by the Wilson Center, Science and Technology Innovation Program, or Serious Games Initiative.
About the Author
Elizabeth M H Newbury
Acting Director of the Science and Technology Innovation Program; Director of the Serious Games Initiative
Read More
---
Serious Games Initiative
The Serious Games Initiative communicates science and policy complexities through the world's most dynamic medium: gaming. Read more
Science and Technology Innovation Program
The Science and Technology Innovation Program (STIP) brings foresight to the frontier. Our experts explore emerging technologies through vital conversations, making science policy accessible to everyone. Read more