A New Lebanon for the Young Generation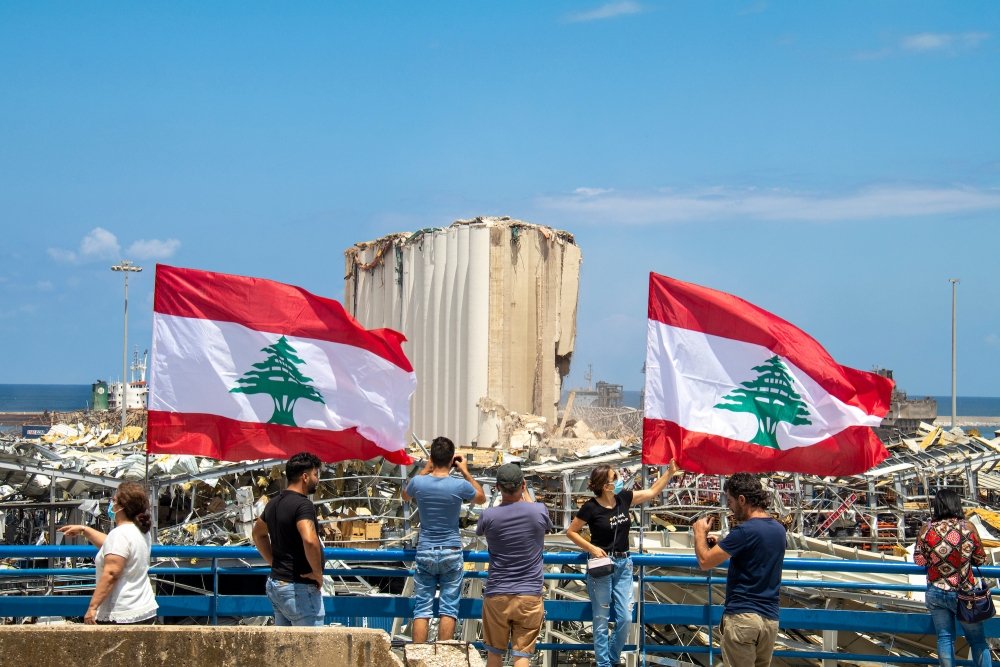 The young generation was born into a deteriorated Lebanon, torn by the Beirut Blast, broken by the economic crisis, and marginalized by the corrupt oligarchy strategizing Lebanon's rock bottom. The young generation should be dreaming. Instead, they stay awake at night reminiscing the few years of hope and freedom they lived, thinking about their friends who left to never come back, anxiously awaiting the announcement of the black market daily exchange rate, fearing a lost education, and shattered by the countless opportunities that vanished with the Lebanon they used to know. The young generation should not be tirelessly hoping for an extra hour or two of electricity, for enough fuel to get to university, or for enough money to pay their tuition. The young generation should not be fearing illness due to a lack of medication or watching their parents struggle to provide basic necessities for the family. Instead of witnessing the long bakery lines for bread and watching their neighborhood darken under the grip of shortages, the young generation should dream.
Education is the key to both the stable economy and the sovereign state we seek in Lebanon.
A new Lebanon firstly means the presence of a sovereign technocratic government navigating a stable economy. However, the economy cannot prosper without its people, and a transparent government will not be formed without Lebanese leaders who understand the pledge of their people, who understand that being Lebanese means fostering unity across sectarian lines and coalitions within parties. In order to see skilled and powerful decision-makers taking on leadership positions, the new Lebanon should aim to invest in the younger generations and provide them with equal opportunities for education and skills-building, regardless of their socioeconomic status. Education is the key to both the stable economy and the sovereign state we seek in Lebanon. Equal opportunities will allow youth to find their passion and delve deeper into their field of interest, in addition to create opportunities in a country that welcomes advancement, innovate different sectors in Lebanon and achieve self-sufficiency both at the national and the household levels.
The education sector in Lebanon is collapsing due to the financial crisis, resulting in heavy brain drain and a loss of Lebanese talent. Traditional education is suffering from funding cuts and a shortage of instructors to revive schools. The new Lebanon needs to retain the brilliance of its citizens by making the road to prosperity accessible to all those who are willing to succeed in their motherland and raise Lebanon's name higher. This is why as a young Lebanese woman at Stanford University, I decided to start OpportUNITY, an education initiative that relies on every young student in Lebanon to be the next change maker. Our first project in August will be held in Beirut, with around 65 students from across the country registered to participate in innovative education. From tech and climate change, to arts, advocacy and storytelling, to the medical field, we are granting every student the necessary opportunities to discover their passion.
I believe in a Lebanon where citizens are the engine of growth, where local production is strong... and [citizens] craft one future where everyone belongs.
Through OpportUNITY, I believe in making opportunities accessible to every Lebanese citizen, especially in times of crisis and turmoil. I believe in a Lebanon where citizens are the engine of growth, where local production is strong, citizens learn to work and survive together to write one official History of Lebanon, and to craft one future where everyone belongs. Through education, we fight ignorance. We fight the excessive dependence on regional players and the obligation to comply with foreign decisions that destroy us more every day. We fight the need to join groups to feel secure.  We fight the demonic control of the political mafia in our lives. Through education, we can dream again, not only of a better Lebanon to construct but of the day where we will understand the value of our culture and traditions, and the day we will understand the meaning of our Lebanese identity.
The new Lebanon will pave the way for sustainability, green energy, and an uninterrupted electricity supply, a cost-effective power system that supports households, businesses, hospitals, and the services sector. The new Lebanon would be a step ahead in ensuring a safe future for the generations to come, not only in preserving natural resources, our splendid forests, and water reserves, but also in supporting the Lebanese Army to fight for our security, and to be present on all Lebanese land. When we think about our safe and secure future, we also think of its influence: thousands of tourists landing in Beirut, exploring our mountains and our seas, learning about our culture, and dancing to our traditional music. We think of economic growth, of a considerable boost to our private and public sectors, but also of a new and strong Lebanon, not the Lebanon of broken opportunities, or the Lebanon of multiple crises.
More than ever, we need to believe in the collective pursuit of happiness as one Lebanese people, to transform our country into a stage where every citizen can unmask their identity and speak their minds freely. More than ever, I want the youth to be at the forefront of leadership, engaging in decision-making, innovation, and mediation in Lebanon, so that we can hold our government accountable, allow our economy to stabilize and grow, and witness our dreams breathing again.
About the Author
Tiffany Saade
Research Assistant, Middle East Program, Carnegie Endowment for International Peace; Founder, OpportUNITY
Read More
---
Middle East Program
The Wilson Center's Middle East Program serves as a crucial resource for the policymaking community and beyond, providing analyses and research that helps inform U.S. foreign policymaking, stimulates public debate, and expands knowledge about issues in the wider Middle East and North Africa (MENA) region. Read more
Middle East Women's Initiative
The Middle East Women's Initiative (MEWI) promotes the empowerment of women in the region through an open and inclusive dialogue with women leaders from the Middle East and continuous research. Read more