Russia Claims Coronavirus Under Control, Sends Students to School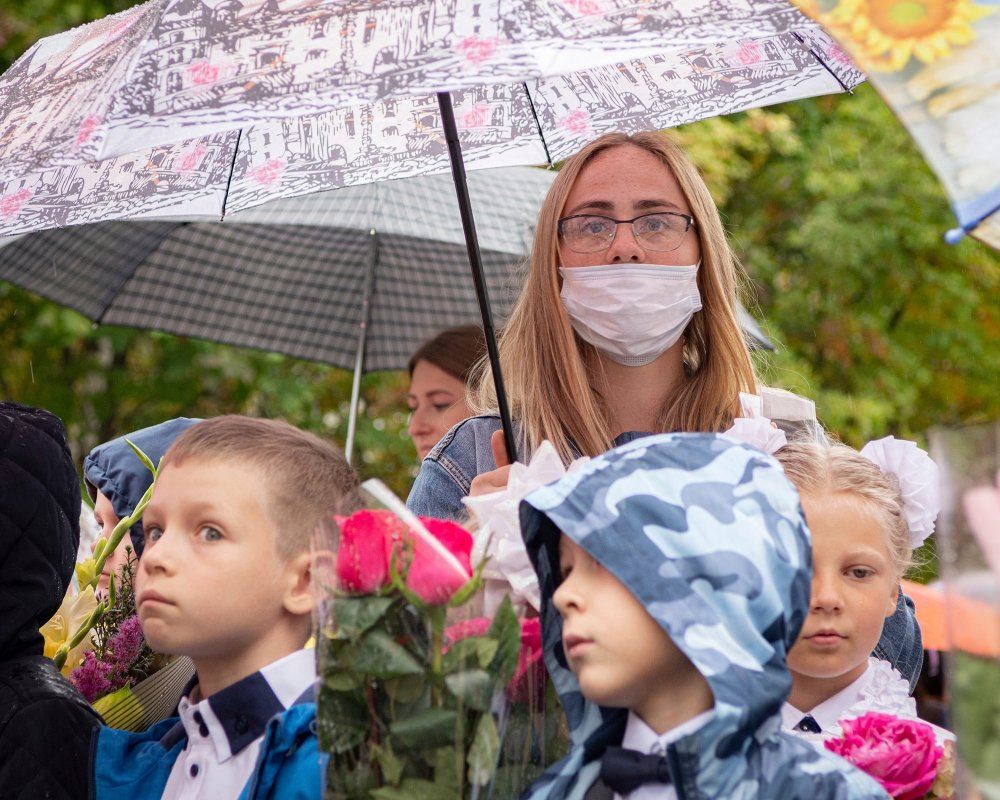 BY NINA ROZHANOVSKAYA
In Russia, the academic year begins on the same day for students of all levels. This year, there has been a lot of uncertainty in the run-up to September 1, but the Day of Knowledge celebrations did take place, though only some classes, first-graders mostly, had a chance to participate in the customary back-to-school ceremonies. Still, the social media were filled with traditional images of proud parents and their smartly dressed if slightly apprehensive seven-year-olds holding bouquets intended for their first schoolteachers.
After having analyzed the global remote learning experience, UNICEF warned the world's nations of the repercussions of a disrupted school education "for economies and societies for decades to come" and urged their governments to "prioritize the safe re-opening of schools." Russia deemed it safe to reopen, but did not avoid the debate about whether the benefits of in-person schooling outweighed the risk of a second coronavirus wave. Back in July, Education Minister Sergei Kravtsov had said that the ministry had "no concerns," but later in August the ministry had to reproach a member of parliament for suggesting the start of the school year be pushed back to October 1 and thus potentially "provoking social tension."
In the end, Russian children went back to school, even though the daily number of new cases now is at the same level as it was in late April, during the distance-learning season (over 5,000 new cases per day). The government's decision to resume offline schooling aligns with the overall official stance that the coronavirus situation is largely under control in the country. Russia is gradually resuming international flights, Moscow and St. Petersburg have reopened theaters and cinemas, and phase III clinical trials of the already registered Sputnik V vaccine have begun for 40,000 volunteers, along with a publicity campaign promoting it domestically and internationally.
As of late August, 59 of the 134 countries that had closed schools reopened them or were planning to do so soon, according to UNICEF. Different US states are taking different approaches to the start of the new school year, ranging from state-ordered closures and state-ordered in-person instruction to hybrid forms and even variations at the school or district level. For instance, the public schools in the District of Columbia will proceed with distance learning until at least November 6, while school districts in the State of New York can decide whether to opt for in-person or hybrid instruction. In China, more than 200 million students have already returned to their classrooms, and schools have been reopening in different European countries since early August, with rules of varying strictness in place to prevent new infections.
Russia's school reopening guidelines, which were developed jointly by the Education Ministry and Rospotrebnadzor, the federal agency coordinating the national anticoronavirus effort, include carrying out regular disinfections, taking students' temperature and checking them for cold and flu symptoms at the school entrance, opening emergency exits to allow entry and avoid crowds during those temperature measurements, and assigning a specific classroom to each class. For schools, the social distancing measures and a ban on mass events will remain in place until 2021.
Different starting times for different grade levels and reshuffled break and lunch schedules are intended to reduce social interactions. The requirement of 2.5 square meters of space per student means that overcrowded schools will have to offer instruction in shifts, or possibly combine in-person lessons with remote learning. Students with a temperature of 37.1 °C (98.78 °F) or above will be sent home. Masks are mandatory for cleaning staff, canteen employees, and other personnel and for parents, but optional for students. Regions and municipalities can decide whether to require that teachers wear masks; in Moscow, teachers can forgo masks while teaching in the classroom but must wear them outside the classroom. Moscow parents also have the option of sticking with the remote learning format for the time being, but if a student returns to school and tests positive for COVID-19, his or her classmates will have to study from home for two weeks and undergo a PCR test on the tenth day.
The life of Russian schoolteachers has been complicated enough even without the abrupt switch to distance learning in the spring and a chaotic return to in-person schooling in the fall. Low pay in most places, except perhaps Moscow, worsens the strain of overwork and the ever-increasing paperwork, as well as some more specifically Russian burdens. For instance, school premises often serve as polling stations, and teachers sometimes find themselves on opposite sides of the barricades when some engage in electoral fraud, often against their will, and others try to prevent and expose it. Russia's electoral system also created another pandemic-related challenge for schools. This year's "unified voting day" was stretched into three days, September 11–13, to avoid overcrowding at the polls. As a result, schools in regions and municipalities where elections were scheduled had to find alternative ways to hold their Friday and Saturday classes, whether in the form of outdoor lessons, guided tours, or—again—distance learning.
For teachers, the Russian government's decision to resume in-person schooling means an increased risk of exposure to the new virus on top of longer working hours, additional duties, jigsaw puzzle schedules, and disgruntled parents. Some Russian schools required teachers to take a COVID test before September 1 if they had visited another region, but Moscow went further, testing all 180,000 employees of its educational system (3 percent tested positive and 13.3 percent have antibodies to the virus). It plans to have employees administered a PCR test once every two weeks.
Russian regular preventive health care for schoolteachers consists of a yearly fluorography screening for tuberculosis and vaccination against a range of diseases, including the flu in the fall. Naturally, a question came up as to whether the coronavirus vaccine would be mandatory for teachers. An Education Ministry official stated that it would not, but according to Moscow's mayor Sergey Sobyanin, the Moscow authorities are likely to "offer" this opportunity to teachers, once sufficient vaccine units become available. Confused by contradictory statements from different agencies, teachers fear they may get roped into the "postregistration" clinical trials of the much-heralded Sputnik V vaccine.
All the new precautions pose a challenge for both teachers and administrators, and some of the measures work well only on paper. Meduza's compilation of photos and videos from different social media shows long queues without social distancing of people waiting to have their temperature taken, which rather defeats the purpose. Worse, during the first week of in-person learning, coronavirus cases were identified in schools all around the country: in Yekaterinburg and Chita, Yaroslavl and Novosibirsk, Veliky Novgorod and Vyksa, Mezhdurechensk, and St. Petersburg. Following the new protocols, classes and even whole schools temporarily switched back to remote learning, though in some cases they promptly returned to offline after testing.
Clearly, the new school year will be challenging for everyone involved. Some parents worry about health risks, while others are happy to send their kids back to school but are confused by the new rules or annoyed about disrupted routines, especially the staggered drop-off times. In the meantime, teachers are trying to balance the demands of parents and regulators. However, priorities are set in such a manner that various public concerns, such as whether children have the technology to access remote learning and the difficulty parents face in trying to combine full-time work with homeschooling, seem to overshadow the teachers' perspective and their struggles. The question is whether this will continue to be the case in the coming months and whether it may become the final straw that pushes Russian schoolteachers toward greater solidarity and more active pursuit of their collective interests as a professional community. 
The opinions expressed in this article are those solely of the author and do not reflect the views of the Kennan Institute.
About the Author
Nina Rozhanovskaya
Coordinator and Academic Liaison
Nina Rozhanovskaya is the Kennan Institute's Coordinator and Academic Liaison.
Read More
---
Kennan Institute
The Kennan Institute is the premier U.S. center for advanced research on Russia and Eurasia and the oldest and largest regional program at the Woodrow Wilson International Center for Scholars. The Kennan Institute is committed to improving American understanding of Russia, Ukraine, Central Asia, the Caucasus, and the surrounding region though research and exchange. Read more