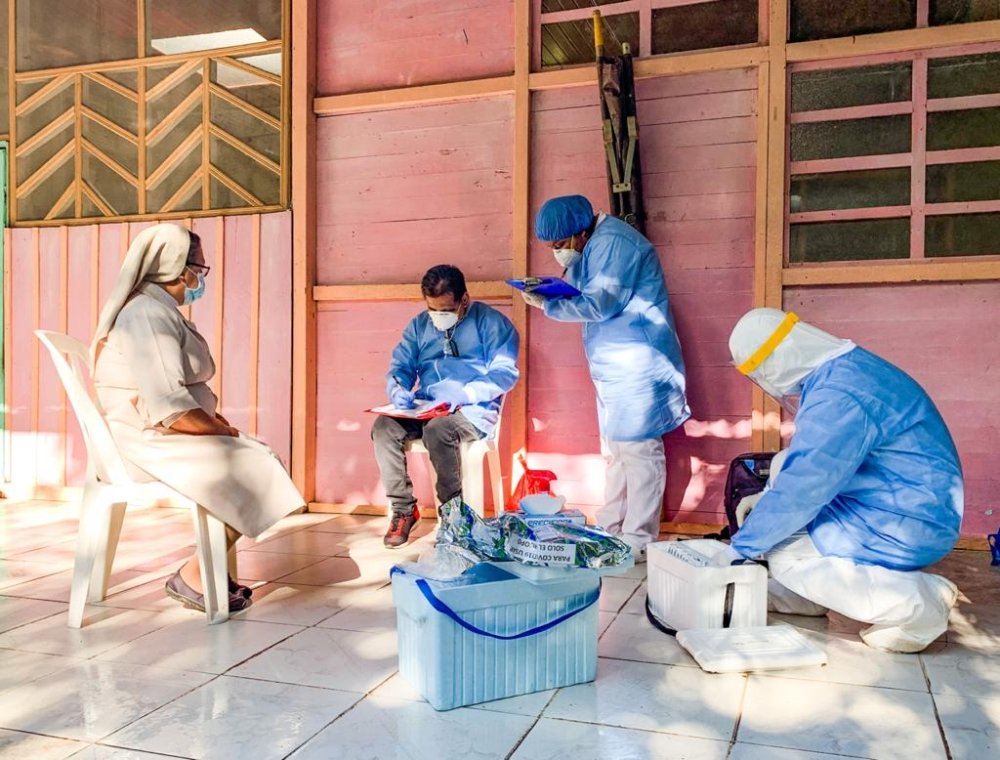 Although Latin America accounts for only 10 percent of the world's population, a third of global COVID-19 deaths have occurred in the region. The region's long lockdowns and struggle to control the spread of the virus have stifled economic activity. Estimates show 16 million people are falling into extreme poverty, ballooning the regional total to 83.4 million.
 
Throughout the pandemic, reliable health care has remained a privilege of the elite. For years, inequality in access to health services in the region has been notorious. Only 30 percent of Latin America's 630 million people have adequate access to public health services, a consequence of underinvestment, a tsunami of demand and fragmented health care systems. Not only that, many lower-income populations avoid hospitals, increasing preventable deaths.
 
Rapid and large-scale access to a coronavirus vaccine would ease the burdens on Latin America's strained health care infrastructure and jumpstart economic recovery. But questions about availability, cost and logistics have raised doubts about the prospects for rapid, large-scale immunization in the region. The lack of investment in primary health care, diagnosis and medicine means the region's health systems will not see relief anytime soon, and the future costs of past policy failures will be high.
 
A Lost (Health) Decade?
 
Latin America's national budgets were not only thing unprepared for the pandemic. The region also entered this crisis burdened with high rates of non-communicable diseases, such as cancer, diabetes and heart disease, a consequence of chronically poor health care that has worsened the impacts of COVID-19. Other diseases common to the region, such as dengue and chikungunya, burden the public health response. Ecuador, for example, reported the country's highest number of dengue cases early this year, but by April, overwhelmed by the coronavirus, its government stopped tracking dengue entirely.
 
Even rich countries were unprepared for the pandemic, but Latin America's particular helplessness was predictable. After all, the region has starved its public health sector, particularly health research. Brazil's highly regarded Ministry of Science, Technology, Innovation and Communications has seen its budget fall by two-thirds since 2010. Average per capita health care spending for members of the Organization for Economic Cooperation and Development is $3,973; in Latin America, the average is only $949.
Shot in the Arm
 
For wealthy countries, COVID-19 vaccines are truly just around the corner. The U.S. government has invested $18 billion to provide its population free access to a vaccine under Operation Warp Speed. The Trump administration announced that only after meeting national needs would the United States export vaccine doses, a posture sometimes criticized as "vaccine nationalism." President-elect Joe Biden's coronavirus taskforce will also prioritize reaching so-called herd immunity at home, though it intends to restore relations with the World Health Organization.
 
Other developed countries are similarly hoarding potential vaccines, though they have taken steps to promote access for poorer populations. The United Kingdom, for example, secured access from six different vaccine developers for 90 million doses, but it is also coordinating with Gavi, a global alliance dedicated to fair vaccine distribution. China sees vaccine exports as a way to strengthen its global influence and erase memories of its initial mishandling of the pandemic. President Xi Jinping pledged large-scale global vaccine distribution, especially to members of China's Belt and Road Initiative, which includes 19 Latin American nations. In July, China offered a $1 billion loan to Latin American governments for vaccine purchases.
 
A Health(y) Cooperation
 
The World Health Organization and Pan-American Health Organization are collaborating with Gavi to facilitate vaccine access for developing nations through the COVAX initiative, which lowers prices through bulk purchasing and offers subsidies to the poorest countries, including several in Latin America. For those low-income countries, vaccines would be provided for as little as $1.60 per dose, while self-financing countries can opt into COVAX by paying the same price as a down payment. The goal is to deliver up to two billion doses worldwide, and 27 countries in Latin America have promised to participate.
But it is not clear COVAX will meet expectations, given fundraising challenges. So Latin American countries are also cutting side deals for vaccine deliveries, often by hosting clinical trials. Peru, for example, is hosting a Phase 3 trial with Chinese firm Sinopharm. Mexico and Argentina signed similar agreements with AstraZeneca and Oxford University. Pfizer and BioNTech are testing their vaccine in Argentina and Brazil. Meanwhile, Ecuador recently announced deals with three vaccine manufacturers to purchase 16 million doses, with 50,000 to arrive in the first quarter of 2021, and Mexico signed a deal with Pfizer to purchase over 34 million doses, with 250,000 to arrive in December.
 
Wake-up Call
 
Latin America is highly dependent on imports for medicine and medical equipment, especially during the pandemic. But local scientists, notably in Argentina, Brazil, Mexico and Peru, are working to develop a vaccine better suited for distribution in the region than the leading candidate from Pfizer and BioNTech, which must be stored at an exceedingly cold temperature. This could give Latin America scientific and technological independence. In Brazil, scientists are researching whether the tuberculosis vaccine could protect against COVID-19, in partnership with Australia's Murdoch Children's Research Institute. Peruvian scientists are looking at a vaccine made from genetically modified salmonella, which would be administered orally, easing distribution.
 
This renewed focus on health research might not produce a local vaccine, but it could provide long-term benefits, should memories of the pandemic catalyze higher spending on health care in Latin America. That would be a welcome outcome of this unwelcome pandemic.