Total Dictation: A Popular Russian Language Event Resists State Takeover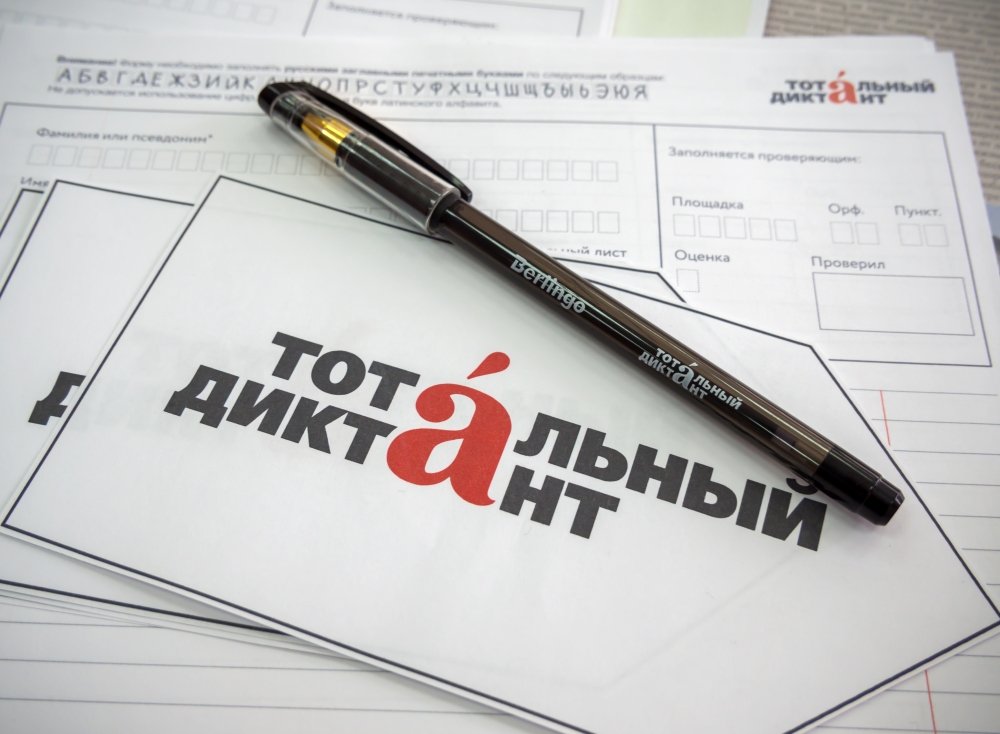 BY NINA ROZHANOVSKAYA
Among all the summer news and concerns, one small incident went largely unnoticed by everyone but Russian-language enthusiasts. However, that incident says a lot about the complicated relationship between civil society and the Russian state.
In late July, following up on a private person's complaint, the Novosibirsk office of the Russian Ministry of Justice initiated an unscheduled audit of the Total Dictation Foundation, a nonprofit organization that holds an annual spelling and punctuation test for everyone who wants to verify their grasp of the Russian language. The foundation was given a week to submit all of its paperwork covering an entire year, from August 2, 2020, to August 1, 2021, and it apparently took the auditors only ten days to review the 5,000 pages and identify some minor irregularities that the foundation plans to rectify.
This unscheduled audit prompted more coverage than a routine inspection of an NGO's activities normally would. Total Dictation is a well-publicized event that has already become a beloved tradition for many in Russia and beyond. Despite the global pandemic, over 675,000 people took part in it in April 2021, with offline dictation sites organized in 732 cities and 39 countries and half a million people joining the online sessions. For a long time, this clearly popular initiative has enjoyed government support, and some commentators see the August audit as a sign that it has "fallen out of favor" and that its future is now uncertain for political reasons. But how does something as innocuous as a spelling test become political?
The Total Dictation project was conceived in 2004 in the Siberian city of Novosibirsk, where students of Novosibirsk State University held the very first event of this kind, from which it grew to become international. Despite the project's evolution, it retains much of its original humor. For participants, this annual event has become a fun way to show off their mastery of commas and silent letters, and for the organizers—language professionals and volunteers—it serves the noble goal of reminding Russian speakers of the beauty and complexity of their language. The format makes perfect sense because dictation is a standard exercise in the Russian secondary school curriculum, with a teacher dictating a text, often a short excerpt from Russian classical literature and students writing it down, in order to practice both spelling and punctuation, the latter being particularly tricky in the Russian case.
The project team has been creative in its efforts to reinvent dictation as an entertaining exercise and make literacy trendy. Starting in 2010, the texts have been specifically written for the Total Dictation event, with famous and award-winning writers such as Dmitry Bykov, Dina Rubina, Leonid Yuzefovich, and Guzel Yakhina acting as event headliners. But the personality of a headliner can be surprisingly divisive. In 2013 the choice of Dina Rubina caused a backlash from conservative quarters, and the governor of Ulyanovsk region went so far as to swap her text for a text by a different writer, citing Rubina's Israeli citizenship and use of "profane language" in her books. However, the 2013 disagreement pales in comparison to 2021, when controversy over the author put the entire project at risk.
In November 2020, Rossotrudnichestvo, the Russian cultural exchange agency, withdrew its support for the forthcoming Total Dictation event and its offer of overseas dictation sites—a decision that was linked to the political views of Dmitry Glukhovsky, who had been chosen as the new headliner. Nonetheless, the project proceeded as planned, and Glukhovsky, a popular author and a critic of the Russian political regime, wrote and personally dictated his piece in April 2021. However, the trouble did not end there, and the Presidential Grants Foundation, which had provided financial support for the initiative for four consecutive years, chose not to do so in 2022. Olga Rebkovets, head of the Total Dictation Foundation, interpreted that decision as political and also linked to the figure of Glukhovsky. In addition to that, in spring 2021 Novosibirsk State University, which had formerly hosted Total Dictation as an entity, requested that the foundation relocate. The change of legal address has not yet been finalized, which prompted the Ministry of Justice to identify it as a discrepancy during the August audit.
Treating these recent troubles as a series of unfortunate coincidences would require a complete disregard for the context, namely, the ongoing infringements on academic freedoms in Russia, the attacks on independent media, and the state's efforts to undermine or co-opt civic initiatives of all kinds. Back in 2016, Dmitry Bykov, a well-known journalist, writer, and critic of the Russian political regime, was already worried about the possible appropriation of Total Dictation by the state. After all, such appropriation had happened before, and very close by. A group of journalists in the Siberian city of Tomsk had also brought to life a grassroots initiative that grew to become nationwide and then international—the Immortal Regiment. Hugely popular and not conforming to the official historical narrative, it ended up being co-opted by the Russian state, so that now there are two versions of the same project, and what was meant to be a way to bring forward family stories and personal accounts of sacrifices during World War II became part of the official Victory Day celebration. Whether Total Dictation is facing the same risk or not, the state is already piggybacking on its brand by creating the Victory Dictation and the Geography Dictation.
While not necessarily as controversial as the World War II legacy, language can also be a contested space. For instance, disagreements over feminist values get intertwined with an ongoing debate on the use of gender-specific job titles in the Russian language, and there are online clashes over whether certain Russian-language grammar norms should be reformed because people in Ukraine and Belarus may find them offensive. But just like the Immortal Regiment, Total Dictation has a great consolidating potential, which is what makes it so attractive for both true language enthusiasts and the government actors who would like to make full use of it as a soft power tool. This initiative embraces authors who write in the Russian language, regardless of their citizenship, and engages people from far beyond the Russian borders, including those for whom Russian is a foreign language. It is a reminder that despite being pronounced the language of the "state-forming people" by the recent constitutional amendments, Russian is not the property of the Russian state or even of ethnic Russians, and cannot be monopolized or nationalized.
The value and meaning of Total Dictation may be hard to grasp at a glance, but its popularity speaks for itself. Alas, as Dmitry Bykov puts it, "in Russia any activity that lacks the seal of authorities' approval is criminal." Repercussions from inviting Dmitry Glukhovsky as the headliner look like an attempt by some higher authority to draw clear lines within which the project can go on undisturbed. The next year's headliner, Marina Stepnova, was announced on September 8, International Literacy Day. Stepnova, the author of The Women of Lazarus, does not seem controversial in any way and may signify the return to business as usual. But if the project ends up facing new pressures soon, one should keep in mind that  defiance is not necessarily a losing strategy. After all, even the original Immortal Regiment still exists and pursues its mission despite the state's takeover of the idea.
While online commentators make jokes about Total Dictation's imminent transformation into "Totalitarian Dictation," the project team is working to secure its future. The foundation is steadily expanding the range of language-focused educational and outreach activities and working with both private and state-affiliated partners; its latest initiative was undertaken in collaboration with regional and municipal libraries. But it has also intensified its fundraising efforts and has made sure the public is aware of its recent troubles.
The case of Total Dictation highlights that it is virtually impossible to be above or outside politics in Russia's polarized domestic climate and reminds us that any popular and influential private initiative may face attempts at censorship or appropriation when it fails to fit the official narrative or observe the invisible red lines. Still, the state's ability to exercise control over society remains less than total, and grassroots actors dictate the rules of the game when it comes to creativity.
The opinions expressed in this article are those solely of the authors and do not reflect the views of the Kennan Institute.
About the Author
Nina Rozhanovskaya
Coordinator and Academic Liaison
Nina Rozhanovskaya is the Kennan Institute's Coordinator and Academic Liaison.
Read More
---
Kennan Institute
The Kennan Institute is the premier U.S. center for advanced research on Russia and Eurasia and the oldest and largest regional program at the Woodrow Wilson International Center for Scholars. The Kennan Institute is committed to improving American understanding of Russia, Ukraine, Central Asia, the Caucasus, and the surrounding region though research and exchange. Read more