'Vaccine Diplomacy' in Latin America
At this month's UN General Assembly General, Chinese President Xi Jinping pledged to donate 100 million COVID-19 vaccine doses to developing countries by the end of this year through the World Health Organization's COVAX program. Inside Latin America, this type of "medical diplomacy," including the sale and donation of masks, ventilators, personal protective equipment and other medical supplies, has played an essential role in pandemic response. Outside Latin America, these deliveries signal that "medical diplomacy" is playing an increasing role in great power competition between the United States, China and Russia.
In "vaccine diplomacy," the United States was slow out of the gate, sending its first donation of a U.S.-produced vaccine to Latin America in June 2021. Russia (February 2021) and China (March 2021) had both delivered vaccines to the region months earlier. China in particular executed an early and ambitious campaign to sell Sinovac and Sinopharm vaccines in the region, including to Venezuela, in March 2021, El Salvador, in April 2021, and Ecuador, in May 2021.
That head start led to concerns about lasting damage to the U.S. image in the region, in light of the similarly slow response from the United States earlier in the pandemic when hard-hit Latin America was in desperate need of medical supplies. Soon, however, the United States began catching up. From June through August of 2021, the United States donated more than 27 million doses of the Moderna and Pfizer mRNA vaccines, the world's most effective protection against the coronavirus, to Argentina, Colombia, Costa Rica, Ecuador, El Salvador, Guatemala, Haiti, Honduras, Mexico, Panama, Paraguay, Peru and Uruguay. The United States also donated nearly 8 million doses of the Johnson & Johnson vaccine to Brazil, Bolivia, Colombia and Mexico. For now, the United States is the leader in vaccine donations to the region.
But Latin America is still awash in Chinese vaccines, thanks to their abundance and competitive prices. More than 109 million doses of Sinovac, Sinopharm and CanSino vaccines have been administered in 15 countries in Latin America, far exceeding the 87 million U.S.-made doses distributed in the same countries. On Wednesday, the Pan American Health Organization announced plans to purchase additional Sinovac doses to complement COVAX deliveries.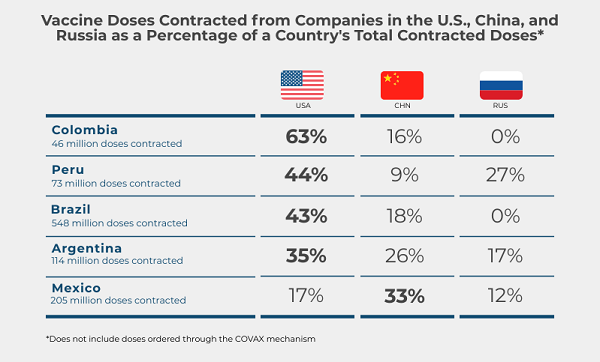 At the moment, the origin of the doses is not the main concern in Latin America, where only 35 percent of the population is vaccinated. In ten countries, including Guatemala, Haiti, Honduras, Jamaica, Nicaragua and Venezuela, less than 20 percent of the population is fully protected, though the number is far higher in countries such as Argentina, Brazil, Chile and Uruguay. However, external support during the pandemic could have long-lasting impacts on the images of the United States, China and Russia among Latin Americans. That is no doubt a factor in the Biden administration's pandemic response in the region. The United States, for example, has played a major role in COVAX, pledging $3.5 billion compared to China's $100 million contribution. Moreover, in addition to direct U.S. donations, Latin American countries are also receiving U.S. mRNA vaccines through COVAX.
Washington has also sought to distinguish its "vaccine diplomacy" from Beijing's sometimes heavy-handed approach. Whereas the White House emphasizes that its vaccine donations come with no strings attached, China has appeared to link vaccine sales to policy on Taiwan and Huawei, the controversial telecommunications giant. Those linkages were most clear earlier this year, when China reportedly pressured Paraguay to cut ties with Taiwan in exchange for vaccines and demanded that Brazil reverse plans to exclude Huawei from upcoming 5G auctions.
On September 22, at the UN General Assembly, Biden pledged to donate an additional 500 million vaccine doses to developing countries to fulfill his promise of building an "arsenal of vaccines" for the world. Given intensifying U.S.-China competition in the Western Hemisphere, hundreds of millions of these doses will likely find their way to Latin America.
For more on "vaccine diplomacy" in Latin America and its role in great power competition, visit our new portal.
---
Latin America Program
The Wilson Center's prestigious Latin America Program provides non-partisan expertise to a broad community of decision makers in the United States and Latin America on critical policy issues facing the Hemisphere. The Program provides insightful and actionable research for policymakers, private sector leaders, journalists, and public intellectuals in the United States and Latin America. To bridge the gap between scholarship and policy action, it fosters new inquiry, sponsors high-level public and private meetings among multiple stakeholders, and explores policy options to improve outcomes for citizens throughout the Americas. Drawing on the Wilson Center's strength as the nation's key non-partisan policy forum, the Program serves as a trusted source of analysis and a vital point of contact between the worlds of scholarship and action. Read more