The Plastic First Mile -- Closing the Loop on Plastic Waste in Asia
Overview
Establishing plastic recycling systems is difficult and expensive anywhere in the world, but the challenge is even greater in highly populated Asian countries where consumption of single-use plastics is exploding. It's estimated that more than half of the 8 million tons of plastic leaking into the ocean each year comes from Indonesia, the Philippines, Vietnam, Thailand, and China. The logistics of collecting and sorting the mounting waste -- a process known as the Plastic First Mile -- determine if a single-use plastic cup, box, or bottle will make it to a recycling bin or be added to the flow of plastic leaking into the ocean. In this webinar, which builds on the Sustainable Asia podcast series of the same name, our speakers will help us "travel" to different parts of Asia to understand how Asian countries are moving rapidly to pass laws and experiment with programs that create a circular economy for plastic waste through recycling, redesign, and reduced consumption.
With a robust waste infrastructure and a public well-versed in sorting and recycling waste, Japan has been the gold standard for recycling, even still it is the world's top per capita consumer of single-use plastics. Hiroaki Odachi (Greenpeace Japan)will argue how and why Japan needs to move more aggressively towards zero waste goals. Sherry Lu (Plastic Free China) has been conducting deep dives into China's booming express delivery industry that generates 1.5 million tons of plastic waste each year. She will highlight trends in corporate and government action in China to reduce, recycle or replace this packaging tsunami. Marcy Trent Long (Sustainable Asia) will share how Hong Kong's lack of government regulation and barebone waste separation infrastructure has prompted a push for beverage companies to take responsibility for the plastic waste they produce. Tiza Mafira (Indonesia Plastic Bag Diet) will share how grassroots campaigns to push taxes on single-use plastics and community partnerships with corporations are vital steps to help the country reach its ambitious plastic reduction goals going forward.
Please send questions to @WilsonCEF and/or Elijah.Patton@wilsoncenter.org
This meeting is part of the Turning the Tide on Plastic in Asia project, co-led by the China Environment Forum and Institute of Developing Economies. Made possible with support from the Japan Foundation's Center for Global Partnership.
Selected Quotes
Marcy Trent Long
"Our biggest issue here in Hong Kong is the collection. Even though we have a very good waste collection, as I mentioned, we don't have separation. So you have the electronic waste going to the electronic waste facilities, I have the cans going to the can plastic facilities, we don't have a massive sorting facility, in part because as you might also know, we have a problem with space."
"What the research [by the consortium that includes the retail sector, beverage companies, waste companies and NGOs] came down to was the best way here in the absence of regulation was to put a price on plastics, to have the government put some kind of a minimum price for neighborhood for a deposit scheme, and for the informal collectors...in order to encourage everybody to recycle."
Sherry Lu
"There are some challenges in China. Residents have to dump their waste in a specific time period, which is probably not convenient for most people. Governments have to do the promotion and education, but sometimes people just don't listen to them. And the punishment is a little bit hard because of the shortage of volunteers in helping governments to find who's doing wrong and should be punished."
"China is still doing trials so I don't know if [reusable packaging] can be used widely. The yellow boxes in the express delivery industry actually are just for electronic devices.  You have to collect your electronic devices and then return the boxes. I think it works for within-city return, but if you want to buy some products from another city, it's hard to return the boxes. It's hard to apply nationwide but in some situations, it works."
Tiza Mafira
"I think the recycling system is broken, to be honest. There are two factors, number one is that recycled plastics are way more expensive than virgin plastic pellets. So we need to generate a demand for recycled plastics…… Number two is that packaging is so poorly designed right now. Some products can contain four to five different types of plastic and they cannot be recycled together."
"If the circular economy is done right, we should be seeing less virgin plastic production and less fossil fuel production. Unfortunately, today there is an effort to hijack the circular economy concept, adding in the element of incineration and waste to energy. If that becomes the dominant narrative then people see them as burnable at the end of the line and can be turned into chemicals and electricity. If we were to solve the plastic crisis and the climate crisis at the same time, we absolutely need to strike at the root of it which is fossil fuels."
Hiroaki Odachi
"Recycling, not only the last few years but also for decades, has been used as a justification of keeping this mass production globally. Often we discuss today the responsibility of this issue was on the individual [perspective], which is not supposed to be."
"This recycling system is broken and also the whole narrative around that is really problematic. But the root cause is this business model [which] has to change. Big corporations need to think about how they deliver their drinks outside the PET bottles, how they need to scale up the refill alternative. That's the real goal they need to be setting, not the PET recycling rate."
Panelists
Marcy Trent Long
Founder of Sustainable Asia
Sherry Lu
Program Officer, Plastic Free China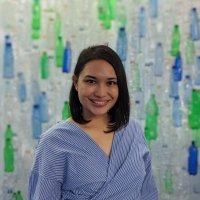 Tiza Mafira
Co-founder & Executive Director, Indonesia Plastic Bag Diet Movement (Gerakan Indonesia Diet Kantong Plastik)
Hiroaki Odachi
Plastic Campaigner, Greenpeace Japan
---
Hosted By