Economic Sanctions are not an Effective Instrument for Political Pressure
As a think tank, the Wilson Center is committed to conducting research and analyses that provide policy options for addressing some of the world's most pressing challenges. Sanctions have long been a key component of the international foreign policy tool-kit, and they have been applied to various countries around the world, including in Africa. In February 2020, the Africa Program published an occasional paper by our Southern Voices Network for Peacebuilding colleague, Dr. Jok Madut Jok, entitled Economic Sanctions are not an Effective Instrument for Political Pressure, challenging the efficacy of sanctions as applied to South Sudan. This paper generated quite a bit of discussion and even some disagreement. To further the debate, we thought it would be good to have a counterpoint. Our colleagues at The Sentry, who have done a lot of work on South Sudan, in general, and sanctions, in particular (and who were referenced in Dr. Jok's paper), stood ready to provide a counterpoint to Dr. Jok. In their paper, Targeted Sanctions and Anti-Money Laundering Measures in Support of Peace in South Sudan, they argue that sanctions have had a positive impact in moving the country, even if haltingly, towards the desired end goal.
The Africa Program thanks Dr. Jok Madut Jok (Professor of Anthropology at Syracuse University and the former director of the Sudd Institute) and Mr. John Prendergast, Ms. Hilary Mossberg, and Ms. Megha Swamy (from The Sentry) for a much-needed advancement of the discussion on the effectiveness of sanctions.
About the Author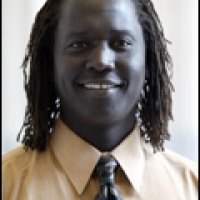 Jok Madut Jok
Former Fellow;
Professor, Syracuse University and Senior Researcher, The Sudd Institute
Read More
---
Africa Program
The Africa Program works to address the most critical issues facing Africa and U.S.-Africa relations, build mutually beneficial U.S.-Africa relations, and enhance knowledge and understanding about Africa in the United States. The Program achieves its mission through in-depth research and analyses, including our Africa Up Close blog, public discussion, working groups, and briefings that bring together policymakers, practitioners, and subject matter experts to analyze and offer practical options for tackling key challenges in Africa and in U.S.-Africa relations.   Read more