First National Forum on Femicide: Visions and Solutions | 2023 Report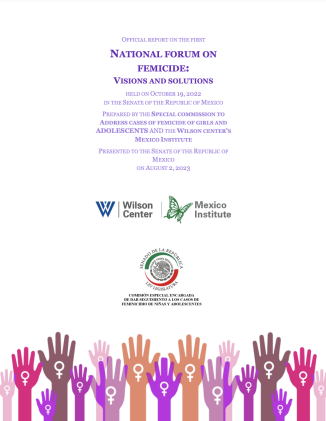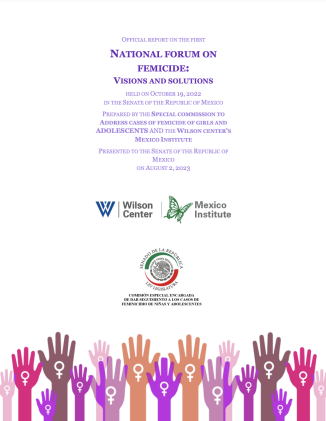 To contribute to a reduction and, ultimately, the eradication of femicide in Mexico, the Wilson Center's Mexico Institute launched its "Engendering Safety: Addressing Femicide in Mexico" Initiative in 2022 to bring together key stakeholders to raise awareness, explore the driving factors and enabling environment, and outline action items for both government and civil society. Since the launch of the initiative, the Mexico Institute has organized a series of events and consultations to help inform a report to the Mexican Senate on the policy options available to Mexico's legislature to effect positive change for women's safety. 
In October 2022, the Mexico Institute, in partnership with the Mexican Senate's Special Commission to Investigate Cases of Femicide of Girls and Adolescents, organized a National Forum titled Femicide: Visions and Solutions. During the one-day session, more than two dozen federal and state-level public officials, lawmakers, civil society organizations, activists, experts, and academics discussed preventive measures, best practices, and legislative actions that can reduce and eradicate femicide in Mexico. The data and research shared has informed the drafting and introduction by Mexican lawmakers of several legislative proposals. 
This report is a compilation of the data, best practices, preventive measures, and public policy recommendations presented during the National Forum. The objective of this report is to summarize the findings of the conference in an effort to raise awareness and so that Mexican lawmakers can utilize this information when drafting and approving bills to prevent, reduce, and eliminate femicide and gender-based violence in Mexico.  
The official presentation of the report will be held in Mexico's Senate on August 2. Legislators, academics, public and private officials, as well as civil society organizations will participate in this event.  
About the Author
---
Mexico Institute
The Mexico Institute seeks to improve understanding, communication, and cooperation between Mexico and the United States by promoting original research, encouraging public discussion, and proposing policy options for enhancing the bilateral relationship. A binational Advisory Board, chaired by Luis Téllez and Earl Anthony Wayne, oversees the work of the Mexico Institute.  Read more