Setting the Course Toward Sustainable Migration Cooperation: Levering Bilateral Opportunities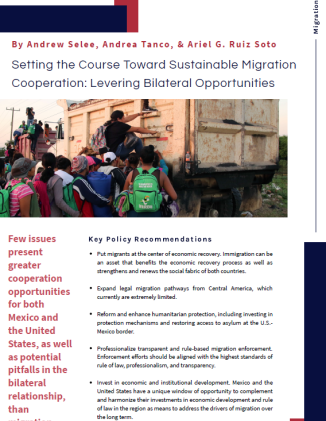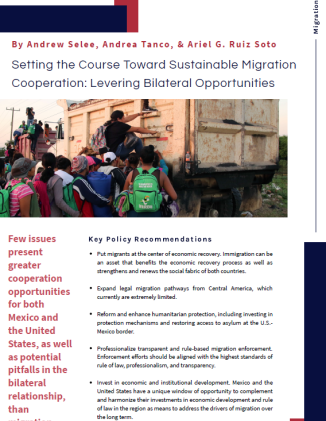 Few issues present greater cooperation opportunities for both Mexico and the United States, as well as potential pitfalls in the bilateral relationship, than migration. With nearly eleven million Mexicans in the United States and over a million U.S. citizens in Mexico, the movement of people between the two countries has unequivocally reshaped both societies. Yet, recent increases in irregular migration flows from Central America, the Caribbean, South America, as well as Africa and Asia, have challenged policymakers in both countries and stretched the bilateral relationship in new directions.
The start of a new U.S. administration provides an opportunity to shift to a more holistic strategy—one based on cooperation that is more effective, humane, and consistent with their mutual values, and promotes a safe, orderly, and regular flow of migrants. This policy window opens the possibility for both governments to engage in areas of collaboration that have remained on the sidelines in the past.
This policy brief recapitulates the evolution of U.S.-Mexico migration policy during the Trump administration. It then identifies five areas for bilateral cooperation on migration management that would benefit both countries, including: putting migrants at the center of economic recovery; developing legal pathways for Central Americans; reforming and enhancing humanitarian protection; professionalization of border enforcement; and investing in economic and institutional development.
This policy brief is part of our series "Re-Building a Complex Partnership: The Outlook for U.S.-Mexico Relations under the Biden Administration." The policy briefs will be released individually and published as a volume in early 2021. 
---
Mexico Institute
The Mexico Institute seeks to improve understanding, communication, and cooperation between Mexico and the United States by promoting original research, encouraging public discussion, and proposing policy options for enhancing the bilateral relationship. A binational Advisory Board, chaired by Luis Téllez and Earl Anthony Wayne, oversees the work of the Mexico Institute.  Read more