Time to Relaunch the U.S.-Mexico Health Agenda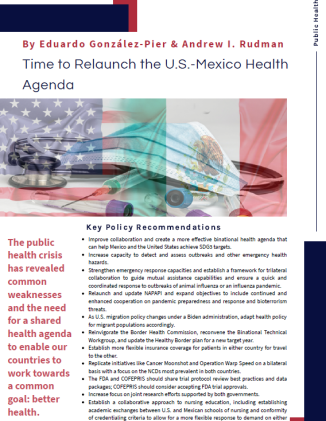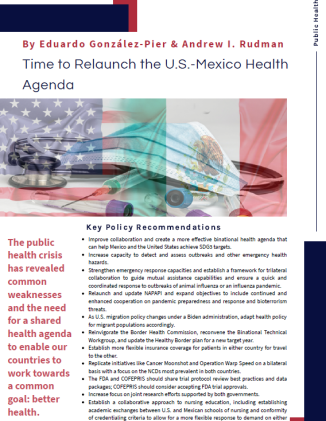 Despite the considerable differences with respect to the health of our nations and the structure and capacities of our health systems, the COVID-19 pandemic has brought us closer together. Mexico and the United States have been ranked among the countries with the worst response against the pandemic. The public health crisis has revealed common weaknesses and the need for a shared health agenda to enable our countries to work towards a common goal: better health.
Economic integration has intertwined the health of our populations. Viruses and airborne diseases do not respect physical borders. With a shared border of nearly two-thousand-miles, more than 350 million documented crossings per year, and two-way trade in goods worth more than USD$620 billion a year, revitalizing the dormant bilateral health agenda is both a social and economic imperative. Preventable health problems can best be tackled by acting directly on the underlying cause or risk factors which at times may originate outside one's border (e.g., migrant and border health or pandemic threats). Further, shared quality standards, achieved through policy harmonization and bilateral cooperation, will permit comparative measurement of outcomes. This is particularly important for medical tourism, safety and efficacy standards for pharmaceuticals and devices, and labor market integration for medical and nursing professionals. Finally, economic integration has been coupled with behavioral and lifestyle convergence, with sometimes unexpected consequences on health. As such, much can be achieved through early identification and combined tackling of risky practices including eating and drinking habits, physical activity levels, mental health, and addiction.
This paper presents the way forward across some of the most important opportunities for enhanced bilateral health collaboration. It is not meant to be a new or exhaustive list of potentially valuable areas for collaboration. Rather, it should be seen as an initial roadmap for reengagement to build trust based on early rewards and gain momentum for longer-term efforts to deliver lasting health gains.
This policy brief is part of our series "Re-Building a Complex Partnership: The Outlook for U.S.-Mexico Relations under the Biden Administration." The policy briefs will be released individually and published as a volume in early 2021. 
About the Authors
---
Mexico Institute
The Mexico Institute seeks to improve understanding, communication, and cooperation between Mexico and the United States by promoting original research, encouraging public discussion, and proposing policy options for enhancing the bilateral relationship. A binational Advisory Board, chaired by Luis Téllez and Earl Anthony Wayne, oversees the work of the Mexico Institute.  Read more