An Updated Approach to Capitalism: New Opportunities for Japan-U.S. Cooperation - A Summary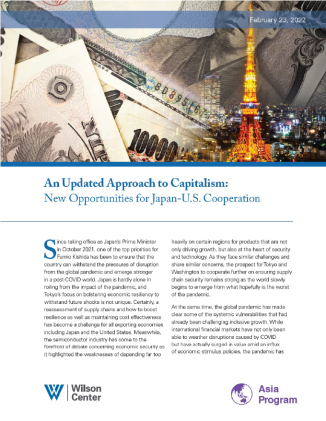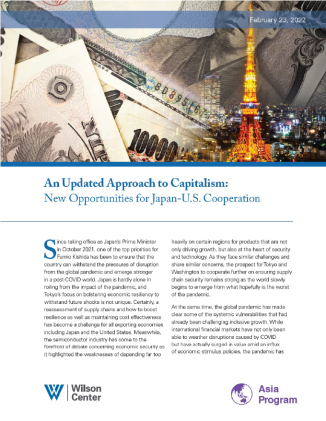 Since taking office in October 2021, Prime Minister Fumio Kishida's economic priority has been to revisit capitalism and restore public confidence in democracy. By updating capitalism in a post-COVID world, Japan looks to bolster relations with the United States to address some of the world's most pressing economic issues including supply chain resilience and sustainable growth.
On February 23, 2022, the Wilson Center's Asia Program hosted an hour-long discussion on an updated approach to capitalism and new opportunities for cooperation between Japan and the United States. The online forum featured Noriyuki Shikata, Cabinet Secretary for Public Affairs at the Prime Minister's Office; Katherine Monahan, Director of the Office of Japanese Affairs at the U.S. Department of State; Yumiko Murakami, General Partner at MPower Partners; and Charles Freeman, Senior Vice President for Asia at the U.S. Chamber of Commerce.
Related Program
Asia Program
The Asia Program promotes policy debate and intellectual discussions on U.S. interests in the Asia-Pacific as well as political, economic, security, and social issues relating to the world's most populous and economically dynamic region.  Read more