Strengthening a Foolproof Relationship
Tokyo wishes to further intensify its ties with New Delhi, particularly amid ever-growing tensions in the South China Sea and unshakeable anxiety about Beijing's military stance.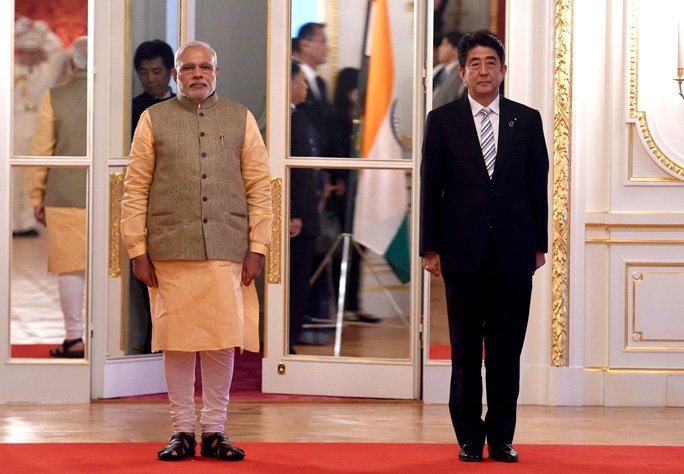 There are few sure things in the mercurial world of international relations, and particularly in volatile Asia. Still, if you're looking for a foolproof bilateral relationship, look no further than the India-Japan partnership. Japanese Prime Minister Shinzo Abe's visit to India, which begins December 11, will deepen an already warm relationship. It is also a relationship of great importance for Washington.
Mr. Abe's visit will build on his and Indian Prime Minister Narendra Modi's meeting last year in Japan. That summit set a high standard and even higher expectations.
Tokyo wishes to further intensify its ties with New Delhi, particularly amid growing tensions in the South China Sea and unshakeable anxiety about Beijing's military stance. Japan is wary of China's geopolitical aspirations, and continues to rally support from potential regional allies. India is by far Japan's biggest potential partner — on the security, economic, and political front.
Meanwhile, Japan plays a central role in India's current 'Act East' policy, which calls for intensified relations with East Asia. Mr. Modi wants to deepen India's global footprint. This entails, in part, increasing its influence in Asia, particularly East Asia, where governments are more receptive to New Delhi's entreaties than in the SAARC region. Another chief motivation for India's Asia policy is to respond to Beijing's activities in the region. There are few better partners to enlist in India's 'Act East' enterprise than Japan, a regional economic power with a growing security profile. With China-Pakistan relations — another rock-solid relationship, and one that worries New Delhi — continuing to deepen, the time is ripe for India to move even closer to Japan.
This is not to say the relationship is tension-free. Take, for instance, the issue of a civilian nuclear deal, which will likely be discussed during Mr. Abe's visit. On the one hand, a nuclear accord would aid energy-starved India while helping Japan recover nuclear confidence shattered after the Fukushima disaster. It would also enable Japanese companies such as Hitachi and Mitsubishi to diversify their industrial portfolios. On the other, Tokyo remains uneasy about New Delhi's continued refusal to sign the nuclear non-proliferation treaty. Its anxiety is understandable: no nation has suffered the traumatic consequences of nuclear proliferation like Japan (though both India and Japan have suffered the tragic aftermaths of nuclear accidents). Consequently, cooperation with India on technological transfers could present major political difficulties for Japan.
Splashy announcements
Still, we can expect several splashy announcements during the summit. These include an agreement to jointly produce amphibious military aircraft, which would boost India's counterterrorism and counter-piracy capacities. For Japan, such a deal would bolster its military relations with a key partner amid concerns about China's military ambitions and North Korea's nuclear capabilities.
Another expected outcome from Mr. Abe's visit is a deal that brings high-speed bullet trains to India. This could contribute to the $90 billion Delhi-Mumbai Industrial Corridor Project — a Japan-funded infrastructure project and perhaps a counterpart to the China-Pakistan Economic Corridor.
While India-Japan security cooperation, driven by shared concern about China, may get the most attention, bilateral economic relations are equally important in that they also amplify the relationship's symbiotic nature. Each country offers what the other's economy sorely needs. Japan provides cash to cover India's mammoth infrastructural needs, while India provides ready markets for Japan's sluggish exports.
Let's hope Mr. Abe and Mr. Modi also speak cooperatively about urbanisation — a challenge that Japan has long tackled, but that India has only recently begun to confront. Discussion on climate change would also be worthwhile.
Mr. Abe's visit to India will not generate banner headlines worldwide, but it will be closely watched in key places including Washington. The U.S., for all its talk of rededicating itself to its rebalance to Asia, remains fixated on West Asia. Its decision to expand its war against the Islamic State will make it cautious about deepening its security engagements in Asia Pacific. This means that Washington will greatly value the efforts of Asian partners that not only share its objectives in Asia — stability, prosperity, and unipolarity — but that can also make substantial progress towards achieving these objectives.
Consequently, the U.S. government is a big supporter of the India-Japan relationship. A U.S.-Japan-India trilateral was launched in December 2011. An American official characterised the trilateral's first meeting as "like a very natural conversation among friends." The group has convened numerous times over its four-year existence.
To be sure, there are limits to what Washington can get out of the India-Japan relationship, particularly regarding China. Mr. Modi, with his stated admiration for China's economic model and support for deeper China-India trade, will not serve as a formal foil to China's rise. Additionally, there is reason to fear that the end of U.S. combat operations in Afghanistan could prompt some Pakistani militants operating there to redirect their focus to India. In time, this could relegate other external matters, including China, to India's policy back-burner. In short, Washington must not make the mistake of looking to the Japan-India relationship to achieve the U.S.' Asia goals on its behalf. Pivot by proxy would not be a good policy.
Nevertheless, here in Washington, there is great enthusiasm for the India-Japan relationship, which serves U.S. interests in multiple ways. It brings two key U.S. partners closer together. It enables India and Japan to assist each other in ways that the U.S. cannot or does not. The $35 billion in development assistance that Japan pledged to India last year is well above what the U.S. typically provides for individual economic support projects. And perhaps, most important of all, the Japan-India relationship brings non-aligned India closer to the fold of the U.S.-Japan alliance.
This article originally appeared at The Hindu.
---
Asia Program
The Asia Program promotes policy debate and intellectual discussions on U.S. interests in the Asia-Pacific as well as political, economic, security, and social issues relating to the world's most populous and economically dynamic region.  Read more