When and How to Re-engage Russia? | A Conversation with Senior Diplomatic Fellow Michael Keays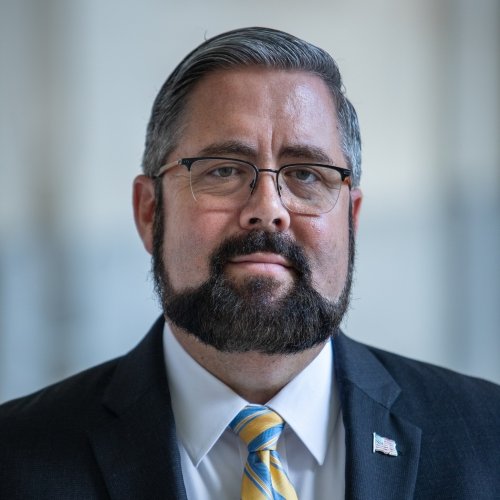 Q: Describe your background and what brought you to the Wilson Center?
I am a State Department Foreign Service Officer who joined the service back in 1992, and who has served in a variety of overseas diplomatic and domestic postings since then.  The main continuity of my career has been its functional focus on political-military affairs.  My over 30 years in the service has taken me from Jamaica to Russia (twice – Moscow and Vladivostok), Poland, Israel, Afghanistan, and Suriname, and has seen me work on conflicts in the former Soviet Union, on the training of our diplomats, and on devising strategies concerning Russia.  I have a Bachelors in Comparative Politics from the University of California at San Diego, a Masters in National Security Strategy from the National War College, and some experience in uniform while serving in the U.S. Coast Guard and Air Force reserves.  I came to the Wilson Center – and specifically the Kennan Institute – from overseas because I wanted to re-engage on matters concerning Russia and Ukraine, and contribute to thinking on that set of issues in a way I couldn't if I were posted to State Department headquarters.
Q: What project are you working on at the Center?
I am working on a project on how to re-engage with Russia, in the future, after the fighting in Ukraine has ended, and conditions meet our government's requirement for some sort of re-engagement.  It is forward-looking and theoretical in nature – sadly, in part, because it does not look like Russia's aggression is going to end any time soon.  I'm not looking at the conditions that would allow us to re-engage, but the mechanics of re-engagement.  How we engaged in an interagency fashion with Russia in the 1990s is useful to examine, because in many ways we were starting a new, post-Cold War relationship with Russia at that time, and that kind of engagement bore a lot of fruit.  So, looking back to the 1990s as a model for re-engagement potentially makes sense. Of course, much will depend on who is in charge in both of our countries.  The world has changed considerably since then, and so other countries will want to have some say.  Ukraine's future will be at stake, so it will likely want to influence our decisions.  But in the end, the main determinants likely will be the situation on the ground in Ukraine, and who is in charge in Russia.  My project also considers the longer U.S.-Russian relationship, and the history of Russia's relations with the West, draws some lessons learned from those, and proposes some creative ways forward in the re-engagement process.  I have to reiterate that this is sometime in the future.  Nobody in the U.S. Government now is talking about re-engaging Russia at this moment while Mr. Putin is waging an unjustified, brutal and barbaric war on Ukraine.
Q: How did you become interested in your current research topic?
First, I think it is timely.  At some point in the future, Russia's aggression in Ukraine will end, and we will need to be prepared to re-engage it when that makes sense.  For a variety of obvious reasons, including the fact that Russia is a nuclear power, we cannot really ignore it.  Second, I've picked the project because U.S.-Russian relations are interesting to me, I think I bring some rather specific experience that helps to inform it, and because I want to be of use to the Department of State.  As to the specific experience, I served in Moscow in the mid-1990s when the relationship was very different and we were working with Russia on a number of issues within Russia, and together in the world.  I also worked on a small American team with Russian and French diplomats in the late 1990s to try to resolve conflicts over the disputed territories of Nagorno-Karabakh and Transnistria – both parts of the former Soviet Union.  This was done as part of the OSCE's Minsk Process.  My experience gave me some insights into Russian thinking about these conflicts, and how it might apply to Ukraine.  Finally, I was posted again to Russia in its Far East from 2016 to 2019 as the head of our Consulate General in Vladivostok, and so I experienced something more like the relationship that we have now with Russia, and came up with some ideas from that time which I think we should consider trying if we decide to re-engage Russia in the future. 
Q: Why do you believe that your research matters to a wider audience?
What I produce will be mainly for State Department personnel to consider.  They might share all or parts of it – or thinking generated by it – with representatives of other U.S. government entities; that would be their prerogative.  Regardless of how widely my product is shared, I think it will matter because it will be a thoughtful document that will point out issues that should be considered in any effort to re-engage Russia, and will suggest some options on how to address those issues, as well as offer some suggestions on how to re-engage Russia.  I suppose anyone familiar with our interaction with Russia could generate such a product.  My colleagues at State, however, are dealing daily with tasks and fast-paced issues that require their immediate attention.  They don't necessarily have the time and space within which to think, contemplate, and research because of this.  So, I am trying to help by providing them with a thoughtful product – the kind of product that requires time and space to generate, as well as access to resources and experts.  I am grateful for the Kennan Institute of the Wilson Center to provide that time and space, and those resources and experts.  History also shows that planning is important.  State Department personnel started planning on how to deal with a defeated Nazi Germany as early as April 1942, for instance.
Q: What is the most challenging aspect of your research?
Staying focused with such an interesting topic.  It requires a bit of an artificial discipline.  You have to remind yourself of what you are doing, the kind of product you want to produce, and the deadline for your product.  At some point, you have to stop going down certain rabbit holes, and at other points, you have to stop generating your own lines of inquiry.  Gaining access to experts is also challenging to some degree, as the experts I need to be in touch with for this product are also foreign policy practitioners, and they are understandably very busy.  So, sometimes, you just have to identify a large blank in your work, and accept that you will have to fill it in later once you get to talk to a person or certain people.
Q: What do you hope the impact of your research will be?
I hope I am able to produce a document that at least a few people at State Department headquarters will read and find useful in some way or another.  In doing so, I hope that I will be able to save some of my colleagues some time by doing some of the "grunt work" for them.  And I hope I will have perhaps alerted someone to a pitfall, opportunity, or challenge they might not have come up with on their own, and thus averted an error or facilitated exploitation of an opportunity.  In the end, re-engaging Russia is going to be a huge team effort, and I'm just trying to do my part as a team player temporarily detailed to the Wilson Center.  I'll consider this a success if the Department of State thanks the Wilson Center for the product.
Mr. Keays' views in this piece are his own and do not necessarily reflect those of the U.S. Government, the Kennan Institute, or the Wilson Center.
About the Author
Michael Keays
Senior Diplomatic Fellow;
Senior Foreign Service Officer, U.S. Department of State
Read More
---
Kennan Institute
The Kennan Institute is the premier U.S. center for advanced research on Russia and Eurasia and the oldest and largest regional program at the Woodrow Wilson International Center for Scholars. The Kennan Institute is committed to improving American understanding of Russia, Ukraine, Central Asia, the Caucasus, and the surrounding region though research and exchange. Read more